After another free agency period featured the Cowboys' starting left guard leaving in free agency, the team will be faced with a decision. How Dallas goes about that will determine if the team rolls out an O-line featuring its best five blockers or a group that features more positional familiarity.
Connor McGovern followed Connor Williams to the AFC East, signing with the Bills on a three-year deal worth $22.35MM. The Cowboys have Dak Prescott tied to a big-ticket deal, and Zack Martin's 2018 extension remains in the upper tier at guard. They are also preparing for CeeDee Lamb and Trevon Diggs payments, making the departures of McGovern and Williams the cost of doing business.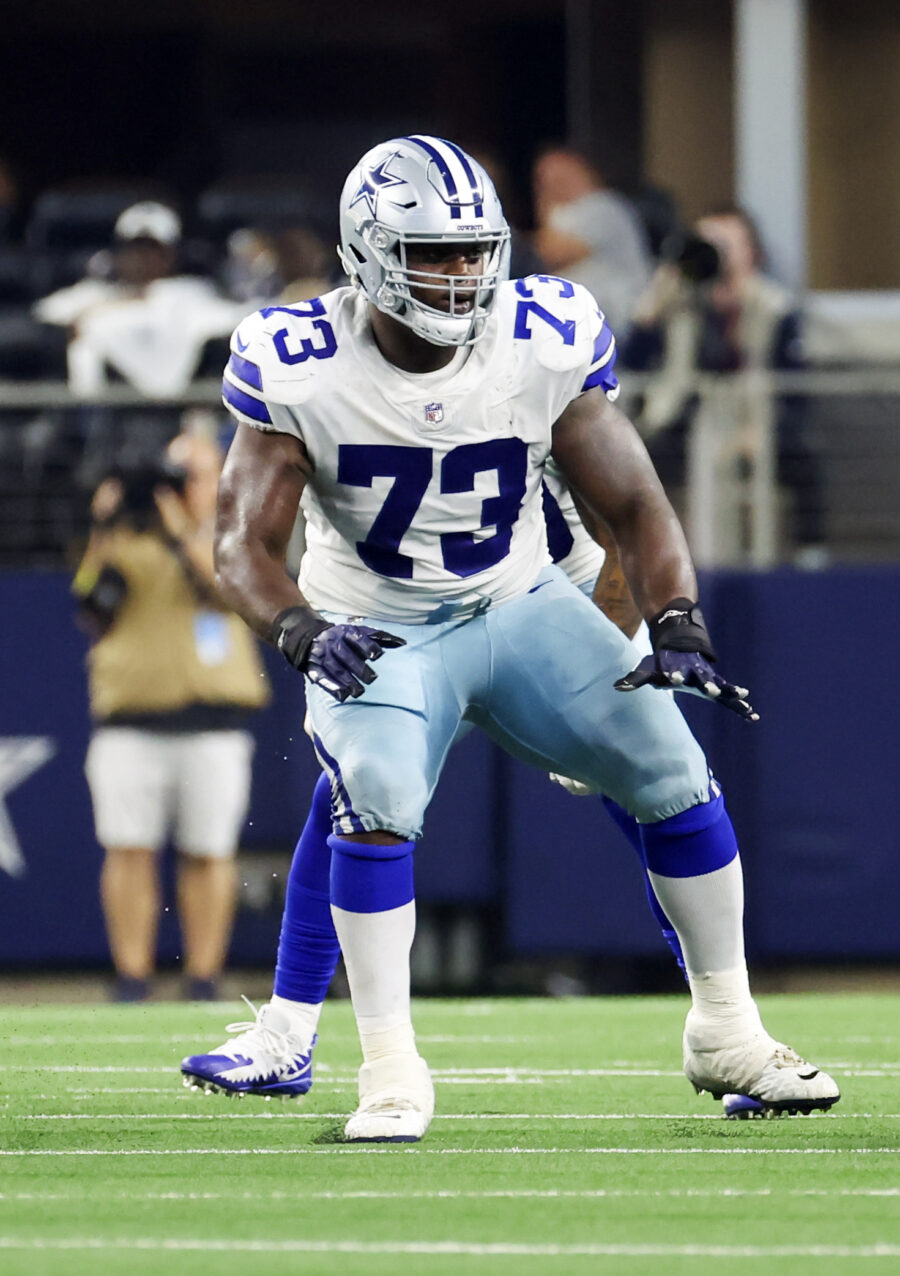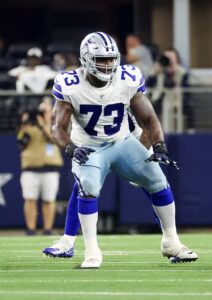 As for how the team replaces McGovern, multiple avenues look to exist. Both involve in-house solutions, per executive VP Stephen Jones. Door A would involve a backup rising into the starting role. The Cowboys are planning to move backup tackle Josh Ball to the interior this year, and the team drafted Asim Richards in the fifth round. Former Jets third-round pick Chuma Edoga also signed with the team, after having played for the Falcons last year.
"I think we've got a talented group of linemen,'' Jones said, via the Dallas Morning News' David Moore. "I mean Josh Ball is here today. He's certainly going to get an opportunity to compete for that spot. As we've said, we're big fans of Chuma. [VP of player personnel] Will [McClay] and his pro staff did a lot of work on him. Probably the only thing holding him back in his career has been some medical challenges that he's had. We really feel like he can come in there and help."
A 2021 fourth-round pick, Ball has 41 career offensive snaps on his resume. Edoga 13 career starts but ahs primarily worked as a tackle. Jones also brought up Richards, North Carolina's left tackle last season, as a potential entrant in this competition. However, he also mentioned the "best five" scenario that would bring a more intriguing configuration.
"Our top five linemen are our top five linemen. Tyron Smith, Tyler Smith, Tyler Biadasz, Terence Steele, Zack Martin," Jones said, via The Athletic's Jon Machota. "Really felt like if you're gonna get your best five who have played in this league, those are our best five. We'll see what happens from there."
The issue with that quintet would be Steele's lack of guard experience. The former UDFA has been a tackle with the Cowboys and at Texas Tech. But with Tyron Smith back (and expected to slide to the right tackle spot he played last season), the Cowboys do not look to have a tackle job available. The team placed a second-round RFA tender on Steele, who has made 40 starts during a three-year career, earlier this offseason. Last year's Week 1 right tackle is also rehabbing ACL and MCL tears. That stands to delay a Cowboys decision on where to use the contract-year blocker.
A third option would be moving Tyler Smith back to left guard, where he began his career before Tyron Smith's avulsion fracture changed the team's plans last summer. The younger Smith played left tackle for most of last season but started two games (Week 18 and Dallas' wild-card win) at left guard. The second-year lineman said (via ESPN's Todd Archer) he would be fine playing anywhere on the offensive front. With Jerry Jones labeling Smith a tackle, however, the prospect of the former first-rounder playing guard at Steele staying at right tackle might be a last resort.
McGovern's experience gave the Cowboys an easier answer to replace Williams. The team may not know its McGovern replacement for a while.
Follow @PFRumors