The NFL's marquee free agent of the moment, DeAndre Hopkins has consistently mentioned the Bills and Chiefs as appealing destinations. But the free agent wide receiver may not be prepared to take a steep discount to play with Patrick Mahomes or Josh Allen.
Hopkins is seeking a contract in the neighborhood of the deal Odell Beckham Jr. received from the Ravens, Tim Graham of The Athletic notes (subscription required). In one of this offseason's most surprising accords, Beckham received a fully guaranteed one-year, $15MM deal from Baltimore in April. Incentives can bump the earnings to $18MM. Beckham securing this money despite missing the 2022 season and having suffered two ACL tears since October 2020 surely has Hopkins believing he is worth more.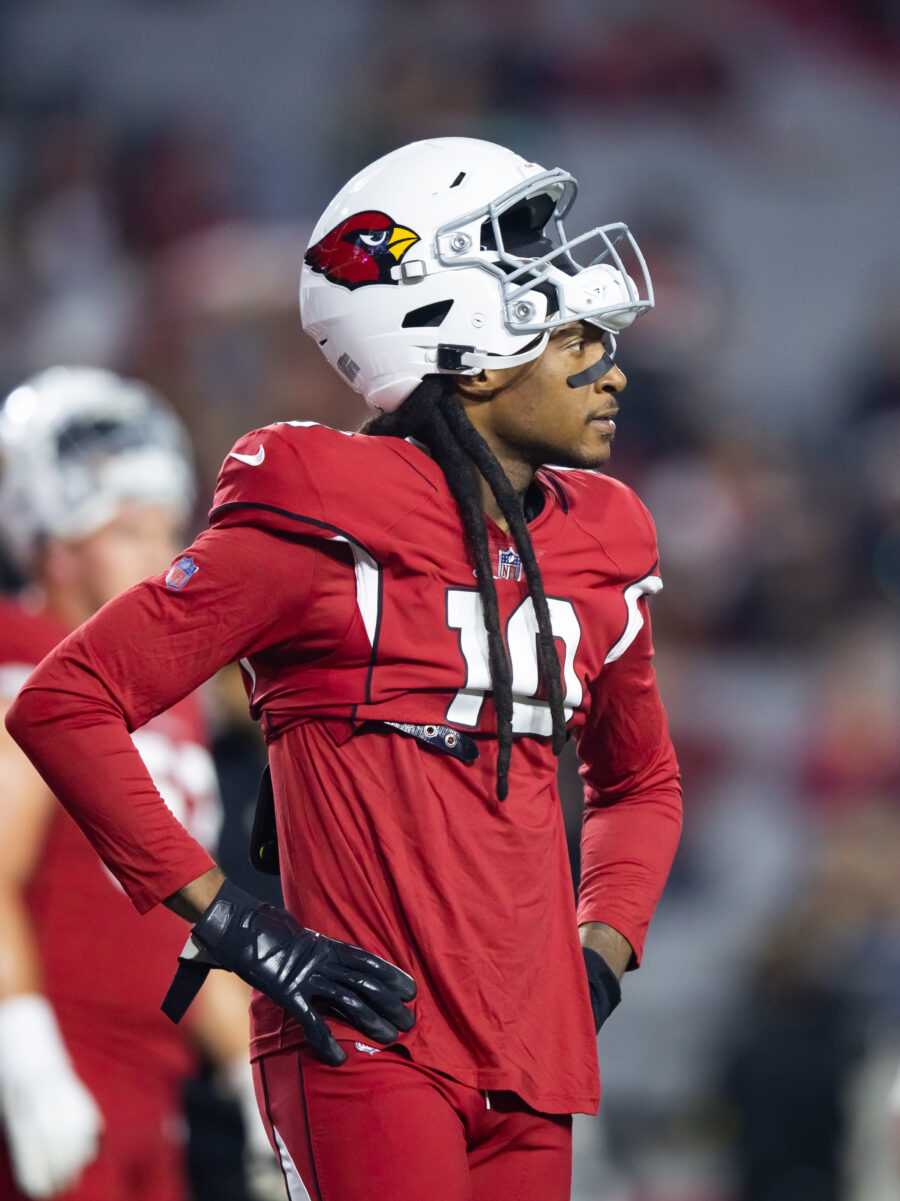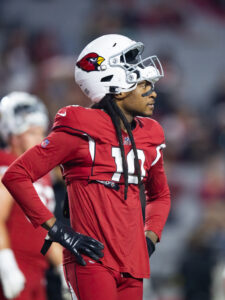 With that offer, the then-receiver-needy Ravens outflanked the Jets by what is believed to be a wide margin for Beckham. New York was proposing an incentive-laden deal. Beckham did well to collect that money before teams made draft investments. Funding is tighter post-draft, and June is not a great time for free agents to cash in. That said, six teams will be picking up cap room Friday due to post-June 1 cuts. The Bills and Chiefs are not among them, however.
The Bills negotiated with the Cardinals on Hopkins, and Graham adds GM Brandon Beane spoke directly with the available wideout — whom Arizona shopped for months — before he signed with Klutch Sports. With the Bills holding just $1.4MM in cap space, multiple executives informed Graham that Hopkins is a long shot to end up in Buffalo. The Chiefs hold even less cap room, sitting on barely $600K.
Given how many times Hopkins has mentioned the Bills this offseason, the three-time reigning AFC East champs should not exactly be considered out of the running. But a league exec that communicated with Hopkins' camp does not expect the former All-Pro's interest in playing with Mahomes or Allen to supersede interest in being fairly compensated. As the Chiefs and Bills negotiated with the Cardinals, Beckham's contract hijacked those respective talks. The Bills have been connected to Hopkins since March.
Previous reports have pegged the Bills and Chiefs as the Hopkins favorites, but each would need to move some money around to land the veteran wideout. While it is still unlikely Hopkins will fetch a $15MM guarantee — due to the Cardinals cutting the 10-year vet late in the offseason and injuries plaguing him over the past two years — the Clemson alum will soon need to decide how important his fourth contract will be compared to a desire to play with a top-tier quarterback.
The Browns have loomed as a stealth Hopkins suitor, with Deshaun Watson having discussed his former Texans teammate with Cleveland brass. Watson has said he would love to have Hopkins on the Browns, and Cleveland will soon hold nearly $16MM in cap space. The Browns traded for Elijah Moore and have three recent third-round picks (Cedric Tillman, David Bell, Anthony Schwartz) supplementing Amari Cooper and Donovan Peoples-Jones.
The Chiefs and Bills have clearer needs at the position. Kansas City lost its top 2022 wideout — JuJu Smith-Schuster — due to a stronger New England offer and also let Mecole Hardman walk. The Chiefs' belief in Kadarius Toney as a potential No. 1 wideout overlooks a concerning injury history. The Bills did not add a wideout until Round 5 (Justin Shorter) in the draft, though they did sign slot player Deonte Harty, and have Gabriel Davis in a contract year. Buffalo is still planning to use first-round tight end Dalton Kincaid frequently in the slot.
Hopkins, 31 next week, has collected more than $111MM since entering the NFL as a 2013 first-round pick. He signed a five-year, $81MM Texans deal in 2017, and the Cardinals tacked two years (and $42.75MM guaranteed) onto that deal via a $54.5MM extension in 2020. While Hopkins should not be begrudged for seeking fair compensation, it would be interesting to see if he passes on a Bills or Chiefs partnership if one or both teams have lower-cost offers on the table. But Buffalo and Kansas City's cap situations do, then, keep the door open for other interested teams.
Follow @PFRumors