Odell Beckham Jr. has made his decision on where he will play next, according to Ian Rapoport of NFL Network. The star free agent will be catching passes in Baltimore next season as a member of the Ravens, news he hinted at on his own Instagram account.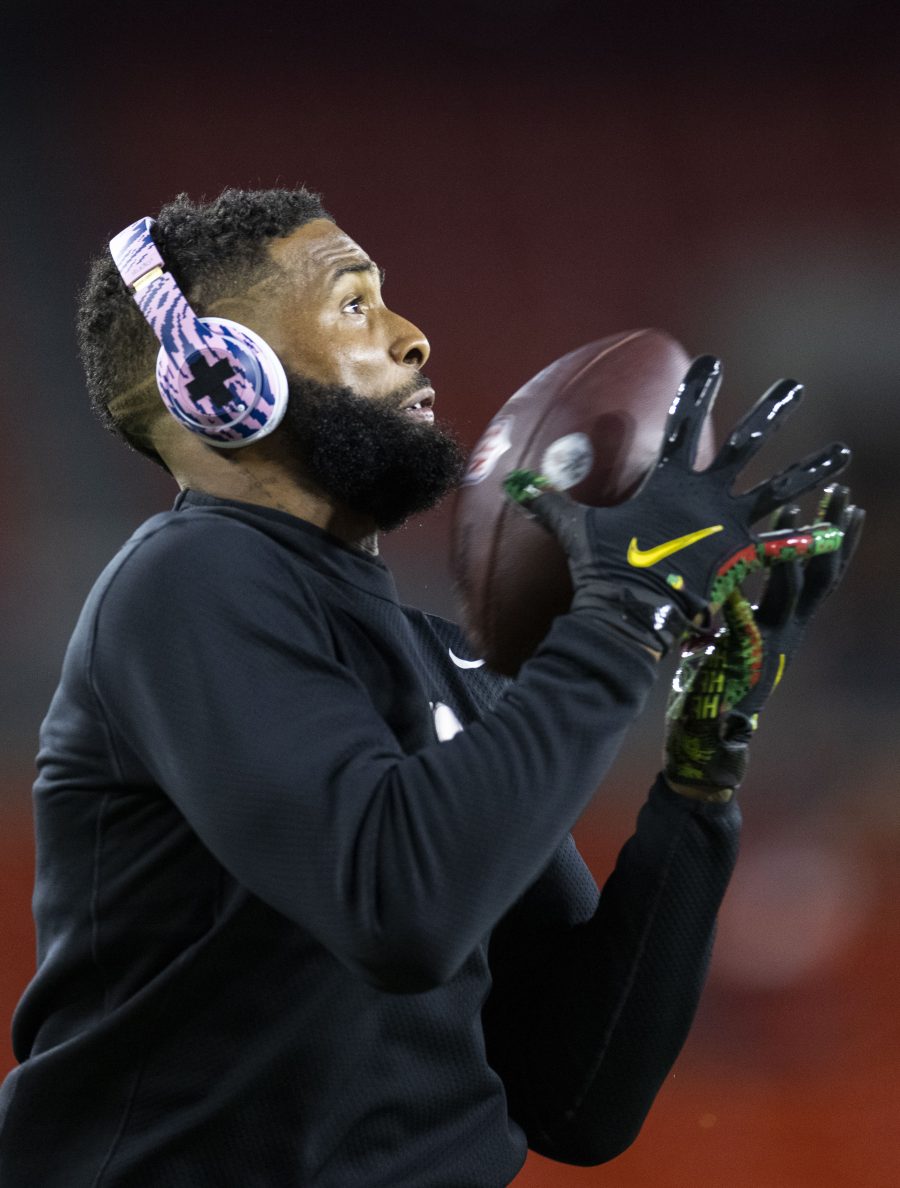 The three-time Pro Bowler has agreed to a one-year deal reportedly worth up to $18MM with $15MM guaranteed, according to Adam Schefter of ESPN. NFL Network's Tom Pelissero provided a further breakdown that shows the guaranteed amount to be composed of a $13.84MM signing bonus and a base salary of $1.17MM, making up the exact amount Beckham requested at the league's recent owners' meetings in Arizona. The remaining $3MM of potential worth in the contract comes in the form of incentives.
Most reports seemed to have Beckham's decision narrowed down to the Jets and Ravens with many believing New York to be the favorite to land the veteran's services. Baltimore had reportedly submitted an offer to Beckham earlier in the week, the first of many teams expected to vie for his services. The Jets, on the other hand, decided to take one more big swing at the free agent with a visit that was set to take place this evening. Despite those plans, the Ravens secured Beckham before he had a chance to revisit the Jets.
New York's meeting this weekend was intended to be an incredibly deep dive on the potential of Beckham joining the team. They had planned a multi-faceted approach that would not only include "a physical but also a thorough discussion of what to expect in an Aaron Rodgers-led offense with a deep WR room," according to Rapoport. The team was set to return last year's top receivers, Garrett Wilson and Corey Davis, while adding Rodgers's favorite target from last year, Allen Lazard, and versatile former Chiefs wide receiver Mecole Hardman. Many of these efforts have been made under the continuing expectation that Rodgers will be quarterbacking the team in 2023 as the result of a trade that has yet to materialize. Beckham reportedly gave the Jets one last chance to match Baltimore's offer, according to Julia Stumbaugh of Bleacher Report, but New York balked at the high price tag.
The Ravens have their own questions at the quarterback position as they continue to deal with the situation surrounding Lamar Jackson, who reportedly requested a trade from Baltimore early last month. The saga with Jackson has gone on for some time now after the two sides failed to reach an agreement on an extension. The team franchise tagged Jackson, allowing him to negotiate with other teams, but nothing ever resulted from Jackson's supposed availability. Rapoport recently gave his opinion on the Pat McAfee Show that the situation would end rather anticlimactically with Jackson playing out the 2023 season on the franchise tag in Baltimore as the two sides continue to negotiate. Now, the Ravens have made a move that only emphasizes their desire to retain their star quarterback.
If Jackson returns, he will be throwing to a new-look wide receiving corps led by Beckham, Rashod Bateman, Devin Duvernay, and Nelson Agholor. Bateman showed promise to begin his sophomore season before a Lisfranc issue ended his year. Duvernay, fresh off All-Pro returning honors in 2021, had his best offensive season to date last year, finishing as the second most productive receiver in Baltimore last season behind Demarcus Robinson. The team's receiver room also includes James Proche, Tylan Wallace, Andy Isabella, Shemar Bridges, and Mike Thomas.
Beckham's road back to the Super Bowl starts now. The 30-year-old played out his rookie contract with the Giants then spent two and a half seasons with the Browns before winning a Super Bowl ring with the Rams. Unfortunately for Beckham, he didn't get to finish Los Angeles's Super Bowl victory, leaving the game in the second quarter with a newly torn ACL that would keep him recovering for all of the offseason. It appeared likely that a few teams may take a swing at Beckham as a potential addition for a playoff run, but nothing developed from those conversations last season. Instead, Beckham sat out the entire 2022 season as his free agency extended in to 2023.
Now, though, Beckham has found his newest home, signing with a franchise that has seen plenty of success in signing veteran free agent wide receivers such as Derrick Mason, Anquan Boldin, Steve Smith, and Mike Wallace. He'll see both the Rams and Browns in 2023 and will have the chance to play his old team in Cleveland twice a year for however long he is a member of the Ravens.
Follow @PFRumors