Few developments during OTAs have long-term effects for teams, given the voluntary and non-contact nature of the spring practices. In Carolina, though, an expected change on the team's quarterback depth chart recently took place.
The Panthers moved Bryce Young to the top of the QB pecking order during practice earlier this week, as detailed by Joe Person and Larry Holder of The Athletic (subscription required). The 2023 first overall pick took full first-team reps for the first time this offseason, having previously split them with veteran Andy Dalton. As confirmed by by both head coach Frank Reich and general manager Scott Fitterer, this switch was had been planned in advance and communicated to both signal-callers.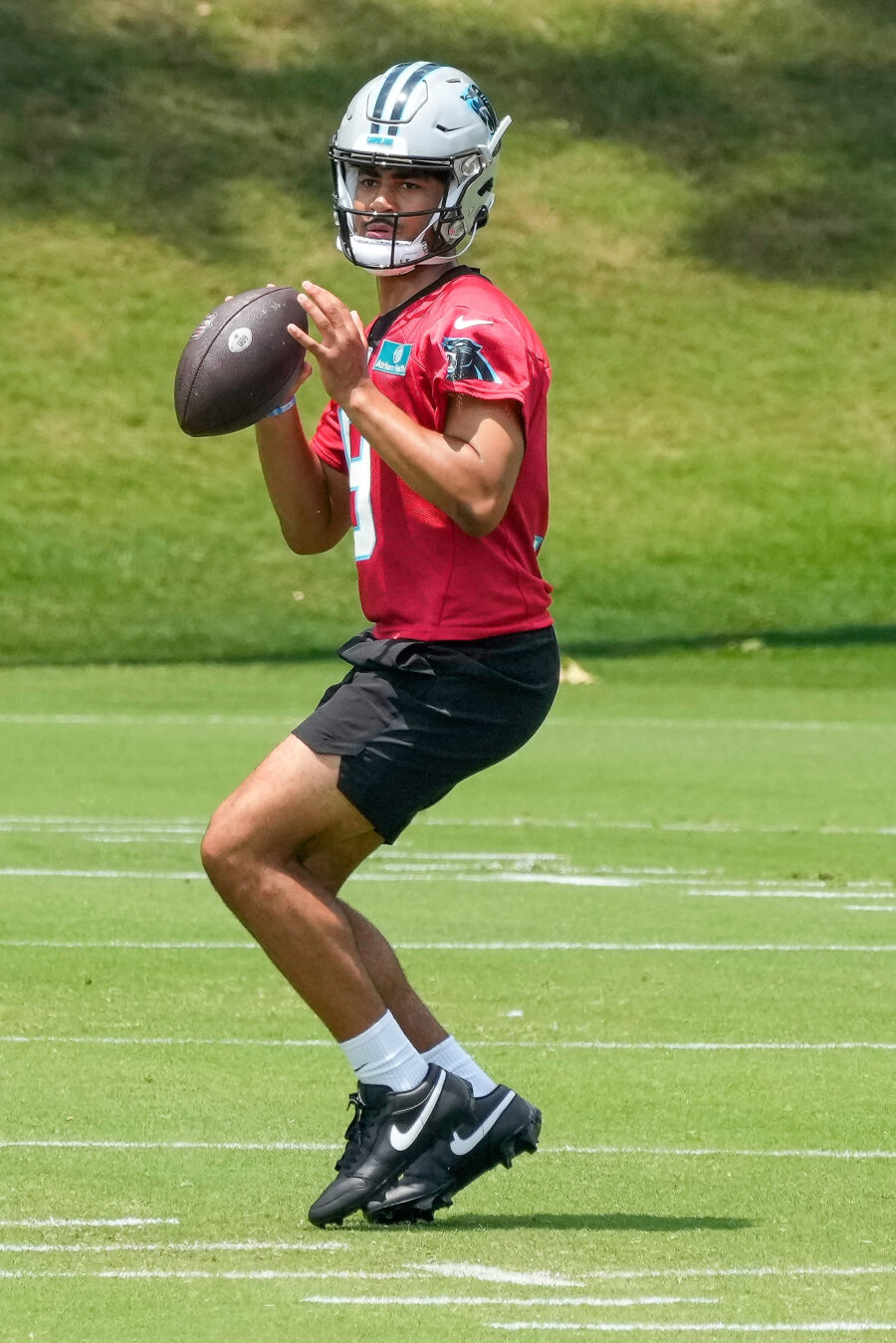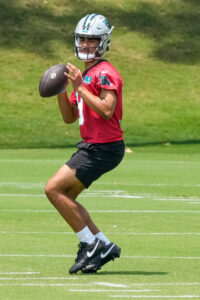 The move comes after the Panthers had taken a cautious approach with Young to begin his first NFL offseason, one in which he is widely expected to be confirmed as the team's No. 1 for the season. The Alabama product was the target of the team's trade-up to the top selection, and is thus in their plans as a franchise passer for the long-term future. To no surprise, though, Reich declined to use the depth chart promotion as a reason to declare Young the 2023 starter.
"Not yet," Reich said when asked about a timeline on that front. "He's showing everything you want to see. But this goes back to even the draft decision – you don't make a decision until you have to make it. We're just giving him and our team the opportunity to get better and to earn that starting role."
Dalton, 35, signed with the Panthers on a two-year deal in March, continuing his moves around the league after the end of his Bengals tenure. The three-time Pro Bowler had one-year stints in Dallas, Chicago and New Orleans where he was brought in to serve as a backup, though he logged 29 starts over that span. After staying ahead of Jameis Winston on the Saints' depth chart last season, Dalton confirmed his belief that he could handle QB1 duties in a different situation.
"I definitely think that I'm still one of the 32 [best] guys out there," the former second-rounder said, via ESPN's David Newton. "But I know that's not the position I'm in. My whole goal is to kind of be the example and… not necessarily set the standard but show how it's supposed to be done."
Dalton posted a 6-8 record as a starter in New Orleans, tossing 18 touchdowns and nine interceptions while completing 66.7% of his passes. Those totals helped keep the Saints in playoff contention deep into the season, though they elected to retain Winston and add Derek Carr this offseason. Dalton could still be a trusted backup for Carolina, especially compared to third-stringer Matt Corral, who missed his entire rookie year in 2022 due to injury.
The Panthers face numerous questions heading into 2023, given the myriad changes which have taken place on and off the field and the sidelines, and the resultant expectations for improvement on offense. Young will no doubt be a focal point for attention in that regard, and his process toward being the starter has taken an important step. His progression through the rest of the offseason will remain a storyline to follow in Charlotte.
Follow @PFRumors