Two non-Dolphins Jonathan Taylor suitors may have emerged. The Bears and Broncos are believed to have expressed interest Taylor, Barry Jackson of the Miami Herald notes.
Having more teams enter the fray will help the Colts and Taylor's camp drive a market, but Jackson adds no team has submitted an offer that meets the AFC South team's demands. The Colts are said to want a first-round pick or a package similar in value. No team has traded a first-rounder for a running back since the Colts did so (for Trent Richardson) in September 2013.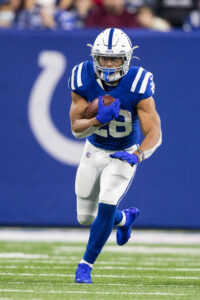 It is not known if the Bears or the Broncos have made an offer. Two teams are believed to have done so, and given the Dolphins' connections since the Colts let their disgruntled back seek a trade, it would surprise if Miami was not one of the teams to have submitted a proposal. The Colts and Dolphins have held ongoing discussions. The Broncos and Bears each made moves at running back this offseason, though Taylor would obviously surge to the top of either team's depth chart.
Chicago signed D'Onta Foreman to a one-year, $2MM deal and used a fourth-round pick on Texas' Roschon Johnson. But previous David Montgomery backup Khalil Herbert is positioned as the committee leader as we near the regular season. A Taylor addition would crowd this backfield, though the Bears do have a connection. Matt Eberflus was the Colts' DC during Taylor's first two seasons. This would be a fascinating partnership, Taylor teaming with Justin Fields, due to the Bears having led the NFL in rushing last season.
The Broncos were also in on Dalvin Cook, though they were not believed to have been a serious suitor. That makes it worth wondering if the team is seriously interested in Taylor. Unlike the Bears, the Broncos have a franchise-QB contract on their books. Russell Wilson's cap number spikes from $22MM this year to $35.4MM in 2024. Restructuring the deal would be an option for Denver, but the team has seen starter Javonte Williams make a quick recovery from ACL and LCL tears. Going down in Week 4 of last season, Williams returned for training camp and made his preseason debut last week. The Broncos also gave Samaje Perine a two-year, $7.5MM deal; the ex-Bengal backup is expected to see frequent work alongside Williams.
As for the Dolphins' lingering interest, Jackson adds Taylor has a home in South Florida and would be fine with a deal that sends him to the AFC East club. The Dolphins are not the only team Taylor would be OK with joining, however. "Several" teams would appeal to Taylor, whose trade request became public nearly a month ago. After some Jim Irsay comments did not go over well, the fourth-year back is believed to be dug in as he attempts to leave Indianapolis.
It will be interesting to see if Taylor insists on having a new contract in place or whether he would be amenable to playing out his rookie deal elsewhere. Taylor, 24, is believed to be seeking an upper-echelon RB contract, doing so in a year that has not seen one handed out. Other teams have shown hesitancy to grant that wish, likely affecting the trade offers being sent. Taylor not insisting on a new deal would also give another team the option of placing a low-cost franchise tag on him in 2024. With that representing one of Taylor's issues with the Colts — who are not planning to extend him this year — it would surprise if the 2021 rushing champion would be fine if his next team had no immediate extension plans.
The Colts have a seemingly good situation as far as a Taylor payment would go, holding Anthony Richardson on a rookie contract that runs through 2026. This situation has progressed to the point Indianapolis is giving the former second-rounder until Tuesday — when the team must set its final roster, which will include a decision regarding Taylor's PUP status — to bring back an acceptable trade offer.
Follow @PFRumors