11:01am: This move, in fact, will lead to Hockenson becoming the NFL's highest-paid tight end. The Vikings are giving their starter a four-year, $68.5MM deal, ESPN's Adam Schefter reports. That will make the AAV $17.13MM, which checks in just north of Waller's previous position record. Hockenson's guarantees dwarf Waller's, however, with Schefter adding this extension comes with $42.5MM guaranteed. That likely accounts for the total guarantee here, rather than the guarantee at signing. Still, that number eclipses George Kittle's previous position high of $40MM.
The $68.5MM number may not be the base value here, per Pelissero, who adds the deal is worth $66MM over four years. Incentives can move the deal to that $68.5MM place. This would bump Hockenson down to the No. 2 slot for tight end AAV, at $16.5MM. But he has still done quite well on the through-2027 contract, with Pelissero echoing Schefter's report on the guarantee figure. Negotiations between the Vikes and Hockenson did not alter this framework much, as Pelissero adds this is close to the deal that was on the table before camp.
10:04am: T.J. Hockenson's time as a Vikings practice spectator looks like it will come to an end. The Vikings are rewarding the 2022 trade acquisition with an extension, Tom Pelissero and Ian Rapoport of NFL.com report. The team has since announced the move.
While the ex-Lions top-10 pick was believed to be seeking a deal that made him the league's highest-paid tight end, this agreement will move him close to the top of the market. Minnesota is making Hockenson "one of" the NFL's top earners, per NFL.com. Hockenson, 26, was going into his fifth-year option season ($9.33MM).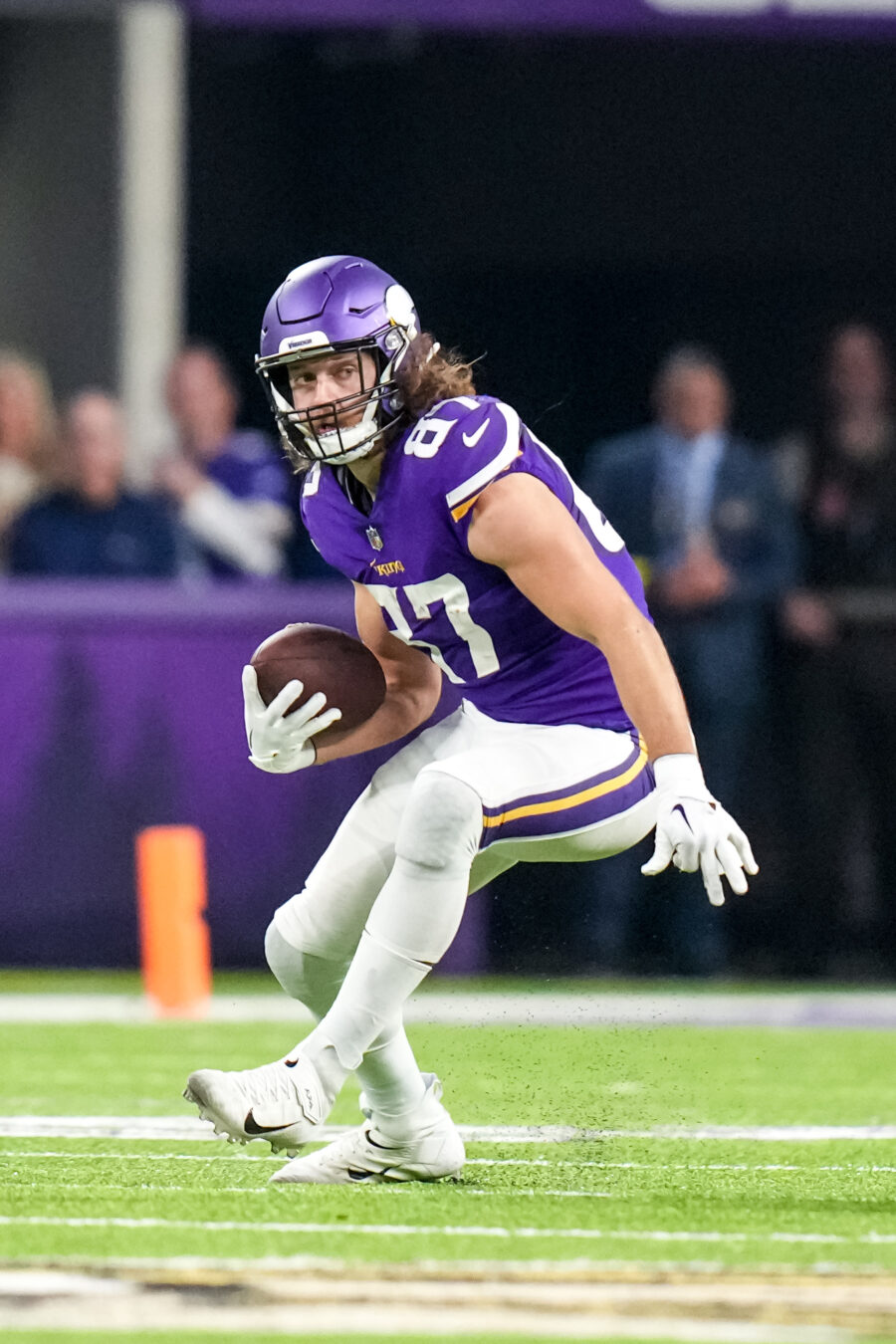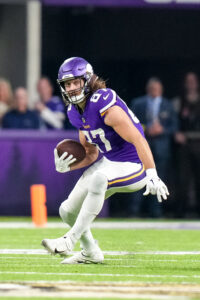 This has been on Minnesota's radar for a bit. Hockenson had loomed as a Detroit extension candidate coming into last season, but after a 1-6 start, the Lions dealt the 2019 draftee to a division rival for two Day 2 draft choices. Hockenson stepped in as a key Justin Jefferson complementary piece during the Vikings' surprising 13-4 season. Although Minnesota is also talking with Jefferson about an extension ahead of his fourth season, Hockenson loomed as the priority due to his contract-year status.
One of many productive tight ends to come out of Iowa, the former No. 8 overall pick went through an inconsistent Lions career. Injuries limited him during multiple Detroit seasons, but he did showcase his talents with a 723-yard showing in Matthew Stafford's 2020 finale. But the Brad Holmes–Dan Campbell regime inherited Hockenson, a Bob Quinn-era draft choice. The Lions moved Hockenson on deadline day last year and have since replaced him with another ex-Hawkeyes standout, No. 34 overall pick Sam LaPorta.
In Minnesota, Hockenson finished up a 914-yard receiving season. The receiving tight end added a 10-reception, 129-yard day in the Vikings' wild-card loss to the Giants. This year, Hockenson had missed training camp time due to an ear infection he said affected his equilibrium. The fifth-year pass catcher then complained of back stiffness. The 6-foot-5 tight end has not yet practiced with his teammates since camp began, with this stretch likely doubling as a hold-in measure amid negotiations.
Jefferson is poised to reset the wide receiver market, either this year or next, and it will be interesting to see the Hockenson numbers through that lens. The Vikings will soon have a top-market tight end deal and the NFL's most lucrative receiver contract on their books. For a team that has Kirk Cousins on a big-ticket contract (complete with four void years), this represents a substantial commitment to its aerial centerpieces. That said, the Vikings moved Dalvin Cook's $12.6MM-per-year contract off their books this offseason, and the team only has one offensive lineman (right tackle Brian O'Neill) earning more than $6MM on average. Cousins' contract also expires at season's end. The Vikings are paying Hockenson (and soon Jefferson) to anchor their post-Cousins passing attack.
Darren Waller's $17MM sits atop the tight end salary spectrum, AAV-wise. This checks in well south of Tyreek Hill's receiver-leading number ($30MM). The Patriots holding Rob Gronkowski to his six-year contract, which quickly became a bargain, and Travis Kelce not raising the bar especially high on his second Chiefs extension in 2020 have led to the tight end market stagnating. Hockenson's figure will make for a notable update, though it is interesting this deal does not appear set not top Waller's. At this rate, it may still take years for tight ends to crack the $20MM-per-year barrier.
But the Vikings have one of their core passing-game pieces in place for the long haul. Minnesota's upcoming Jefferson deal — assuming it advances past the goal line — will ensure Cousins (and his successor) will have a Jefferson-Hockenson-Jordan Addison arsenal at his disposal.
Follow @PFRumors