SEPTEMBER 9: Details were released today on Bosa's big money extension. The five-year, $170MM extension reported below includes $88MM in fully guaranteed money (Overthecap.com), beating out the previous high from Watt's contract of $80MM. Like most massive deals are, the deal is incredibly backloaded.
With cap hits for the next three years of $11.01MM in 2023, $14.67MM in 2024, and $20.52MM in 2025, things get much scarier over the following three years with cap hits of $42.03MM in 2026, $52.03MM in 2027, and $42.85MM in 2028. The team will likely never see those cap numbers as they'll probably end up doing some restructuring before those dates appear, but with $88MM fully guaranteed, Bosa doesn't have much to be concerned about.
According to David Lombardi of The Athletic, adjusting Bosa's cap hit in 2023 sets San Francisco up well for future potential cap issues. With $42MM of cap space in 2023, the 49ers have plenty of space to go out and acquire some top talent by the trade deadline. If not, unused cap will roll over into 2024, a season in which the 49ers are projected to be $40MM over the salary cap. This would mean that San Francisco wouldn't need to make any moves in order to stay under the cap with their current projected roster, though some adjusted are still expected.
SEPTEMBER 6: One of the NFL's high-profile holdouts has come to an end. Nick Bosa has agreed to a five-year, $170MM extension with the 49ers, reports ESPN's Adam Schefter.
Schefter adds that the monster pact includes $122.5MM in guaranteed money, which, coupled with the $34MM annual average value, comfortably makes this the largest commitment ever made to a defensive player. Bosa will see more guaranteed money – provided it is paid out in full over the life of the pact – than all but four players in the league, each of whom are quarterbacks. NFL Network's Tom Pelissero adds that Bosa will receive a $50MM signing bonus, which is also unprecedented for defenders.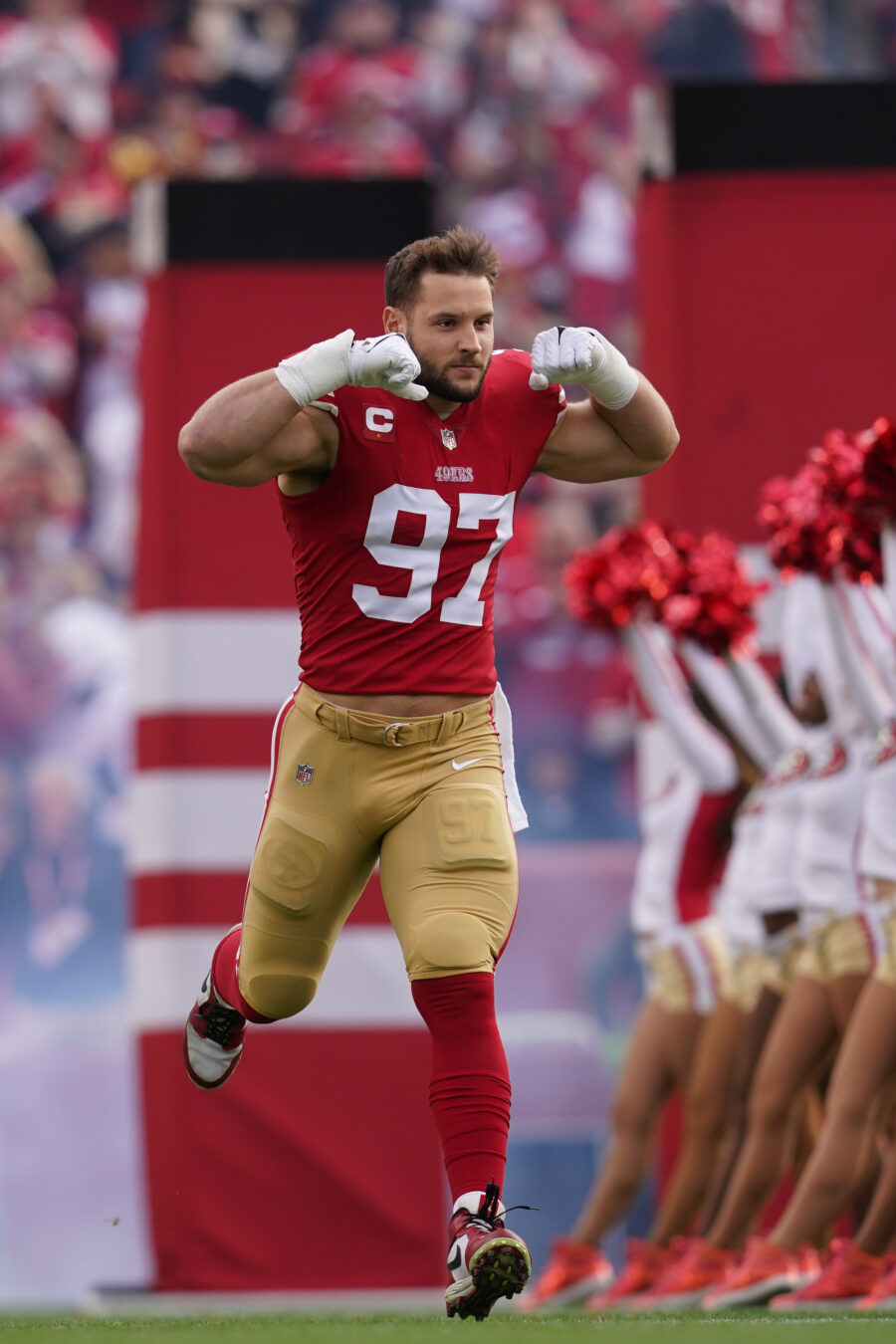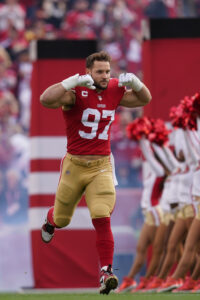 It has long been assumed that the former No. 2 pick would eclipse the $28MM-per-year mark and in doing so overtake T.J. Watt as the league's top paid edge rusher. The only question was whether or not Bosa would move past Aaron Donald (whose re-worked Rams deal pays out $31.67MM per year) as the top earning non-quarterback. That question has now been answered rather emphatically, as reporting on this situation suggested would be the case.
Bosa – who has long been on the extension radar – has been holding out through the summer in an attempt to leverage a new deal. He incurred $40K in daily fines starting at the onset of training camp, but the team has long been expected to waive those. NBC Sports' Matt Maiocco confirms that will indeed be the case. The 25-year-old will now travel to Santa Clara in advance of a very brief ramp-up period for his fifth season with the 49ers.
After following in his brother Joey Bosa's footsteps at Ohio State, Nick entered the league with massive expectations. He has lived up to them when healthy, earning a Pro Bowl nod each year aside from his injured-shortened 2020 campaign. Bosa took a step forward in 2022 by leading the league in sacks (18.5), helping him win Defensive Player of the Year honors. A continuation of that production will be expected through at least most of the term of this deal, which will cover the remainder of his prime years.
Bosa was due to earn $10.8MM this season on the fifth-year option, but with an extension in place his cap hit for the coming season can now be adjusted. He has a window of only a few practices to prepare for Sunday's season opener against the Steelers, but head coach Kyle Shanahan confirmed during a Wednesday press conference (via NFL Network's Mike Garafolo) that Bosa will indeed suit up for that contest.
With Bosa's holdout now in the past, attention will turn increasingly to Chiefs defensive tackle Chris Jones and Panthers edge rusher Brian Burns. The latter in particular will be affected by today's news, as he is believed to be seeking a second contract not far off the AAV of what Bosa earned on his extension. Looking ahead, talks between the Cowboys and Micah Parsons on a monster deal next offseason will no doubt be centered in large part on the figures of today's agreement.
For now, though, San Francisco can enter another season in which expectations are high (particularly on the defensive side of the ball) with the team's best defender on the books through 2028. A repeat of Bosa's previous performances could again make the 49ers a force in the NFC come playoff time now and into the future.
Follow @PFRumors