The 49ers have managed to field top-flight rosters — outside of the quarterback position — over the past two seasons. That talent, along with Kyle Shanahan's play-calling acumen, powered San Francisco to consecutive NFC championship games. Neither going the 49ers' way applies some pressure for the otherwise well-built team to come up with a viable quarterback solution. For the time being, that is Brock Purdy, who has recovered from UCL surgery.
Undoubtedly affected by the Trey Lance miss, the 49ers have used Purdy as a partial makeup call. Will the 2022 Mr. Irrelevant's form last? If not, the 49ers have Sam Darnold as a new option. Either Purdy or Darnold would step into an offense housing four first-team All-Pros, and with Javon Hargrave in the fold, the 49ers are prepared to throw a better defensive front at opponents this season. Will this be the year Shanahan's bunch takes the final step and wins the organization's sixth title?
Extensions and restructures:
Days before Week 1, contingency plans were in place in the event the Bosa contract was not finalized. Fortunately for the 49ers, they will have the reigning Defensive Player of the Year in uniform Sunday. Holdout is technically the correct term to use, but Bosa's effort differed from those waged by Chris Jones and Zack Martin. With the 49ers having worked on this contract for weeks and having planned it for over a year, they surely expected Bosa to either hold in or hold out. That differs from the Martin and Jones holdouts, somewhat contentious in nature. With the 49ers allowed to waive Bosa's fines due to this being a rookie-contract holdout, Bosa's absence barely qualifies as a speedbump. And, like Martin, the holdout benefited Bosa.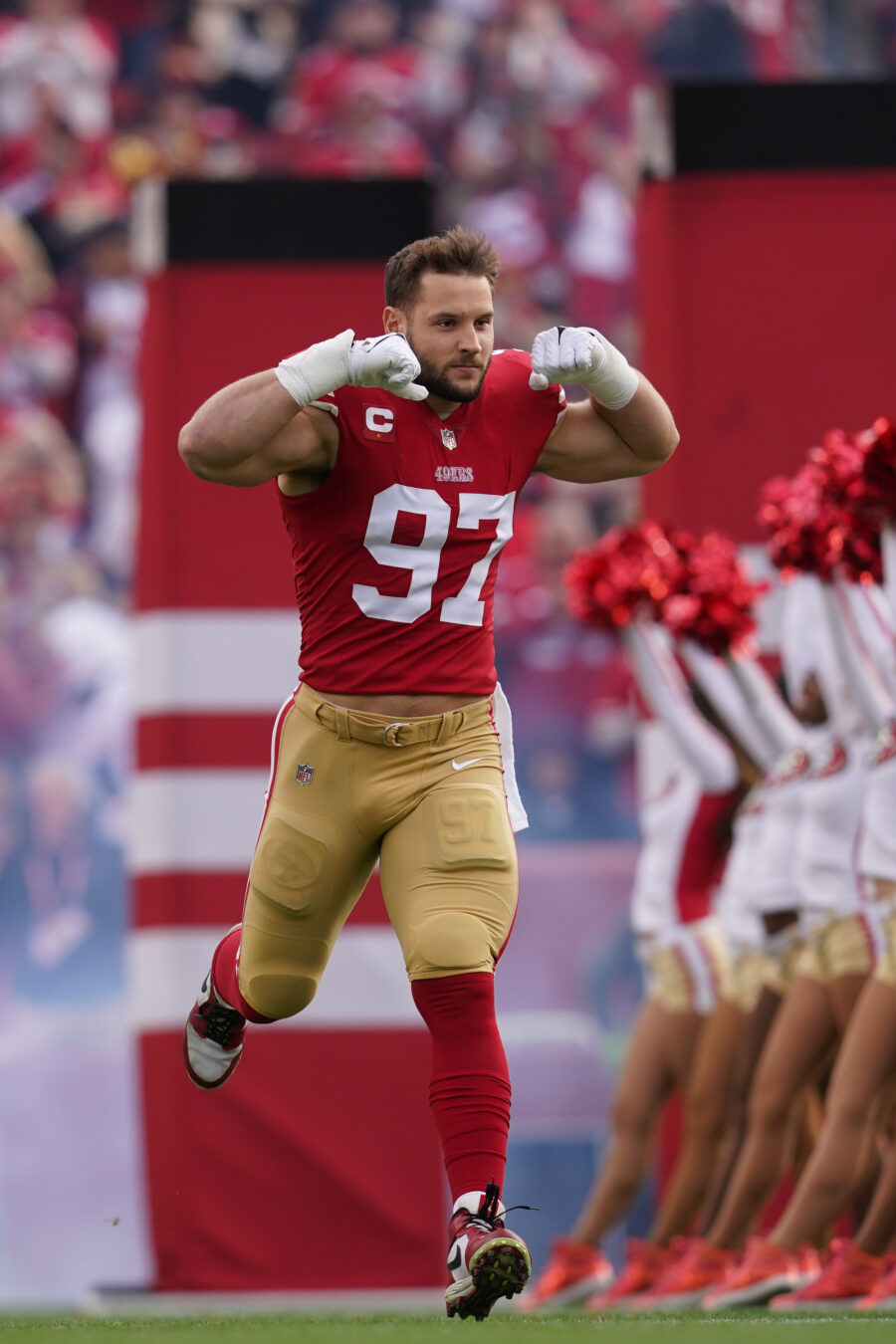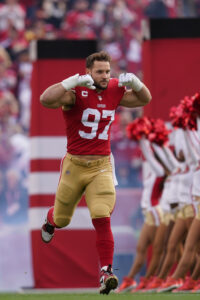 The question throughout this holdout centered around how much longer Aaron Donald's $31.7MM-per-year contract — one the Chiefs have attempted to treat as an outlier — would reside atop the defensive salary pecking order. Donald used a retirement threat and generational dominance to secure those terms without any new years added to his deal. Six years younger than Donald, Bosa used his importance to a loaded 49ers team — but one that depends on its top player to stay on the Super Bowl-contending level — to secure a true market reset.
T.J. Watt's $28MM-AAV deal topped the edge defender market for two years, and the Steelers OLB locked down his game-changing second contract three days before the 2021 season. Bosa nearly matched that, accepting the 49ers' offer four days before his team's Week 1 trip to Pittsburgh. Watt's contract only topped Joey Bosa's AAV by $1MM, making the 49ers' Nick Bosa re-up's result an eye-popping conclusion.
The guarantee-at-signing figure is not yet in place, and the number through three years will need to be measured as well to fully evaluate this contract. The 49ers also made Trent Williams the highest-paid tackle by inflating the AAV with a lofty final-year number. On the surface, however, Nick Bosa's contract reshapes the edge rusher market. The $122.5MM total guarantee amount checks in more than $20MM north of Joey Bosa's previous defender record.
This contract may create some difficulties for the Chiefs and Jones to cross the finish line, as it weakens Kansas City's effort to classify Donald's contract as an outlier, and cause trouble for the Cowboys and Micah Parsons down the road. Nick Bosa has more than demonstrated his value in San Francisco. Along with Jimmy Garoppolo's return to health, Bosa's 2019 arrival catalyzed the 49ers' transformation from 4-12 team to Super Bowl LIV entrant. Bosa sat out much of his final Ohio State season, readying for the NFL, and ended up in San Francisco largely because of Garoppolo's injury ruining the 2018 team's season.
The rare third-generation NFLer, Bosa put himself back on track for this contract by returning from a September 2020 ACL tear to play all 20 49ers games in 2021. Bosa led the league in tackles for loss that year and posted a career-high 18.5 sacks last season. His 48 QB hits in 2022 broke up a J.J. Watt sweep atop that list. While the recently retired superstar still holds four of the top five figures since QB hits became charted, Bosa's 48 hits now sit third on that list. The 49ers will bet on the younger of this generation's NFL Bosas anchoring their defense for the long haul.
Free agency additions:
Among San Francisco's signings, Hargrave's contract obviously jumps out. Not long after Garoppolo's contract came off their books, the 49ers sprang into action and allocated that cash to strengthen a strength. After the Bosa signing, the 49ers now have three defensive linemen making more than $17MM per year. The 49ers' decision to trade DeForest Buckner, extend Arik Armstead and replace Buckner with Javon Kinlaw backfired. But they faced an either/or proposition with Buckner and Armstead at the time. Hargrave comes in as a fearsome hired gun, an arrangement made possible by Purdy's seventh-round rookie contract.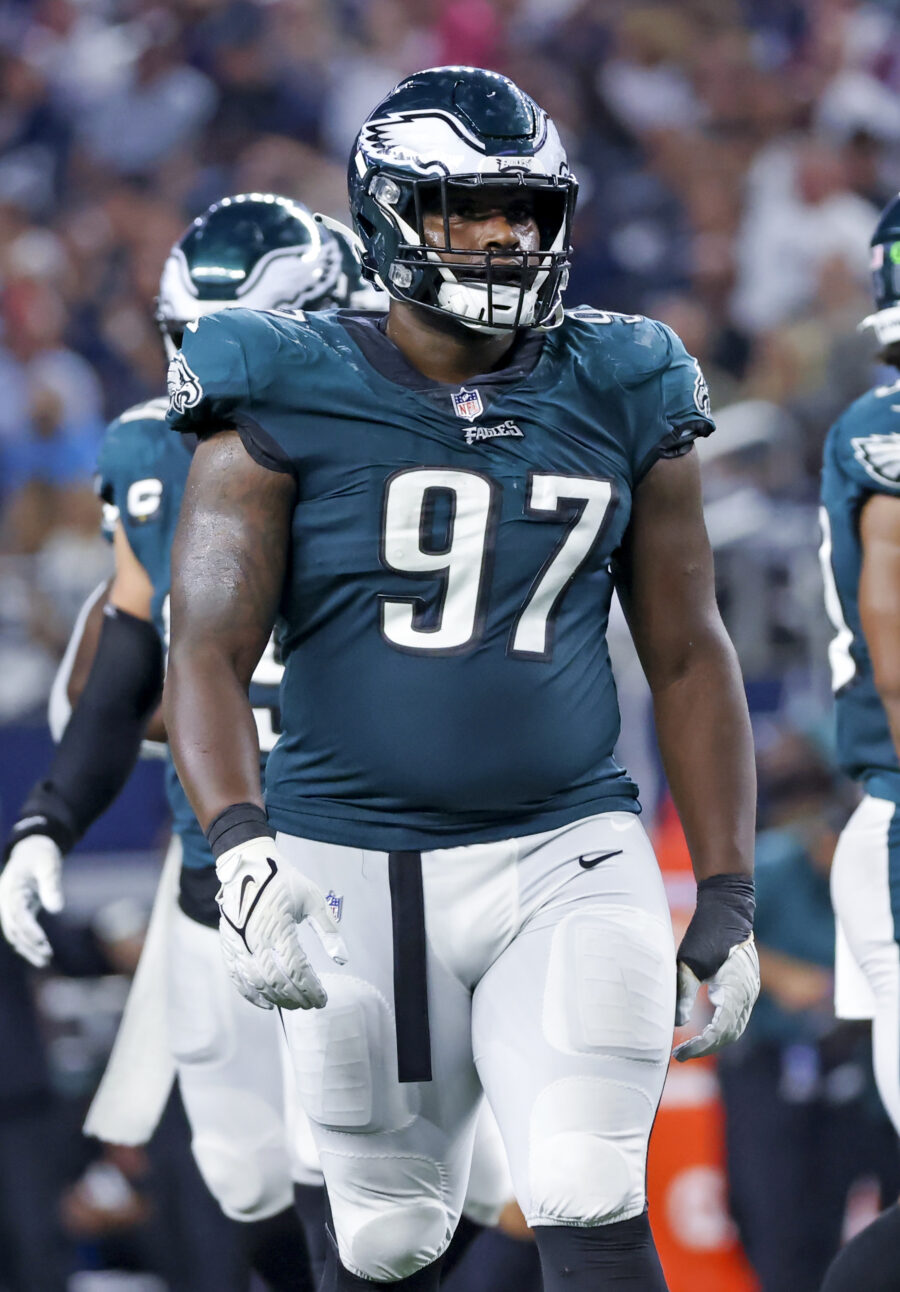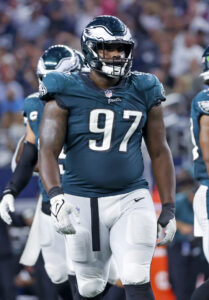 The Eagles rolled out an embarrassment of riches on their D-line last season, threatening the 1984 Bears' sack record. While Philadelphia (70 sacks) fell two short of the 46 defense's longstanding mark, the team produced four double-digit sack totals. Hargrave was among those, tallying a career-high 11 sacks. This is a big commitment for a D-tackle going into his age-30 season, but Hargrave used his Eagles contract to confirm he is among the league's best inside rushers. After toiling as an unearthed gem of sorts alongside Cameron Heyward and Stephon Tuitt in Pittsburgh, Hargrave broke through in Philly.
Buckner and Bosa only overlapped for one season, which happened to produce a Super Bowl berth, so it will be interesting to see what well-regarded D-line coach Kris Kocurek can do with a Bosa-Armstead-Hargrave troika. Missing only three games in seven seasons, Hargrave also offers durability the 49ers have lacked from Armstead and Kinlaw. This certainly looks like the 49ers' best defensive line since that 2019 unit.
Kocurek reviving Ferrell's career would further highlight his potential for a defensive coordinator post. The Raiders surprised most by taking Ferrell fourth overall in 2019, but the Mike Mayock–Jon Gruden pick did not live up to his draft slot. During his final two years with the Raiders, the Clemson product had drifted to the backup level. Ferrell totaled just 5.5 sacks over the past three seasons, lowering his price in free agency. Had Bosa extended his holdout past Week 1, however, Ferrell was in place to start alongside 2022 second-rounder Drake Jackson. The fifth-year edge rusher looms as a wild card in Steve Wilks' defense.
The 49ers targeted Oliver as a nickel who could match up with bigger slot receivers, following Jimmie Ward in that regard. The Falcons moved Oliver inside later in his run with the team, and Pro Football Focus rated him as a top-10 corner last year. That said, the 210-pound cover man did not impress in the preseason. It will be interesting to see if he can stick as the slot option for the 49ers, who have Charvarius Ward and Deommodore Lenoir camped on the boundaries.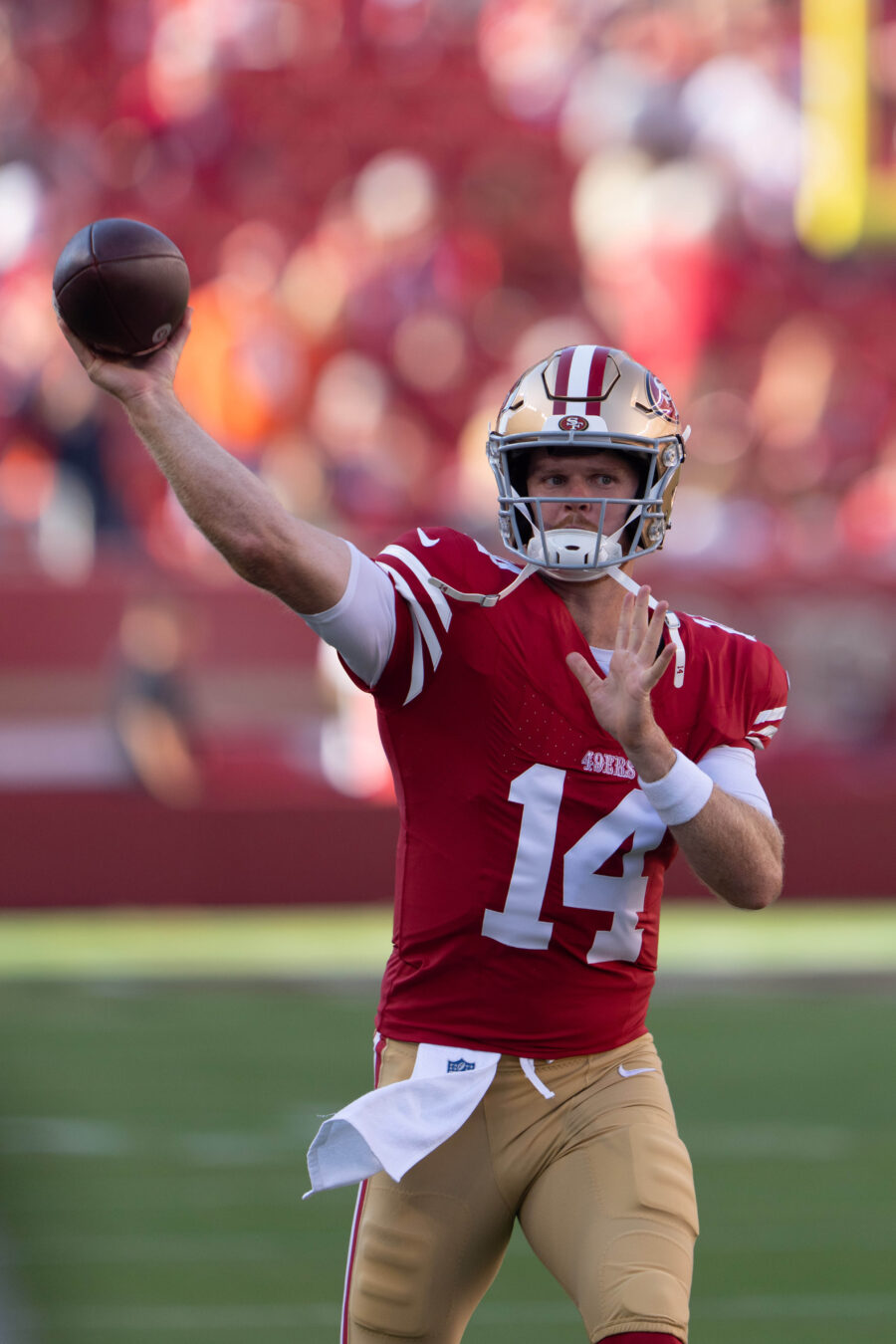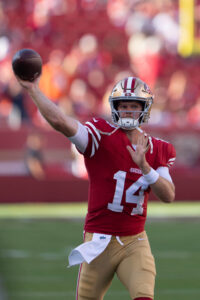 Shanahan has shown tremendous confidence in Purdy, who completed his rehab and shed limitations earlier than expected. But Darnold came into the NFL undeniably more talented. And the former No. 3 overall pick impressed during his first offseason in San Francisco. Shanahan has spoken highly of the former Jets and Panthers starter, and while Darnold has enjoyed plenty of opportunities to showcase his skill (55 starts), it is difficult to compare his New York and Charlotte setups to Shanahan's infrastructure. Darnold, 26, joined the 49ers largely because of Shanahan and their array of skill-position talent.
Darnold has also shown himself to be an unremarkable pro QB through five seasons, and he has battled availability issues in each of his seasons. But it did not seem to be much of a contest between he and Trey Lance for the 49ers' backup job, even as Lance carried experience in Shanahan's system. Darnold QB2 buzz circulated in the spring and intensified before camp.
The 49ers had targeted a veteran QB due mostly to Purdy and Lance's injury issues, but Darnold has the pedigree to potentially challenge Purdy, should the former Iowa State starter struggle coming off elbow surgery. Brutal QB injury fortune has hounded the Shanahan-era 49ers. While Darnold is only tied to a $4.5MM salary, he could become an important figure in the NFC's Super Bowl chase.
Re-signings: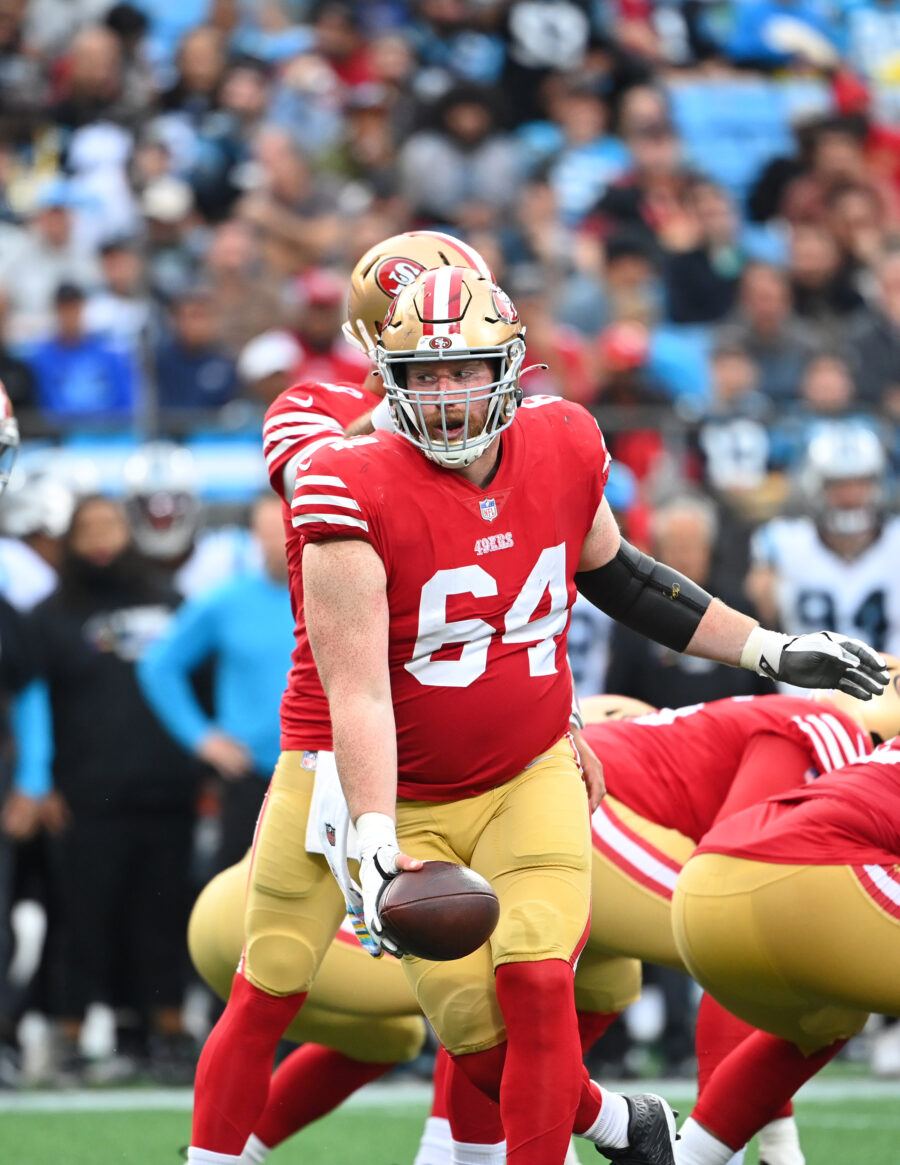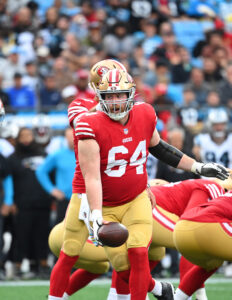 Center retention was not particularly costly around the league this offseason. Five teams — the 49ers, Browns, Jets, Panthers and Vikings — preferred continuity over installing an outsider at the pivot. The Brendel, Ethan Pocic, Connor McGovern, Bradley Bozeman and Garrett Bradbury deals all came in at less than $6MM. For Brendel, that represented a reward for capitalizing on a surprising opportunity.
The 49ers brought in ex-Shanahan Falcons cog Alex Mack for what turned out to be a one-off in 2021, installing him over Brendel. Rather than chase a veteran last year, the team promoted Brendel, who came into the season with 250 offensive snaps in six seasons. The confidence paid off for the 49ers, who received 20 total starts from Brendel. The former UDFA, who will turn 31 on Sunday, graded fifth in ESPN's run block win rate metric during his starter audition.
Overall, the 49ers should be better positioned on their interior O-line due to the experience first-time starters Brendel, Aaron Banks and Spencer Burford gained last season. Feliciano, who shifted back to guard this offseason, started for the Giants at center throughout last season. He makes for a nice swing backup and potential Burford platoon partner. But right tackle does present a question.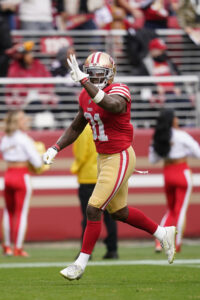 Mike McGlinchey was a top-10 pick who started throughout a five-year Bay Area tenure. McKivitz is a former fifth-round choice with five starts in three seasons. The 49ers gave him the right tackle job before training camp, certainly indicating confidence in the West Virginia alum. The potential for a steep McGlinchey-to-McKivitz mcdrop-off (sorry) exists, though last season was a fairly good sign in the coaching staff's judgment regarding inexperienced O-line starters. McKivitz working out would be quite cost-efficient for the 49ers, who only have one starting O-lineman earning more than $5MM per year.
A career-long starter who has played for five teams in 11 seasons, Gipson earned the trust of DeMeco Ryans, who moved Ward back to cornerback. As Talanoa Hufanga soared to All-Pro acclaim, Gipson provided a nice sidekick presence. The former Browns, Jaguars, Bears and Texans starter intercepted a career-high five passes; PFF graded both 49ers safeties as top-35 options.
Gipson's age (33) clearly factored into the low-level re-up he inked with the 49ers, but he managed to be a non-QB from the 2012 draft class who mattered to a team last season. Gipson looks to have a found a nice late-career fit, with San Francisco coaxing plus safety play at a low rate.
Notable losses:
Garoppolo arrived in San Francisco in unusual fashion, coming over via a trade on which Bill Belichick and Robert Kraft were believed to have disagreed. The 2017 trade and subsequent extension preempted a Shanahan-Kirk Cousins reunion, a move the 49ers had eyed after beginning the Shanahan-John Lynch era without a starter-caliber QB on the roster. Garoppolo went 38-17 as the 49ers' starter, enjoying the friendly confines Shanahan's offense offers, and quarterbacked the team to four playoff wins. Garoppolo's low ceiling drew regular scrutiny, and the 49ers could not rely on their longtime starter to stay healthy.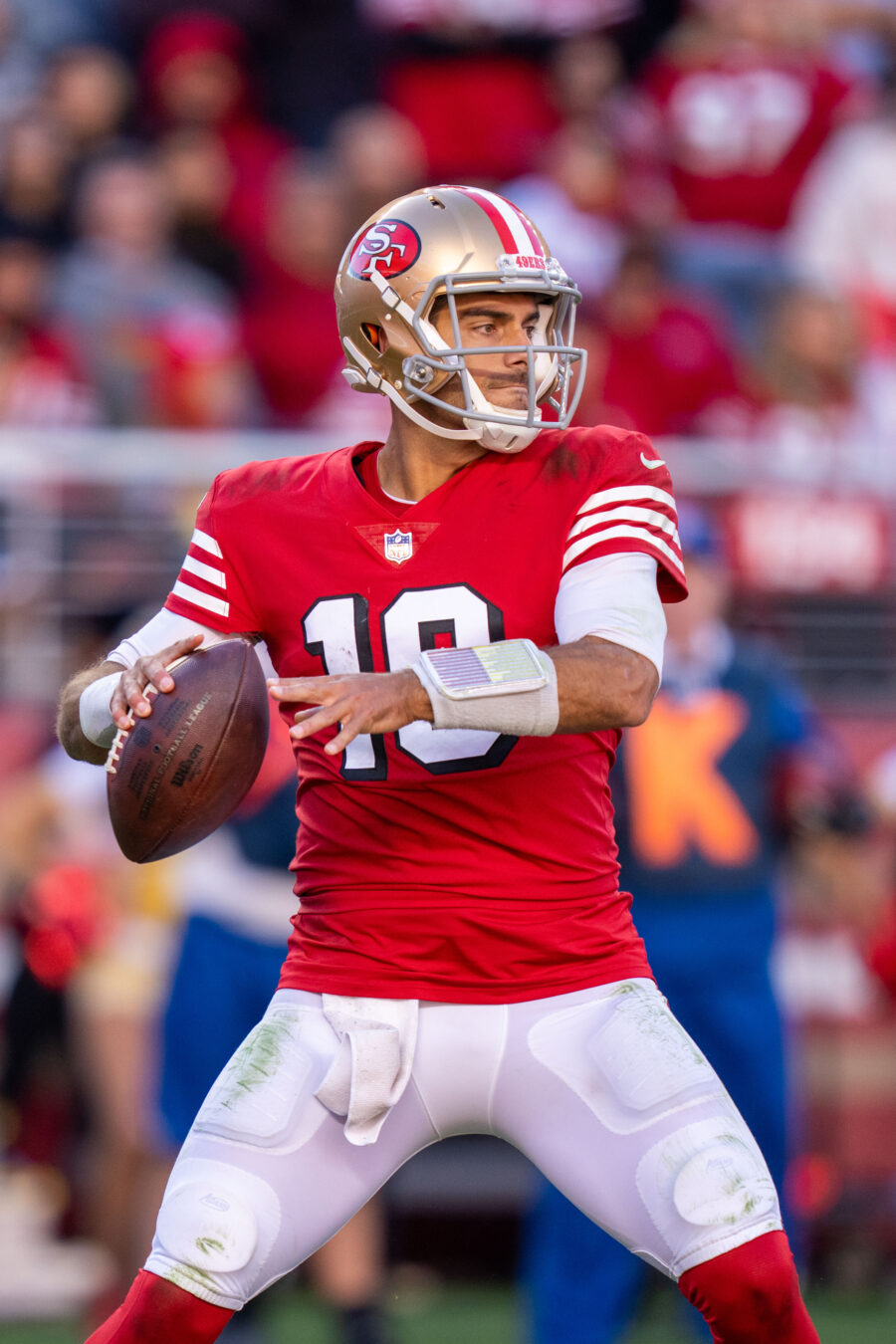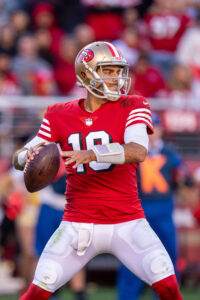 Missing 30 games due to injury since his September 2018 ACL tear, Garoppolo was never ultimately replaced by handpicked heir apparent Trey Lance. But Garoppolo's 2020 ankle ailment, three-injury 2021 (leading to a two-surgery 2022) and December foot fracture obscured the run of capable QB play he provided the 49ers during their Shanahan-era high points. The 49ers did well to circle back to Garoppolo, once his mid-offseason shoulder surgery cooled his trade market, last year. He started the 12-game win streak Purdy finished.
Shanahan made it clear this offseason that, despite the 49ers' about-face in 2022, the 31-year-old QB would not be back. The Raiders ditched the durable Derek Carr for a Garoppolo-Josh McDaniels reunion; they will be the team rolling the dice on Garoppolo's health.
One of the league's top run-blocking right tackles, McGlinchey appeared ticketed to leave once the 49ers gave Trent Williams a six-year, $138.1MM deal in March 2021. Mutual interest in a second contract emerged, but Lynch eventually acknowledged the only viable path for McGlinchey to stay in San Francisco would be his market underwhelming. The ex-Notre Dame standout was on-hand for some big sequences in 49ers run-game annals. He helped Raheem Mostert threaten Eric Dickerson's playoff rushing record in the 2019 NFC championship game demolition and, after recovering from a 2021 quadriceps injury, was present for Christian McCaffrey's post-trade surge.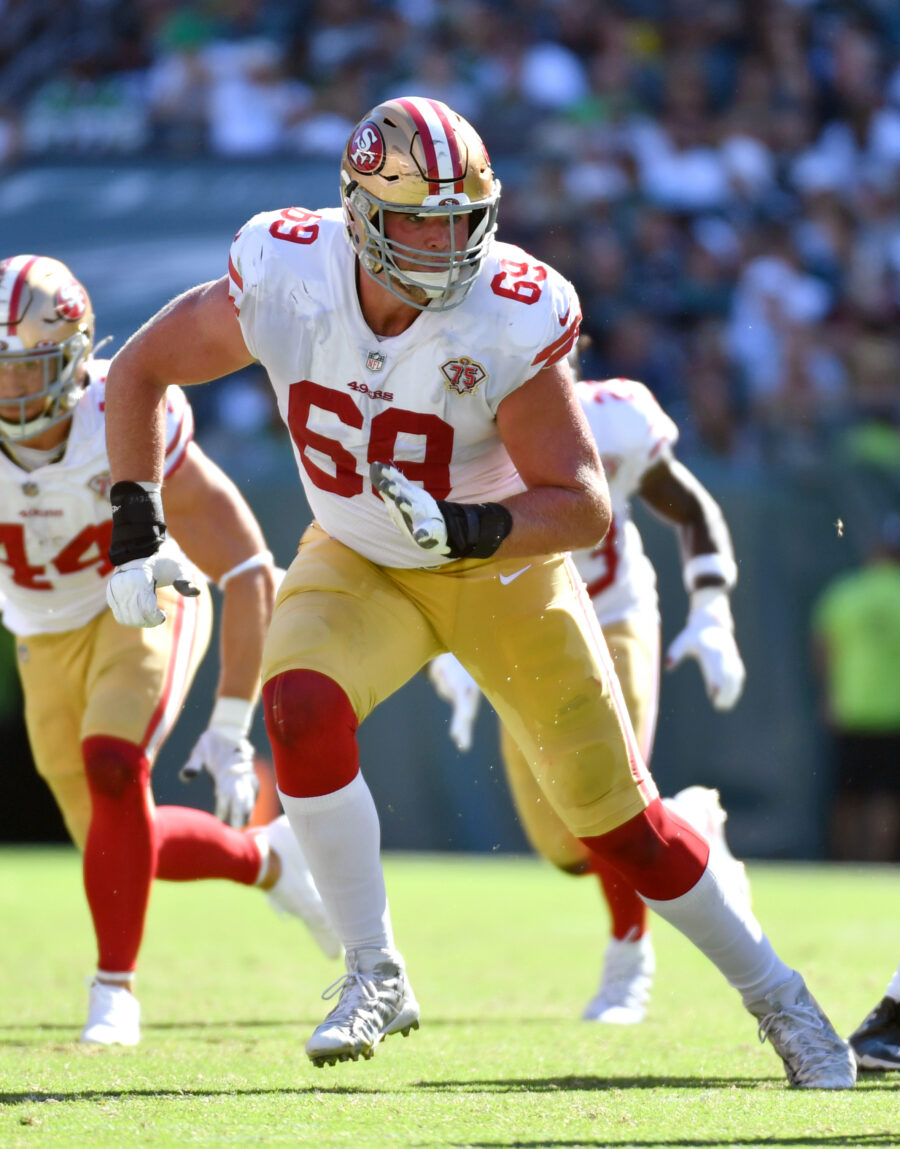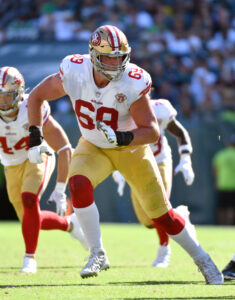 The 49ers paid up for Hargrave and did not appear in on the McGlinchey market, which led to the five-year starter inking a five-year, $87.5MM Broncos accord. Denver, which started 10 different Week 1 right tackles from 2013-22, conveyed its commitment to filling that position by giving McGlinchey a $52.5MM practical guarantee. The 49ers have now let two five-year O-line starters — McGlinchey and Laken Tomlinson — walk in consecutive offseasons.
Dre Greenlaw's 2022 extension effectively paved a path out of San Francisco for Al-Shaair, whose place in the 49ers' linebacker hierarchy only changed due to injury. Greenlaw going down in 2021 led to Al-Shaair playing a three-down role alongside Fred Warner. But Greenlaw coming back restored order. Al-Shaair also missed time due to injury last year; he will anchor a new-look Tennessee ILB corps.
New Titans GM Ran Carthon brought Al-Shaair and Brunskill to Nashville as low-cost starters. Brunskill lost his starting gig to Burford last year, sliding into a swing role. But he still rotated with the Day 3 rookie, playing 519 offensive snaps. The two-year right guard starter could be missed, though having Jon Feliciano (54 career starts) as an interior swingman may effectively replace Brunskill.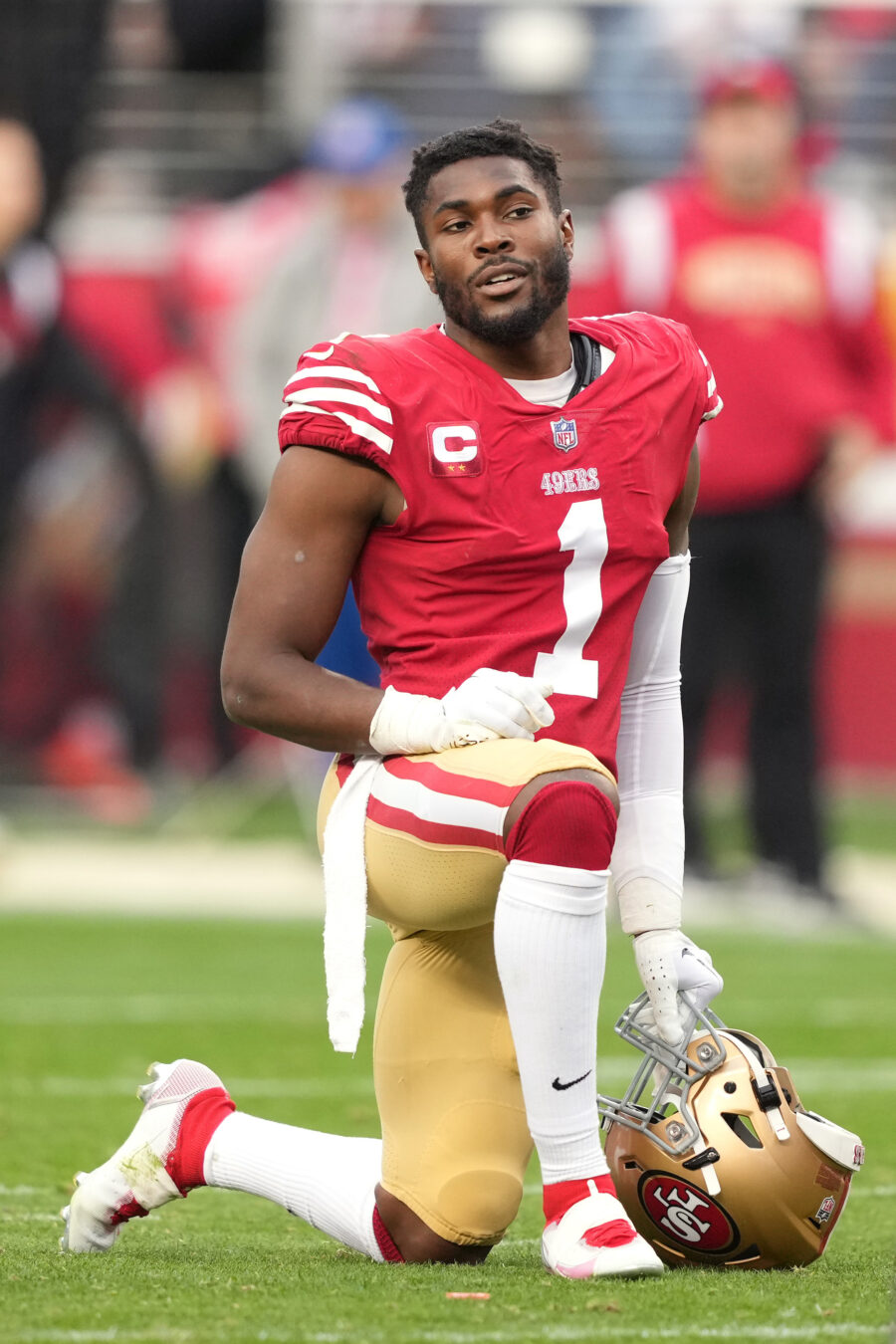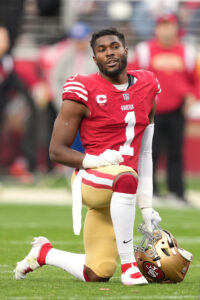 Ryans poached Ward and Willis for his new Houston team. Ward, 32, resided as the longest-tenured 49ers starter, signing three contracts and staying nine years. The 2014 first-round pick missed extensive time due to injury and toggled back and forth from safety to nickel corner during his run. Although Ward was moved off safety once again during Ryans' watch last season, the two-year 49ers DC communicated to him he would be interested in taking the veteran DB with him wherever he went. Ryans kept his word, with Ward signing a two-year, $13MM deal to serve as a mentor of sorts on a rebuilding Texans team.
Saving money for the Bosa windfall, the 49ers let both Omenihu and Ebukam walk. Both two-year contributors benefited from rushing on the Bosa-fronted D-line, and the Chiefs and Colts respectively signed each to three-year contracts. Both the ex-Bosa wingmen scored guarantees that topped veterans Leonard Floyd, Frank Clark and Jadeveon Clowney this offseason. The Colts gave Ebukam $10.75MM; Omenihu secured $8.6MM from the Chiefs. Omenihu's guarantees are in jeopardy, however, thanks to the six-game suspension he incurred in connection with his January domestic violence arrest.
Trades:
The Darnold signing eventually became a 49ers white flag on Lance, who is teetering on becoming one of the modern draft's biggest busts. Unlike Ryan Leaf or JaMarcus Russell, however, this top-three QB pick has barely played. Lance's past three-plus years have doubled as one of the strangest career arcs for any top prospect in NFL history. The dual-threat talent became a top prospect despite playing one season at a non-Division I-FBS program — albeit the best non-Division I-FBS program — and is gone after finishing just three games as a starter.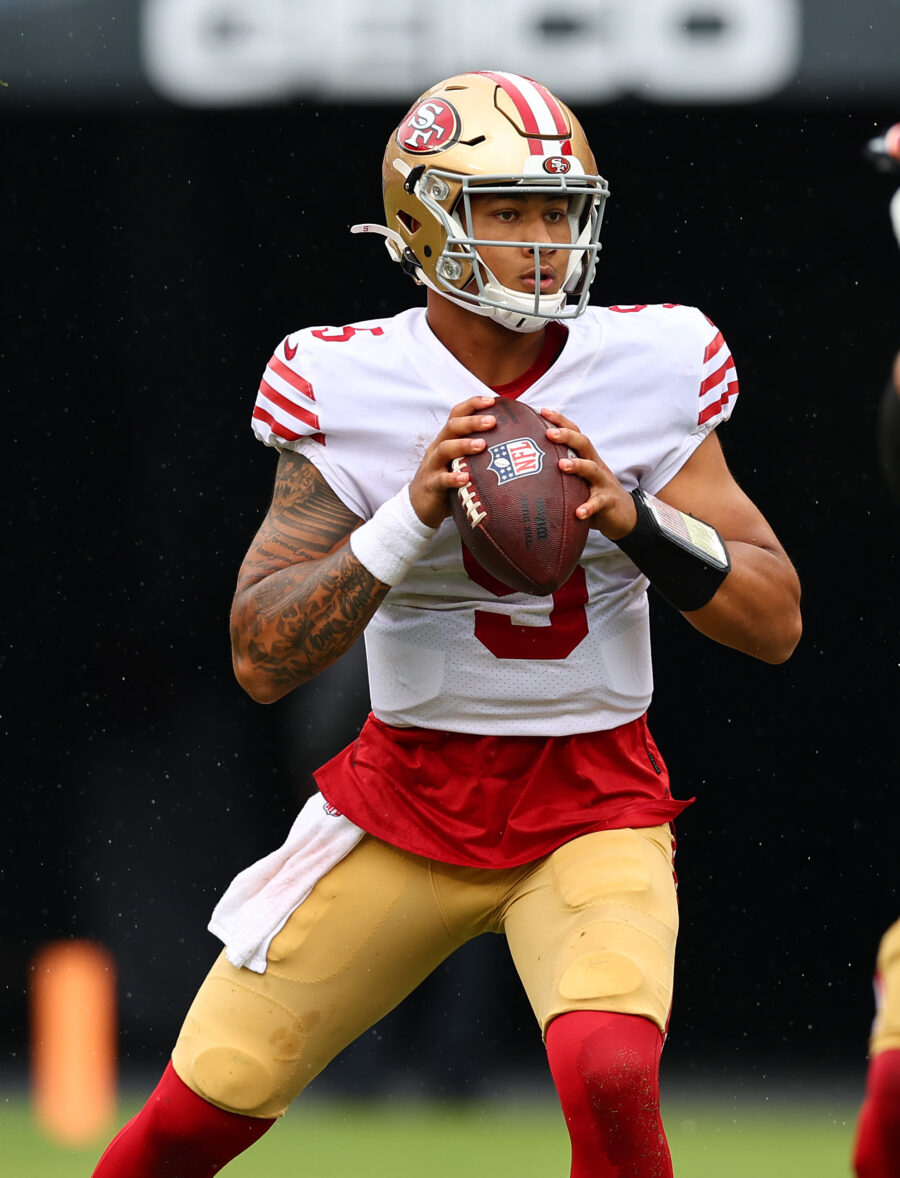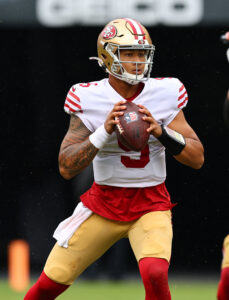 It is possible more Lance warts would have formed had the COVID-19 pandemic not nixed the 2020 Division I-FCS season, but the Cowboys will attempt to redevelop a player whose development has been thrown off at every turn. Lance sat out the 2020 slate, save for one exhibition game, and did not threaten Garoppolo's job in 2021. A finger injury limited Lance as a rookie, and after the September 2022 ankle fracture required two surgeries, the 49ers began holding trade talks for an extended period this year. Lance, 23, went from unquestioned starter during the 2022 offseason to third-stringer in 2023; he threw just 31 regular-season passes in between.
Regardless of the rumors of Shanahan initially preferring Mac Jones — after the 49ers traded two first-round picks to move up from No. 12 to No. 3 in March 2021 — and being talked into Lance, the team's decision-maker on the offensive side signed off on adjusting his offense for the unusual prospect. The 49ers receiving only a fourth-round pick represents an obvious value disaster, as the opportunity cost from the 2021 and '22 first rounds stings.
The Cowboys are the only team believed to have offered a fourth, leading the 49ers to abandon their aim to trade Lance to an AFC team. They seemed prepared to trade Lance within the conference earlier in the offseason, when the Vikings engaged in talks for the Minnesota native. While Lance said in May he wanted to stay in San Francisco, he changed his tune after Darnold was announced as the backup in August. Dallas is expected to keep Lance as its third-stringer this season, with the recently re-signed Cooper Rush backing up Dak Prescott. With a $5.3MM guarantee on the books for 2024, Lance will need to at least win the backup job to cling to NFL relevance.
Draft:
Round 3, No. 87 (from Vikings): Ji'Ayir Brown, S (Penn State) (signed)
Round 3, No. 99: Jake Moody, K (Michigan) (signed)
Round 3, No. 101: Cameron Latu, TE (Alabama) (signed)
Round 5, No. 155 (from Dolphins): Darrell Luter Jr., CB (South Alabama) (signed)
Round 5, No. 173: Robert Beal Jr., DE (Georgia) (signed)
Round 6, No. 216: Dee Winters, LB (TCU) (signed)
Round 7, No. 247: Brayden Willis, TE (Oklahoma) (signed)
Round 7, No. 253: Ronnie Bell, WR (Michigan) (signed)
Round 7, No. 255: Jalen Graham, LB (Purdue) (signed)
The 49ers' 2023 first-round pick ended up changing hands three times, going from San Francisco to Miami to Denver to New Orleans. The McCaffrey trade moved the 49ers' second-rounder to Carolina. Fortunately for 49ers draft buffs, they hold their own first- and second-round picks in 2024.
Zane Gonzalez sustained an injury during the preseason, leading to an injury settlement. Moody was always on track to become the 49ers' kicker, given his draft slot. This year's first kicker taken, Moody earned back-to-back All-American honors with the Wolverines. He will replace Robbie Gould, the 49ers' kicker for the past six seasons. Gould, 40, remains unsigned.
The recent history of the first kicker chosen in a draft does not present great job security for Moody. The Browns cut Cade York (Round 4, 2022) after one season. Justin Rohrwasser (Round 5, 2020) never kicked in the NFL, and the Vikings waived Daniel Carlson (Round 5, 2018) after two games (though, he rebounded with the Raiders). The only other Day 2 kicker chosen in the previous 10 drafts, Roberto Aguayo (2016), famously flamed out one year after the Buccaneers used a second-rounder on him.
Holding only compensatory third-rounders this year, the 49ers moved up (via the Vikings) from No. 102 to select Brown. The Penn State-developed safety totaled 10 interceptions between the 2021 and '22 seasons with the Nittany Lions, and the JUCO transfer added 4.5 sacks as a senior. Scouts Inc. graded Brown as this year's No. 67 overall prospect. He is positioned as a backup to start his career. Latu is out for the year after a preseason knee injury.
Other:
Ryans worked his way up from the quality control level, rising quickly after beginning his coaching career on Shahanan's first 49ers staff. Going 2-for-2 in NFC title game appearances as a defensive coordinator, Ryans became a locked-in HC candidate. The 49ers ranked first in total defense, points allowed and defensive DVOA. Shanahan has now lost back-to-back defensive coordinators to HC jobs, with Ryans following Robert Saleh to the AFC. Ryans was popular to the point he canceled multiple interviews — with the Colts and Cardinals — and narrowed his search to the Broncos or Texans. He ended up preferring his former team, which offered a six-year contract (after making its previous two HCs one-and-dones). Ryans took Slowik, who memorably rose from PFF staffer to 49ers pass-game coordinator, with him as his offensive coordinator.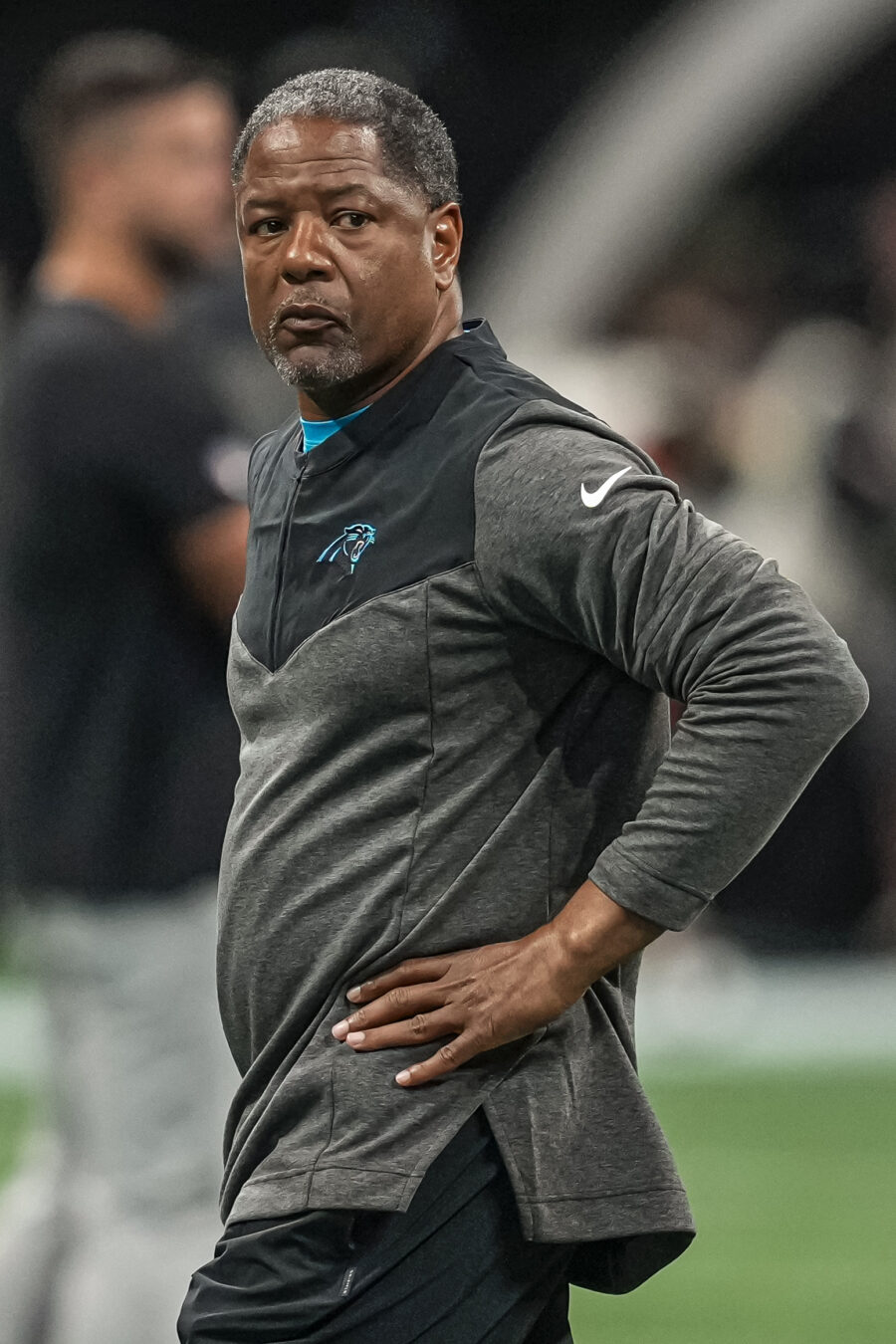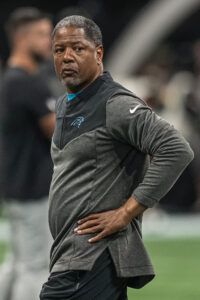 Coming off one of the most successful interim HC seasons in modern NFL history, Wilks saw his 6-6 showing in charge of the Panthers still precede the team choosing another candidate (Frank Reich). Considering the paths of Saleh and Ryans, this is pretty good spot for Wilks, 54, to make another attempt at landing a top sideline job. Wilks, who is part of Brian Flores' discrimination suit, has moved from a 2021 role as the University of Missouri's DC (after being out of football in 2020) to the leader of last year's top defense. Mutual interest in a reunion existed between the 49ers and Vic Fangio, but Mike McDaniel lured him to Miami with a monster DC salary (north of $4.5MM).
Carthon also joined Shanahan from the start, coming over from the Rams. After interviewing for the Bears, Giants and Steelers' GM gigs in 2022, Carthon landed one of the two vacancies this year. The former Florida Gators running back and son of ex-Giants fullback Maurice Carthon, Ran finished his 49ers tenure as the team's director of player personnel. 49ers assistant GM Adam Peters declined interviews with both the Cardinals and Titans. The 49ers collected three additional third-round picks following the departures of Ryans and Carthon, after previously picking up Rooney Rule-driven third-rounders for the exits of McDaniel, Saleh and Martin Mayhew.
Losing Purdy in the first quarter of the NFC championship game, the 49ers were prepared to bring Philip Rivers out of a two-year retirement to start in Super Bowl LVII — had they miraculously dispatched the Eagles. That quickly became unrealistic, but San Francisco losing Purdy and Josh Johnson prompted the NFL to reinstate the emergency third QB rule.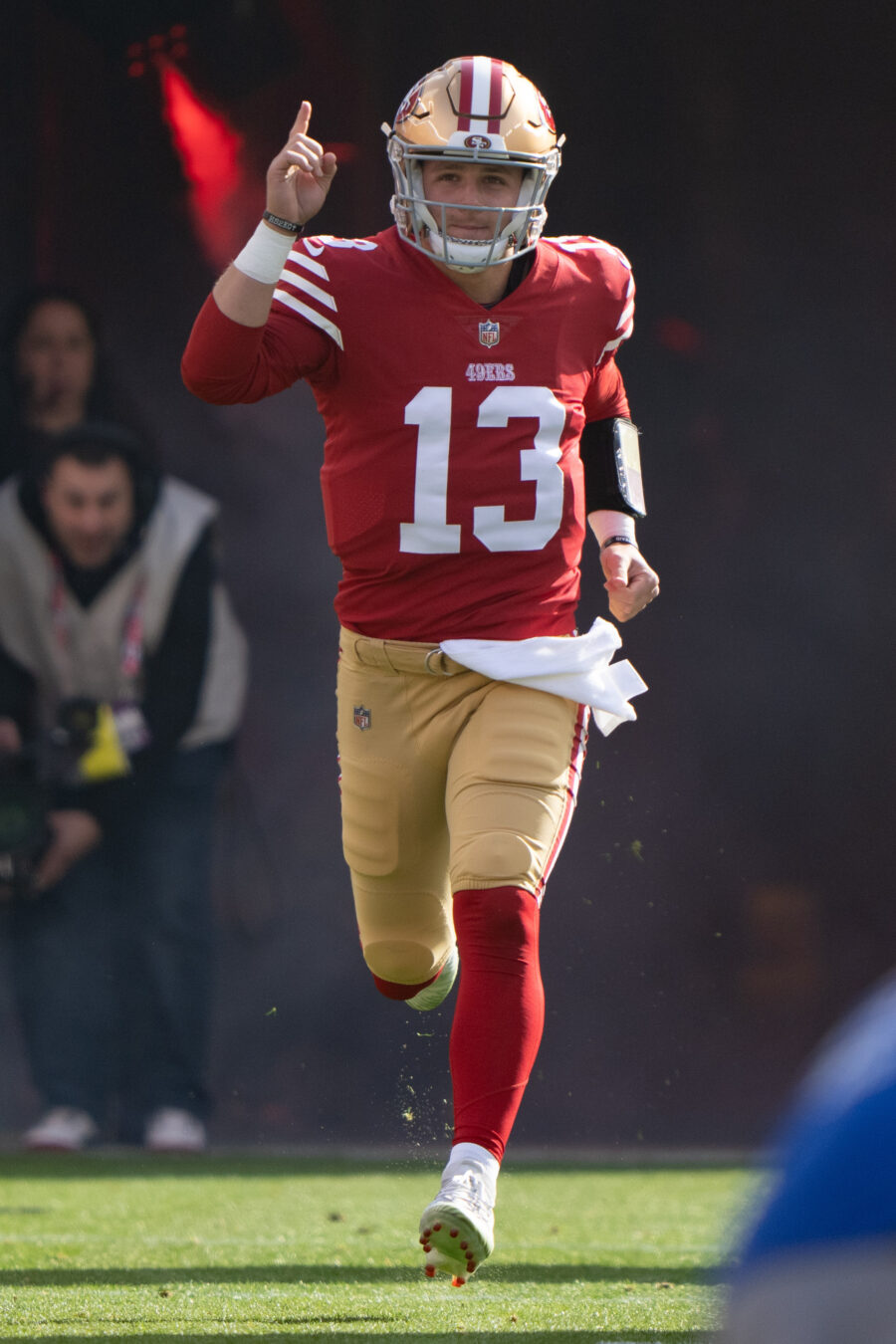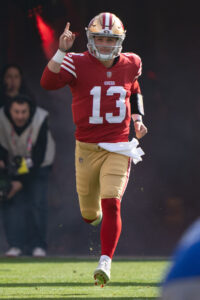 Shanahan did not waver from his confidence in Purdy this offseason, reinstalling him as the starter as Darnold and Lance battled for the backup job. Purdy, who beat out Nate Sudfeld for the 49ers' third-string job to start last season, avoided Tommy John surgery and beat the timetable from the internal brace procedure. The early-March procedure was to require a six-month recovery duration, but instead of pushing up against the regular season, Purdy was back in time to see preseason action. While Darnold looms, Purdy does not appear to be on a short leash.
The 49ers have more All-Pro skill-position starters than non-All-Pros, keeping Aiyuk as an overqualified auxiliary pass catcher. Amid Deebo Samuel's self-proclaimed step back last season, however, Aiyuk led the 49ers with 1,015 receiving yards. San Francisco rebuffed trade interest in Aiyuk, and the team now has him locked in through 2024. An Aiyuk payment would be challenging for a team with Samuel and George Kittle signed to upper-crust deals at their respective positions, but the 49ers are understandably not shutting down that prospect with two years remaining on his contract.
Top 10 cap charges for 2023:
Still rostering a number of Super Bowl LIV starters, the 49ers may not be facing a closing window just yet. But the clock is ticking. The team has proven it can soar to rarified heights with modest quarterback play. If Purdy can take a step forward in his first full season at the controls, the 49ers will be tough to stop.
All eyes will be on the unlikely starter post-injury. Such is life in the NFL, as the intergalactic skill-position group or the bolstered defensive line probably will not be enough to push the 49ers to the summit without Purdy at least maintaining his 2022 form. Barring a 2020-like slew of major injuries, though, the 49ers will still be in the thick of the NFC's shallower contender mix.
Follow @PFRumors