SEPTEMBER 5: Jordan Schultz of the Score reports that no talks have transpired in the past few days, pointing further to the impending deadline passing without an agreement being reached. He adds, however, that the Bucs will make a final attempt to hammer out a deal later this week. Unless that effort produces an eleventh-hour resolution, Evans will begin the campaign without being on the books beyond 2023.
SEPTEMBER 1: Earlier this month, GM Jason Licht expressed a desire for Mike Evans to stay in Tampa on another long-term commitment. Suddenly, the Buccaneers are facing a deadline to make that happen.
The sides have not made progress on an extension, Rick Stroud of the Tampa Bay Times reports. In the wake of this report, Evans' agent has set a Week 1 deadline regarding Bucs extension talks (via NFL.com's Mike Garafolo). The agent-released statement indicates the Bucs have not made Evans an offer. The 2014 first-round pick said earlier this month he would like to finish his career with the Bucs, but his statement indicates this extension effort has transpired over multiple years.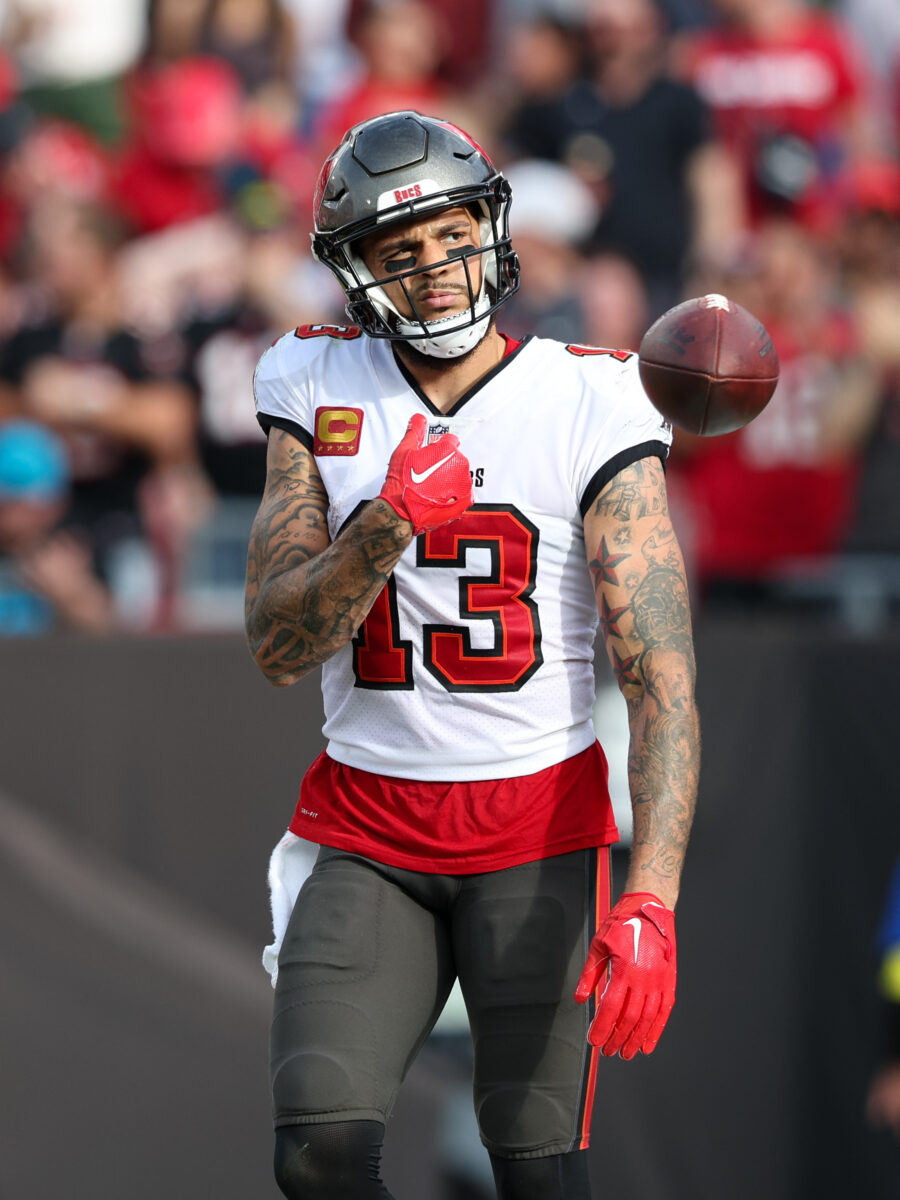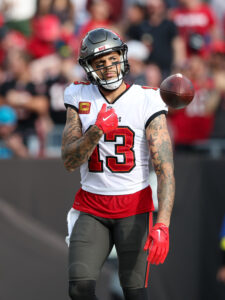 Evans, 30, is going into the final season of a five-year, $82.5MM contract. At the time of signing (March 2018), this deal made Evans the league's second-highest-paid receiver (behind only Antonio Brown's third Steelers contract). Days later, the Chiefs added Sammy Watkins on a $16MM-per-year deal. That scrutinized contract catalyzed the receiver market, and the eventful 2022 offseason — which included another notable Bucs wideout payment — led to Evans' deal being passed many times over. Evans' $16.5MM AAV has dropped to 17th at the position. Evans' less accomplished teammate, Chris Godwin, is among the players who passed him. The Bucs gave Godwin a three-year, $60MM extension in March 2022.
The only player in NFL history to start his career with nine 1,000-yard seasons (no one else moved past seven to begin a career), Evans provided considerable aid to the likes of Jameis Winston and Tom Brady. The 10th-year pass catcher is now believed to be seeking a deal in line with the one the Rams gave Cooper Kupp last year, Stroud adds. Los Angeles reupped Kupp on a three-year, $80.1MM deal that came with $75MM guaranteed. This came after Kupp's triple-crown season. Evans has not produced a season on that level, though his body of work eclipses Kupp's.
Evans has created some distance between himself and the second-best pass catcher in Bucs history, sitting first on the franchise's all-time receiving list (10,045 yards). Only Godwin and Vinny Testaverde-era weapon Mark Carrier accumulated more than 5,000 as Bucs; Godwin sits second with 5,666. Godwin, 27, is three years younger than Evans and more likely to be on the 2024 roster. The Bucs are not as interested in big-ticket payments for veterans in Evans' age range post-Brady, Stroud notes.
Although this deadline indicates Evans is prepared to change teams in 2024, it does not exactly mean the end of the line for his Bucs partnership. The team could conceivably use the franchise tag to keep him. But the past two teams to unholster the tag to keep veteran wideouts — the Bengals in 2020 (A.J. Green) and Bears in 2021 (Allen Robinson) — have regretted it. The Bucs also have Antoine Winfield Jr. as a more logical tag candidate; the fourth-year safety is going into a contract year. Devin White requested a trade this offseason but later returned to the team. The fifth-year linebacker is not a tag candidate but also represents a key 2024 Bucs free agent.
Evans' agent told Stroud it "sickens" the veteran wideout to see holdout players be rewarded as he has continued to produce. Evans represents a key part of the Bucs' 2023 equation, which centers around Baker Mayfield replacing Brady. But if this bit of orchestrated pressure does not lead to an extension in the next nine days, Evans could become a trade candidate. Should the Bucs start slowly, ESPN's Dan Graziano notes both Evans and Godwin should be expected to land in trade rumors. Two years remain on Godwin's deal.
Follow @PFRumors