After expressing quick regret on his initial hire as Panthers owner, David Tepper reversed course and prioritized NFL experience. Carolina bailed midway through Year 3 on Matt Rhule's seven-year contract, and despite Steve Wilks' admirable job moving the team back into the mix for a division title (albeit in a historically bad NFC South), Frank Reich became the pick.
That move sets the tone for Carolina's mid-2020s, but the decision Reich, Tepper and GM Scott Fitterer made barely a month later should have a longer-term impact. After a quarterback carousel spun in Charlotte for several seasons, the team did its best to address one of the NFL's most glaring needs.
Trades: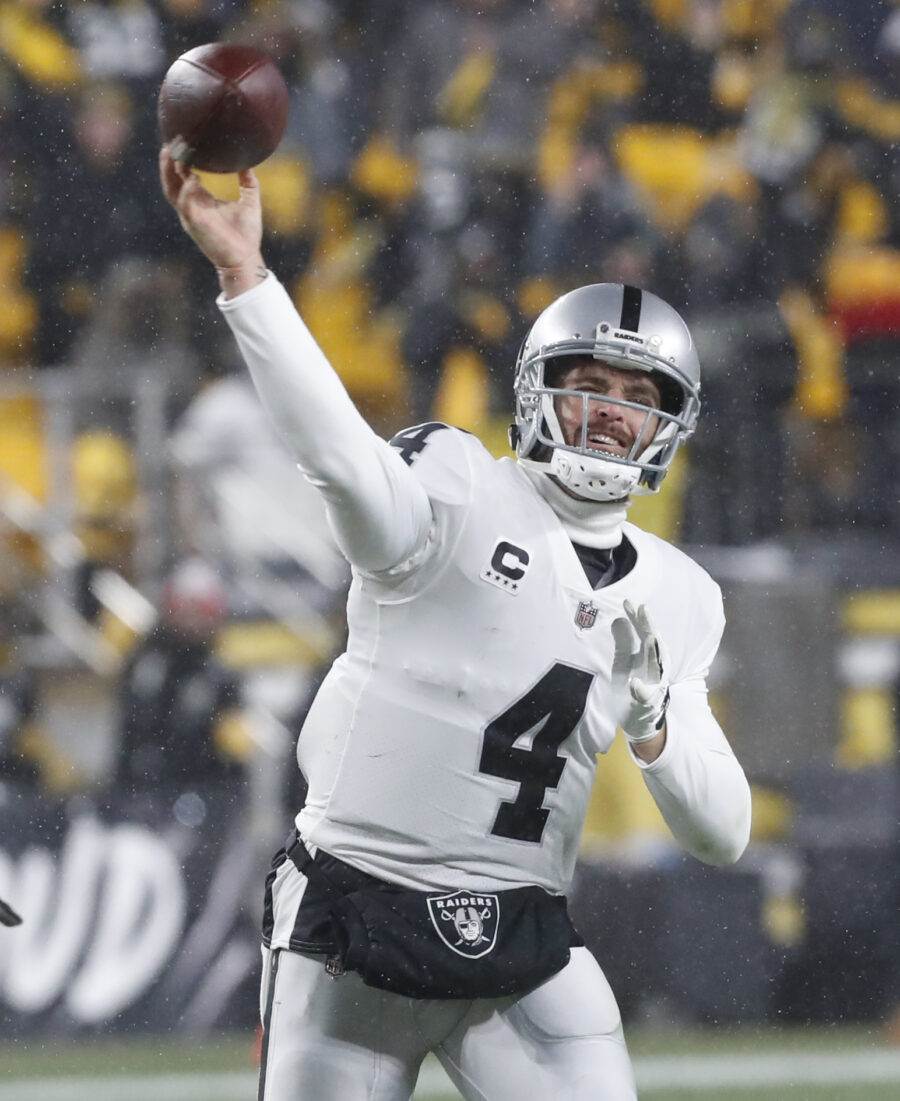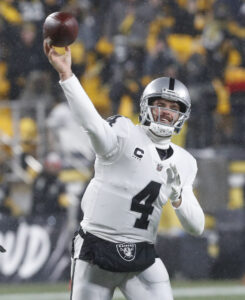 Cam Newton's MVP 2015 season turned out to be an aberration; the talented dual-threat option gradually trended down in the years following Carolina's Super Bowl 50 loss. Toward the end of that late-2010s period, Newton began to break down. Shoulder and foot injuries led to the Panthers cutting bait on his 2015 extension in 2020, but the three-year, $63MM Teddy Bridgewater contract became one of a few stopgap measures that destabilized the team.
Rhule traded Bridgewater in 2021, and the Panthers offered a top-10 pick and their 2020 QB1 for Matthew Stafford in 2021. The Panthers believed they had secured a Stafford trade that winter (though, the then-Lions QB was not too keen on such a move), but the Rams swooping in led to a subsequent trade for Sam Darnold. An injury-plagued Darnold year keyed the Rhule-directed Baker Mayfield push. The Mayfield move only came about after Tepper's two-offseason pursuit of Deshaun Watson failed. Watson was not big on the Panthers, and they joined the Falcons and Saints in balking at matching the Browns' fully guaranteed extension offer. Since Newton's 2018 shoulder injury shut him down, the Panthers have started seven QBs.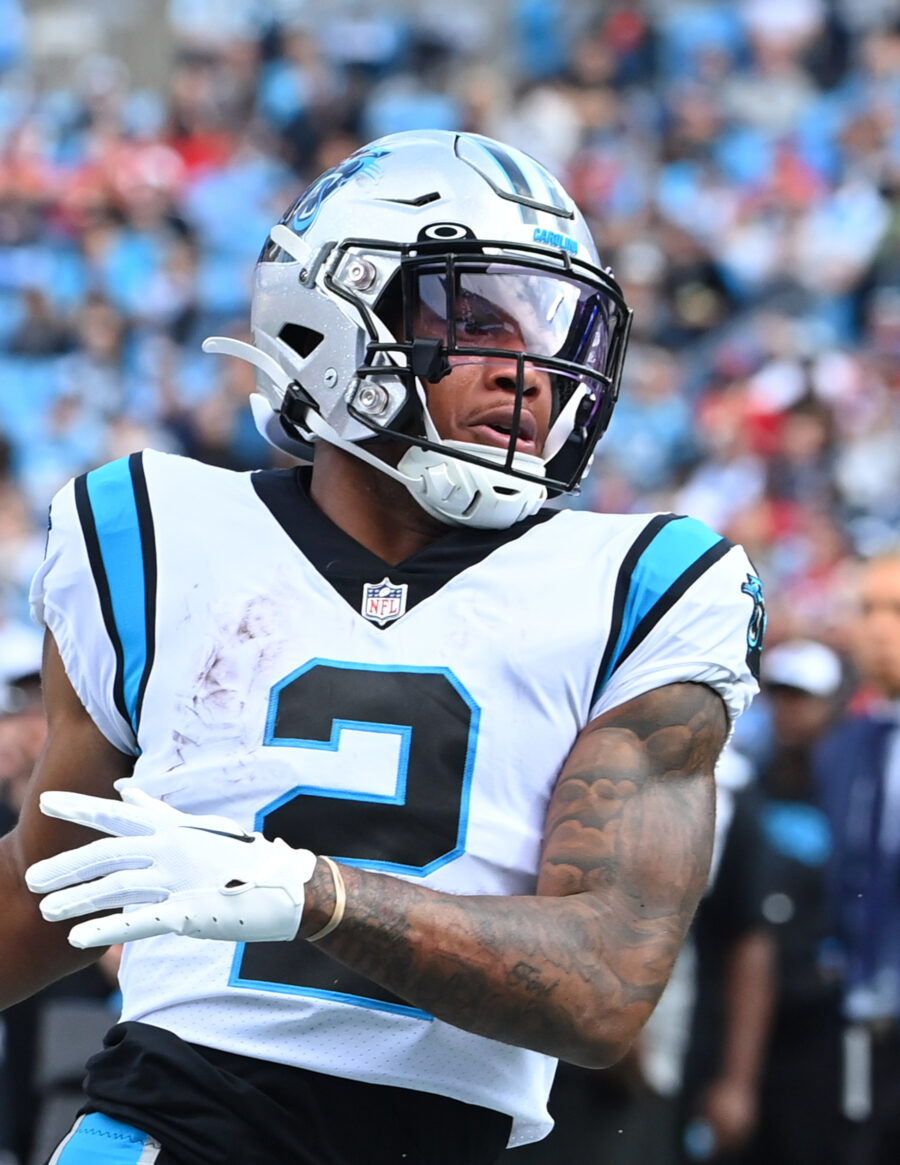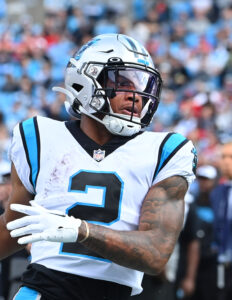 This offseason did not turn into a Bryce Young-centric effort immediately. The Panthers pursued Derek Carr, meeting with the nine-year Raiders passer at the Combine — shortly after Carr wielded his no-trade clause to finalize a release. And they were still in those sweepstakes days before going in another direction. But the team shied away from Carr's $35MM-per-year asking price, clearing the way for the Saints to meet it.
Initially, the Bears were looking at moving from No. 1 to No. 2 to No. 9 — a complex trade that would have given the Texans the top pick and the Panthers the second overall choice. But Houston drifted out of the picture, leading to direct Chicago-Carolina negotiations. Bears GM Ryan Poles asked about Brian Burns and Derrick Brown, but after Fitterer kept the young front-seven pieces out of the trade, Chicago insisted Moore be part of the package. Despite Moore anchoring the Panthers' receiving corps for most of his five-year Charlotte run, that did not prove a dealbreaker. The Panthers had extended Moore — on a three-year, $61.8MM deal — in March 2022; that contract is now on the Bears' payroll.
The Panthers needed to include Moore to separate themselves from the other suitors for the pick, making the reluctant decision despite previously turning down a first-rounder (in different trade talks) for their No. 1 wide receiver. Moore, 26, joins Steve Smith and Muhsin Muhammad as the only three-time 1,100-yard receivers in franchise history. Smith and Muhammad enjoyed better QB stability than Moore, who did not begin his 1,100-yard string until Kyle Allen took over for Newton in 2019.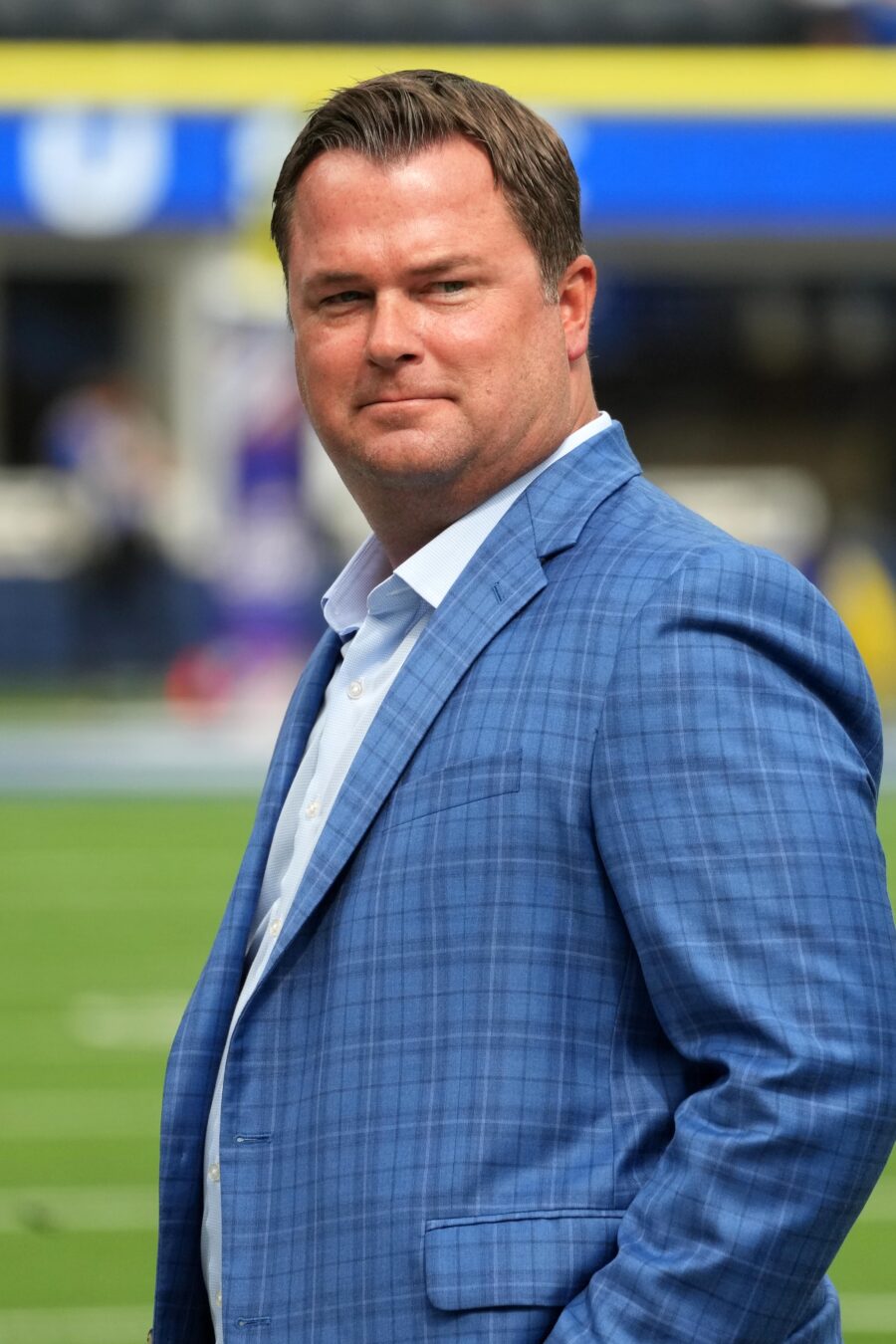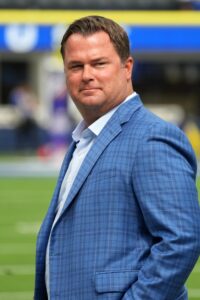 Carolina also preferred to retain the higher of its two 2023 second-round picks. Rather than move their own choice (No. 38), the Panthers gave the Bears the pick obtained in the Christian McCaffrey deal (No. 61) and a 2025 second. It can be argued the Panthers overprotected their own 2023 second-rounder (which became wideout Jonathan Mingo), keeping it and instead trading No. 61 and a 2025 second.
Regardless of how they stuck the landing, the Panthers made a true QB commitment for the first time since extending Newton in 2015. As a result, Young and Justin Fields' careers will be tied together for a while. With Poles and Fitterer boldly completing this trade before free agency, the Panthers carried more certainty going into the market compared to the Bears, who had traded a No. 1 overall pick earlier in an offseason than anyone since the draft moved to April in 1976. It did not take too long before the Panthers' Young preference circulated.
Free agency additions:
The Moore trade keyed a receiver reboot in Carolina. After Moore and the then-Robbie Anderson began the past three seasons as the Panthers' top wideouts, both ended up in trades. The team's ensuing plan injects more risk into the equation, with Thielen going into his age-33 season and Chark missing sizable chunks of the past two slates due to injuries.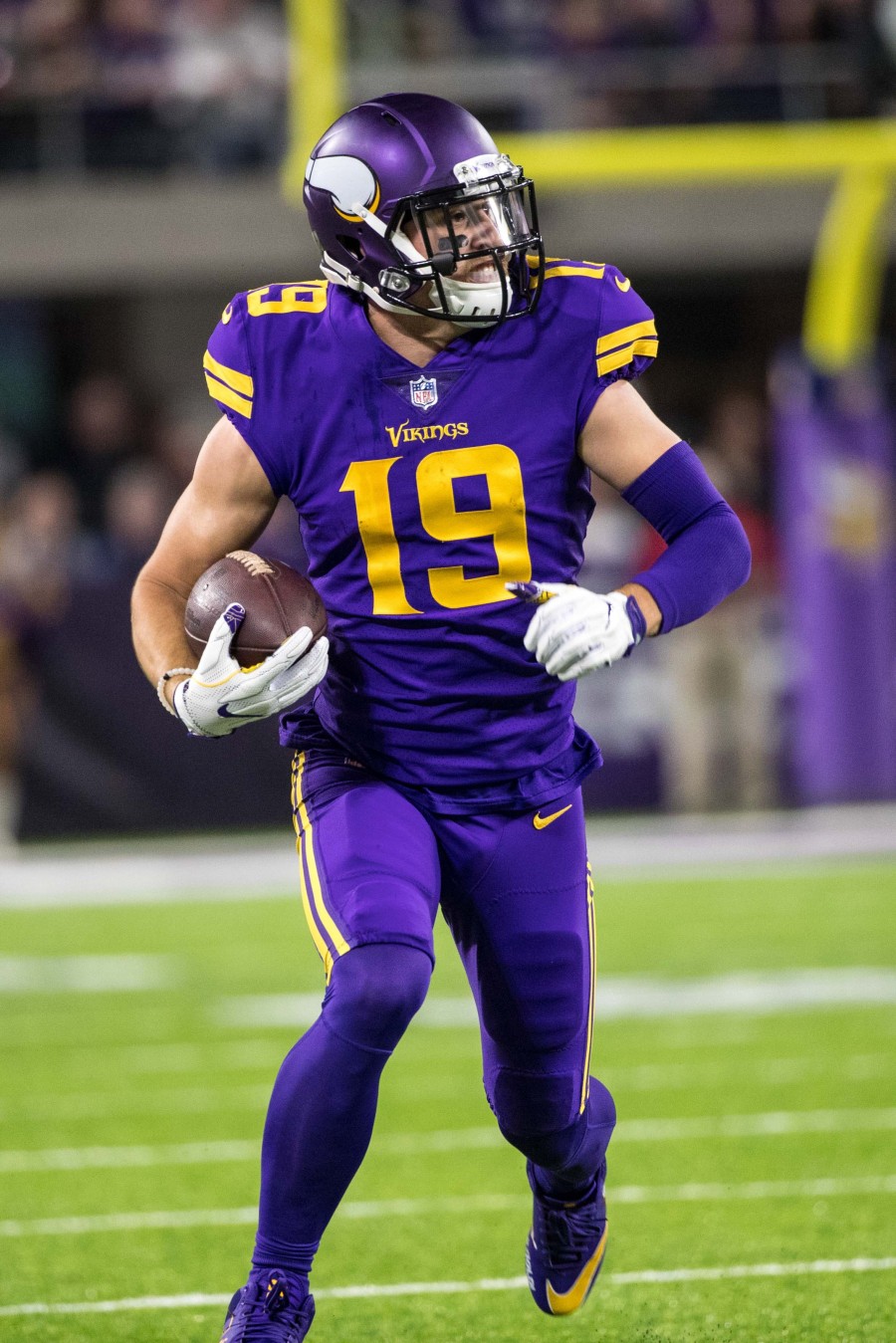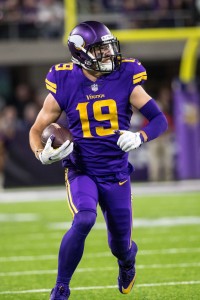 Parting with a number of core contributors to improve their cap situation, the Vikings ditched Thielen after 10 years. The Division II product-turned-rookie-camp body made a stunning ascent to join Randy Moss, Cris Carter and Anthony Carter near the top of all-time Vikings receiving lists, and the Minnesota native enjoyed a market upon being cut. The Broncos and Cowboys were among the teams to pursue Thielen, but the 11th-year pass catcher signed with the Panthers after a visit. The Panthers provided a quality parachute for Thielen, who collected nearly as much guaranteed money as top 2023 receiver UFAs Jakobi Meyers and JuJu Smith-Schuster ($16MM apiece) despite being seven years older than both.
Thielen, whose 30 touchdown receptions since 2020 trail only Davante Adams, Mike Evans and Tyreek Hill. Granted, Thielen benefited extensively from Justin Jefferson's meteoric rise. But the veteran possession receiver should still aid Young as he acclimates to the NFL. This is a true multiyear commitment. In a non-post-June 1 capacity, cutting Thielen would not save the Panthers any money in 2024. Reich and Co. are betting on two solid years from Thielen.
The Lions attempted to re-sign Chark, but he will be part of a third team in three years. The ex-Jaguars second-rounder posted a 1,000-yard season with Gardner Minshew primarily at the controls (2019) and did some field-stretching work for the Lions when available last year. But Chark missed 13 games because of a fractured ankle in 2021 and saw more ankle trouble lead him to IR last season. Chark still averaged 16.7 yards per reception in his Lions one-off — the second-highest total of his career — but the $5MM contract reflects teams' hesitancy on the injury front. Chark underwent another ankle surgery this offseason; this second "prove it" deal will be pivotal for the LSU alum's earning power.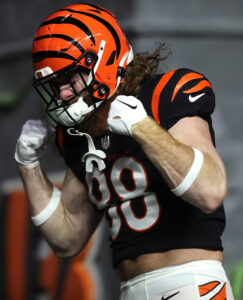 Both Mike Gesicki and Dalton Schultz received the franchise tag last season and have been superior receivers to Hurst during their careers. Hurst, 30, is also two years older than Gesicki and three years older than Schultz. The Panthers nevertheless made another true multiyear commitment. Hurst has one career 500-yard receiving season — a 571-yard showing with the 2020 Falcons — and is coming off a 414-yard slate in Cincinnati. PFF also rated Schultz as a far superior run blocker last season. With the Bengals and Falcons over the past two seasons, Hurst did not exceed nine yards per reception.
The Panthers have not effectively replaced Greg Olsen since his foot trouble keyed a late-2010s decline. They will be making an interesting bet on Hurst doing so, but he and Thielen represent pivotal parts of Young's first NFL attack.
As you may have heard, the NFL collectively updated its view of running backs. On that note, Sanders was fairly fortunate to land the deal he did. The four-year Eagles starter collected the most guaranteed money of any RB this offseason, though his AAV checked in south of James Conner and Leonard Fournette's 2022 pacts. Although Sanders will reunite with ex-Eagles RBs coach Duce Staley, who helped steer him to the Panthers, he is going from perhaps the NFL's best offensive line to a middling unit. Saquon Barkley's Penn State successor is coming off a career-best (by a wide margin) 1,269 rushing yards and 11 touchdowns. He also has not totaled more than 200 receiving yards in a season since 2019. But there should be some pass-catching upside for the Panthers to explore.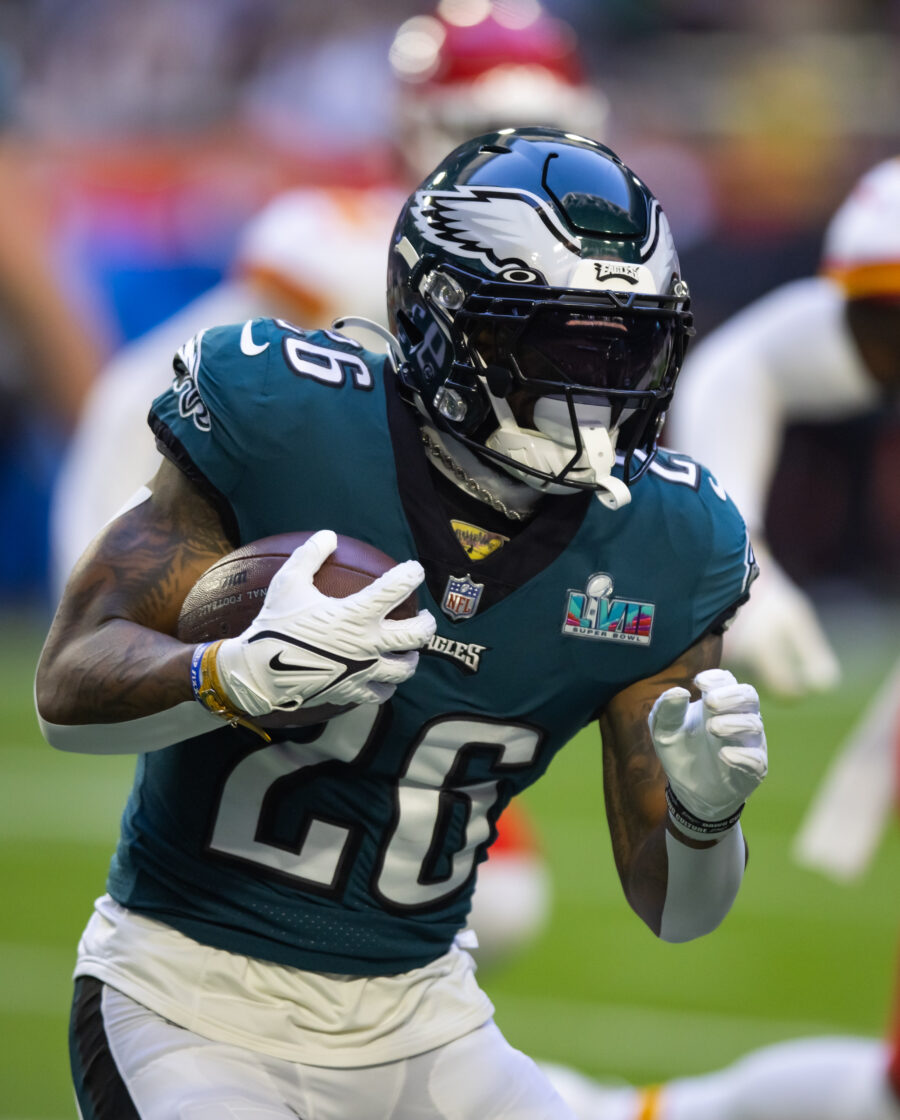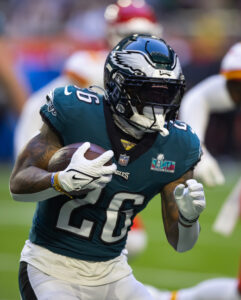 The Eagles limited their RBs' pass-game work under Jalen Hurts. With Carson Wentz at the helm in 2019, Sanders totaled 509 receiving yards. It should be expected Carolina uses its expected three-down back in the passing game more than Philadelphia did last season. With questions at tight end and wide receiver, the team's new 5-foot-10 quarterback will likely look to Sanders as an outlet option more than the Eagles did.
Sanders likely would have been unable to fetch this payday had Barkley, Josh Jacobs and Tony Pollard — or perhaps any one of the three — reached free agency rather than being franchise-tagged. Not many teams were eyeing a back at a $6MM-plus salary. But Sanders capitalized, becoming one of the few winners of this bleak RB offseason. He should play a key role in Young's early development.
With no team coming close to giving a non-Jessie Bates safety what the Falcons offered Bell's ex-Bengals teammate ($16MM AAV), a market formed between $6-$8MM per year. Bell took what he could get, parlaying a nice run alongside Bates in Cincinnati into another midlevel deal. This is Bell's second three-year accord; he signed an $18MM contract with the Bengals in 2020. His Panthers pact did not mark much of an improvement, and Carolina has its highest-paid safety tied to an average salary outside the top 15 at the position.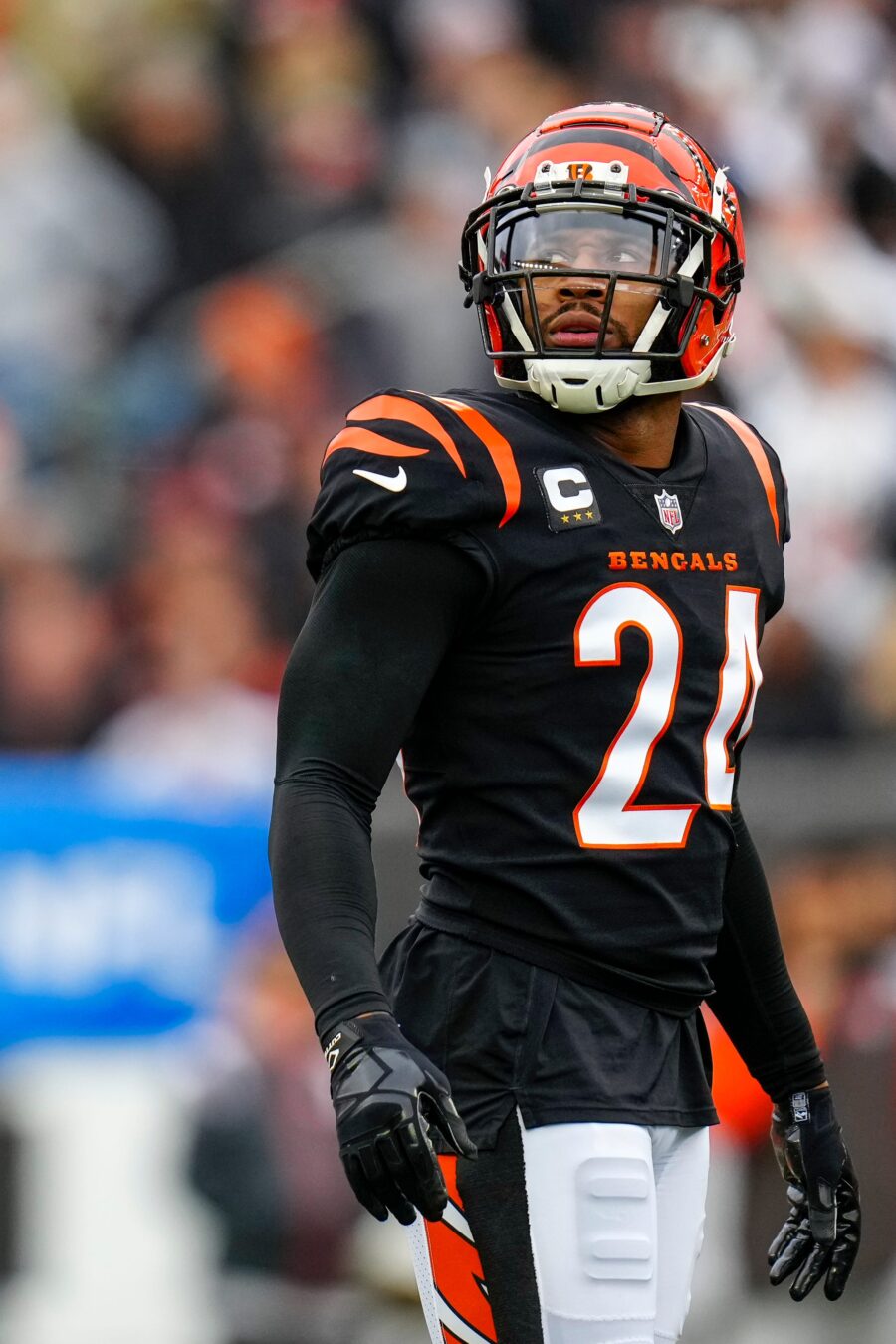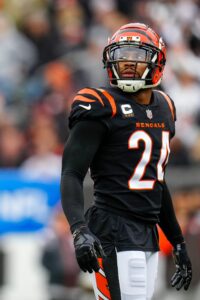 A former Saints second-round pick, Bell was one of the league's steadiest safeties under Lou Anarumo in Cincy. He missed only one game due to injury as a Bengal and rated as a top-35 safety, per PFF, in each of his three Ohio-based seasons. Excelling in run support, Bell was instrumental to the Bengals' defensive turnaround. He also intercepted four passes last season, and his overtime INT of Patrick Mahomes in the 2021 AFC championship game set up the Bengals sealing their first Super Bowl berth in 33 years.
The Bengals attempted to re-sign their three-year starter but set a lower price ceiling, due to Bell's age (29 in December). Bell will team with Xavier Woods and Jeremy Chinn in Carolina, though the latter — whose role has fluctuated since Rhule chose him in the 2020 second round — is expected to play more in the slot this season.
Not all of Rhule's decisions backfired. Reuniting with ex-Temple recruit Haason Reddick continued the pass rusher's midcareer breakout. The Panthers, as it turned out, should have made a stronger effort to re-sign the former Rhule college charge. Reddick elevated his game to new heights in Philly, and the Panthers did not effectively replace him. Brian Burns still fared well in 2022, but he lacked support. Carolina passed on an oft-rumored veteran edge rusher addition last year; Reich's regime did not make that mistake. After leading the Ravens in sacks in each of the past two years, Houston is set to complement Burns.
Combining for 49 QB pressures and 14 sacks from 2021-22, Houston represents a significant upgrade alongside Burns. Houston's 9.5-sack 2022 slate earned him nearly twice the guaranteed money the Ravens gave him last year; the ex-Chiefs All-Pro doing this at 34 is no small accomplishment. Houston has also shaken off the injury struggles that plagued the back half of his Kansas City tenure, missing just five games in the four seasons since his Missouri exit. The Panthers viewed Yannick Ngakoue as too pricey, but Houston represents a solid get as well.
Because the Panthers made their trade for the No. 1 pick before free agency, Dalton did not arrive under any misconception. The journeyman would be backing up whomever Carolina drafted. This differs from the situation with the Bears two seasons ago, when the team chose Fields a month after signing Dalton. Still, the former Bengals cornerstone replaced Jameis Winston in Week 4 of last season and never gave up the job. Going into his age-36 season, Dalton used that Saints campaign to collect the most guaranteed money on a QB2 deal this offseason.
Re-signings:
Once Austin Corbett comes off the reserve/PUP list, Young will play behind the rare offensive line to return all five starters from last season. Bozeman was the group's only free agent, and the Panthers locked him down early in free agency. While Bozeman scoring only a one-year, $2.8MM deal in 2022 surprised, Pat Elflein beating out the ex-Ravens starter signaled a bit of a career crossroads for the Alabama alum. Once Elflein's injury trouble intervened six games into last season, Bozeman capitalized.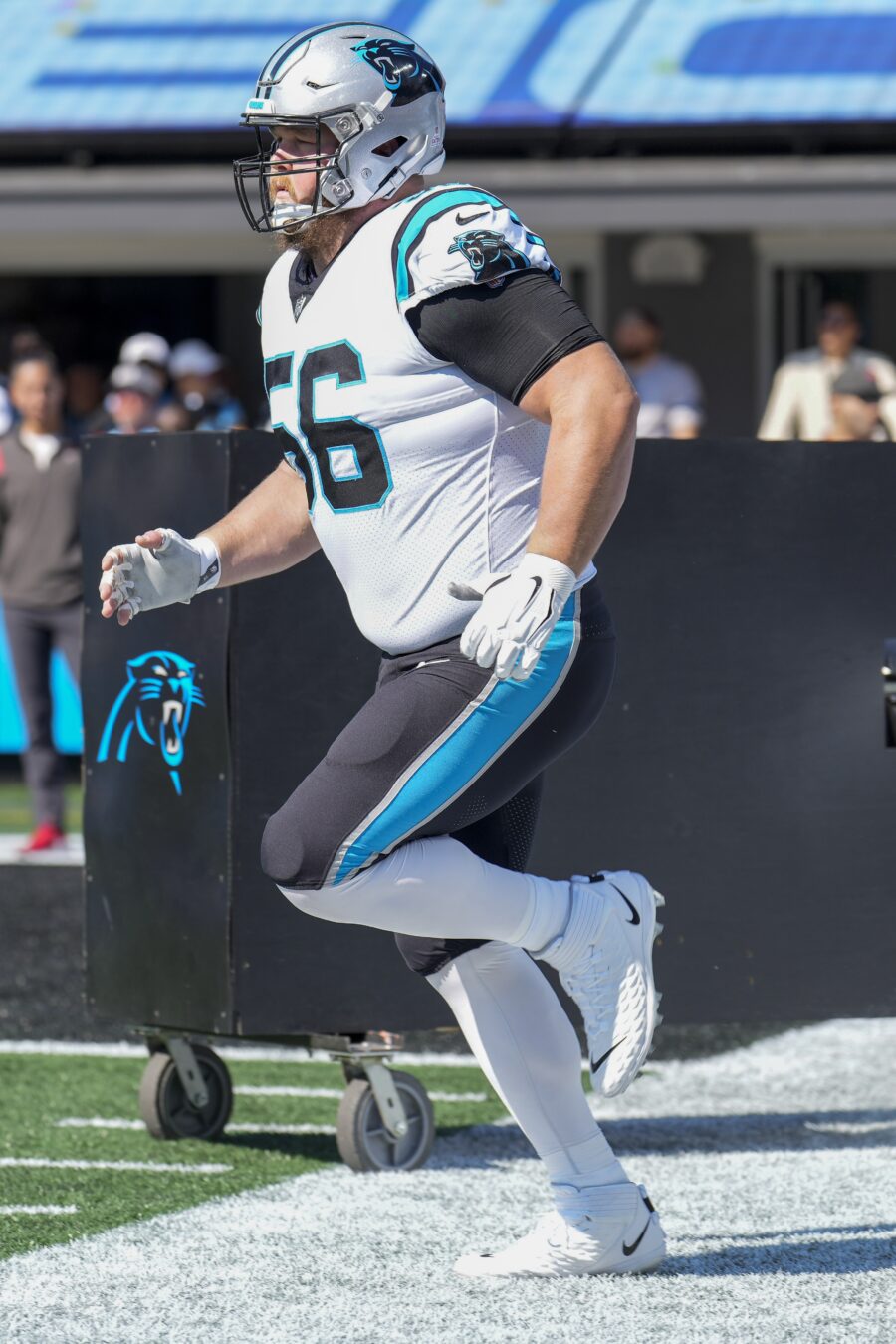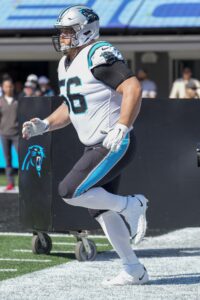 The 28-year-old blocker started the Panthers' final 11 games, and PFF ranked him as an upper-echelon run blocker. Though, the advanced metrics site did not view Bozeman as a plus pass protector. Even with Reich installing a new offense, the team took care of the Rhule-era investment. As they did with Bell, the Panthers took advantage of a midlevel market forming at center. Bozeman joined a handful of other snappers whose contracts settled in between $4-$6MM per year. These low asking prices allowed a number of teams to ensure center continuity by re-signing their respective pivots.
Last season, Jansen passed John Kasay for the most games played by a Panther. The 15th-year long snapper, 37, enters this season at 226. Jansen was expected to send his snaps to Zane Gonzalez last season, but after a 2022 preseason injury, Gonzalez went on IR to lead to a late-summer Pineiro pickup. The Panthers had signed Gonzalez to a multiyear deal, but Pineiro seized the 2023 job by making 33 of 35 field goal tries last season. This included an impressive 13-for-14 accuracy rate from between 40 and 49 yards. 2023 will be the former Bears and Jets specialist's first time kicking for the same team in consecutive seasons.
Notable losses: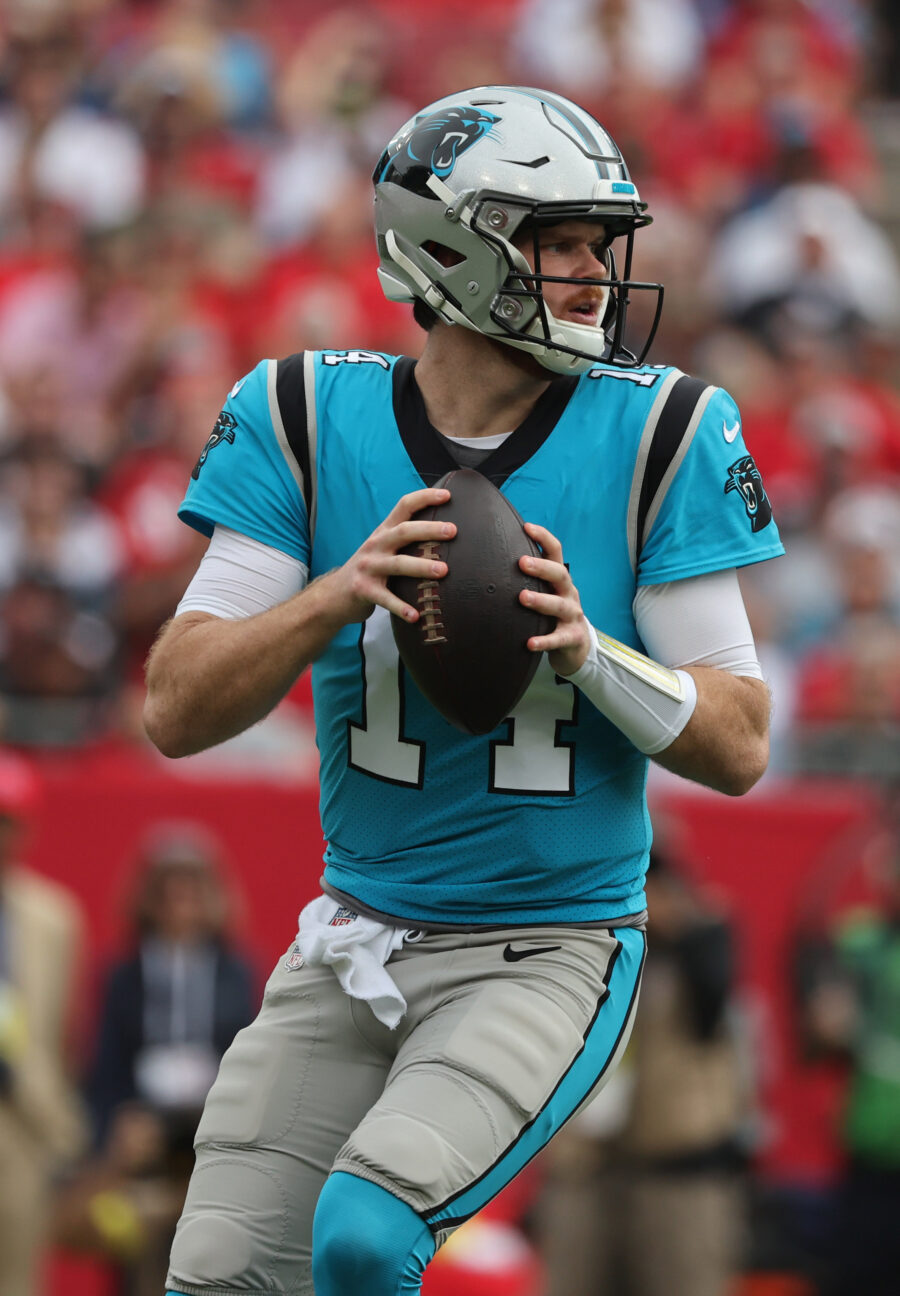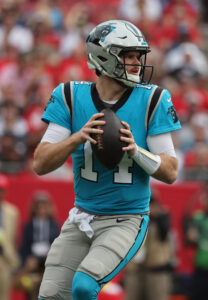 Nos. 5-7 on the Panthers' post-Newton QB1 list are gone, with Darnold and Walker following Mayfield out of North Carolina. And Eason, who made a brief cameo last season, did not make it to training camp. Corral did, and Reich expressed interest in keeping the 2022 third-rounder on the practice squad. The Patriots intervened, removing that from the equation. Corral wraps his Panthers run after two training camps, the second of which coming after an extensive Lisfranc rehab odyssey. Three years remain on the Ole Miss developmental prospect's rookie contract.
As they kept swinging for young veteran arms, the Panthers gave up three draft choices — including a 2022 second-rounder — for Darnold in 2021 and picked up his fully guaranteed $18.9MM fifth-year option. While the former No. 3 overall pick has landed in San Francisco and beat out Trey Lance for the backup job, injuries posed a problem in Carolina. Darnold, who missed time due to health issues in each of his Jets seasons, suffered a cracked scapula midway through a rough 2021 season and began last year on IR due to a high ankle sprain.
Darnold, 26, eventually replaced Mayfield and finished the season as the team's starter. While the USC product displayed improvement, the Panthers did not exactly roll out a high-octane offense after benching Mayfield. Darnold threw for 341 yards and three TDs in Week 17, but the Panthers blew a 14-point lead against the Buccaneers, creating a Tom Brady last-hurrah scene. Darnold then went 5-for-15 for 43 yards in Week 18. He discussed a new deal with the team, but it did not appear those talks progressed too far.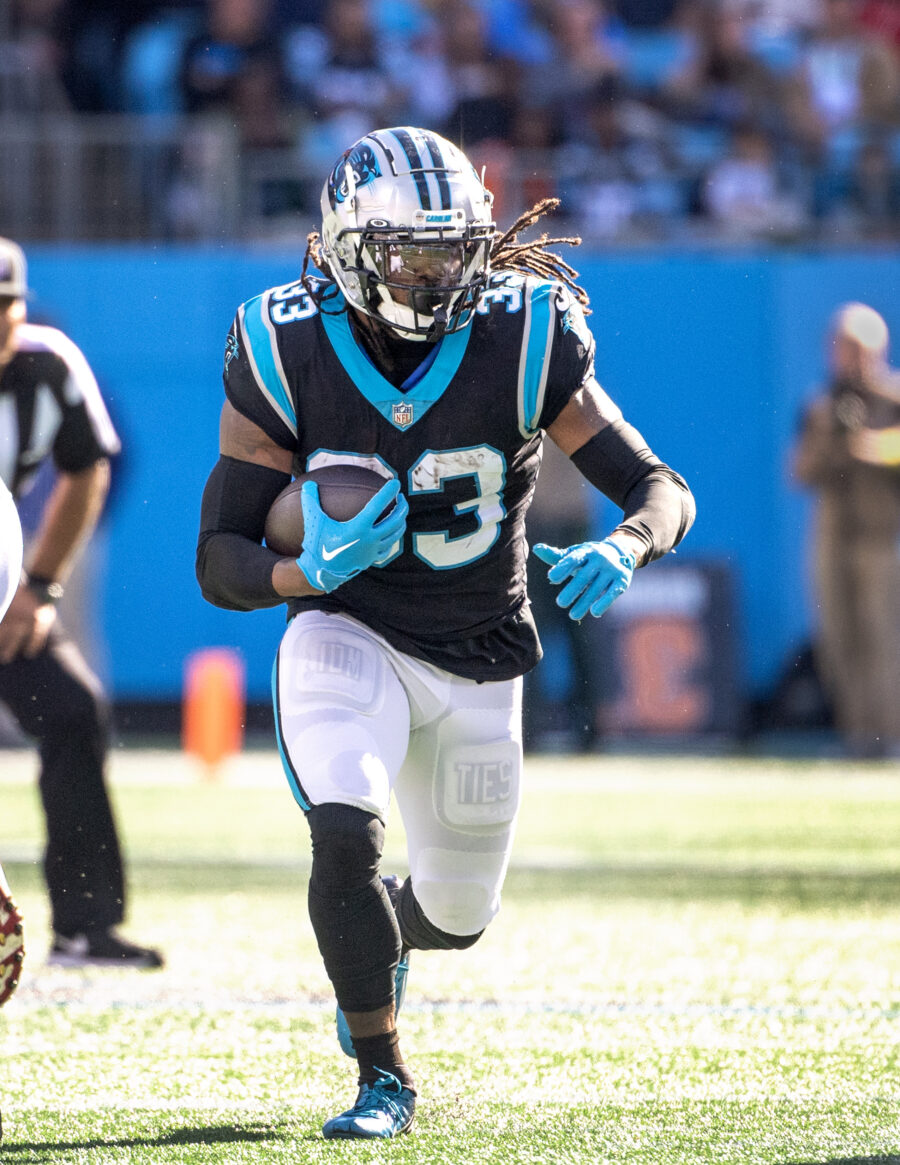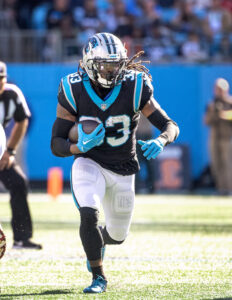 Foreman at least has played a supporting role in 2023's running back devaluation process. Out of football for the better part of two seasons, Foreman returned as a viable Derrick Henry injury fill-in during the Titans' push for the AFC's No. 1 seed in 2021. After the Panthers traded McCaffrey, Foreman stepped in and managed 914 rushing yards despite logging just 12 carries in the Panthers' first seven games. It only took a one-year, $2MM deal for the Bears to sign Foreman, illustrating this year's buyer's market and the new Panthers staff's desire to move in a new direction. Chuba Hubbard, who improved to 4.9 yards per tote last season, remains in place as a backup option.
The number of Panthers familiar with the Temple fight song has reached a dangerously low level. After as many as eight ex-Owls populated Carolina's roster under Rhule, the exits of Ioannidis and Wilson drop the number to one Temple alum here. RFA Sam Franklin is the only one left. This was not a good offseason for Rhule's guys.
Extensions and restructures:
Thompson, 29, is the only Panther starter left from Super Bowl 50. The one-time Luke Kuechly–Thomas Davis protégé has started 106 games and made a career-best 135 tackles last season. But the off-ball linebacker market dipped this year. Thompson's pay reduction likely contributed to that. Given a four-year, $54.43MM extension in December 2019, Thompson's deal still runs through 2024. But his AAV has dropped from $13.6MM to $6.3MM. The latter number is in line with several ILB deals agreed to this offseason. Thompson received some additional security, securing $8.5MM in guarantees after none remained on his previous contract, in exchange for the reduction.
Draft: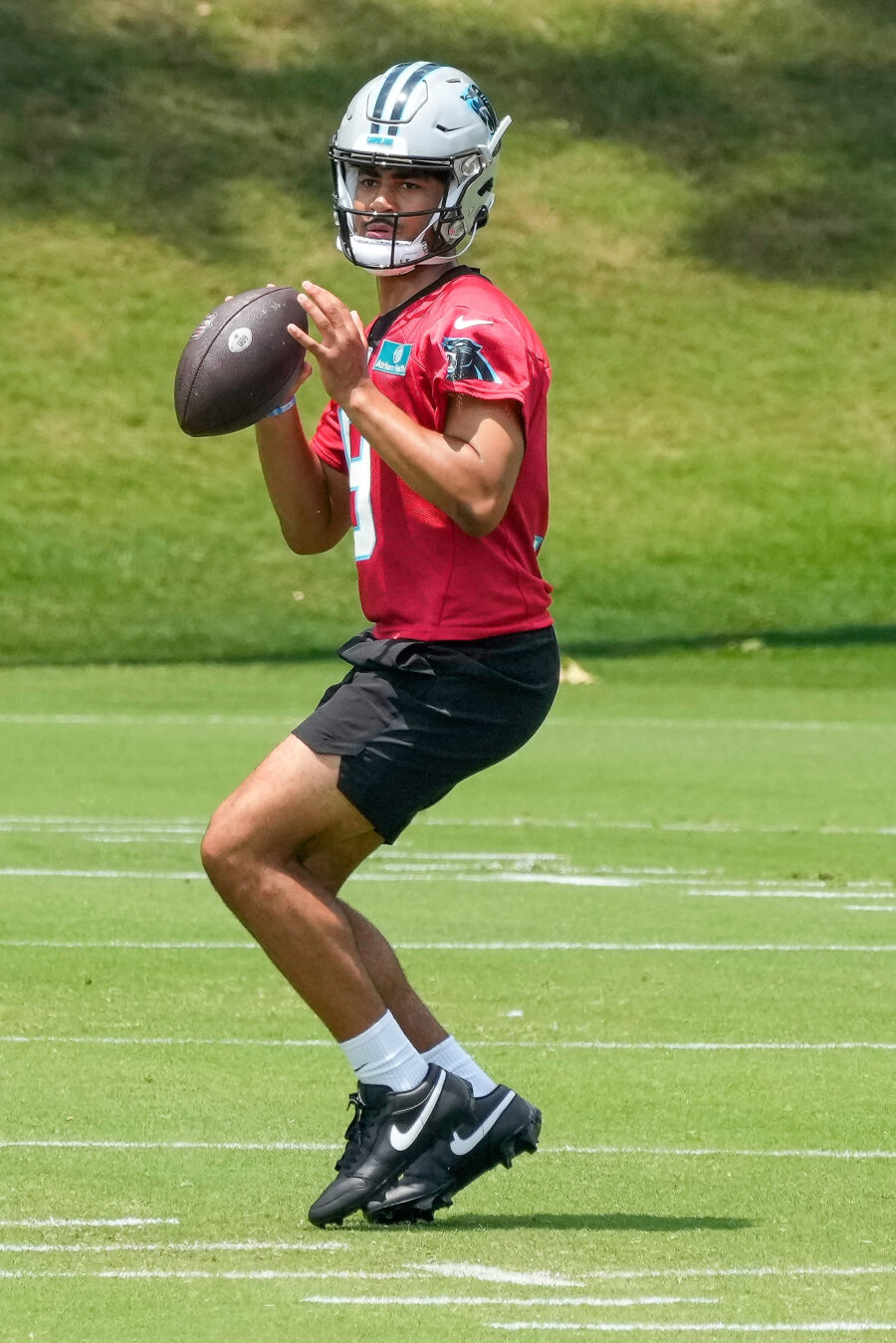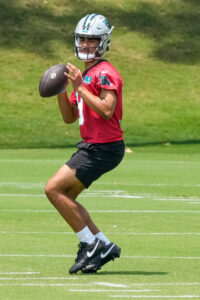 Once the Panthers obtained the top pick, Young, C.J. Stroud and Anthony Richardson loomed as options. Richardson did not look to advance to the finals of this rather important scouting search. A Reich preference for a taller quarterback looked to work in Stroud's favor, but by early April, Young had seized command here. Reich and the Panthers' scouting staff separately investigated this year's QB class, and both came to similar conclusions. Despite Young's size, he would be the pick.
The Texans appeared quite interested in the 5-10 Alabama alum, leading to the team's discussions with the Bears about moving from No. 2 to No. 1. But the Panthers will give the undersized passer a try. Young displayed tremendous poise with the Crimson Tide, excelling in both his starter seasons. Targeting the likes of Jameson Williams and John Metchie in 2021, Young claimed the Heisman trophy. After the Crimson Tide's receiver situation worsened in 2022, Nick Saban's team did not attempt as many passes. Young posted a 47-7 TD-INT ratio as a redshirt freshman, but his yards-per-attempt figure as a sophomore (8.8) was barely down from his stratospheric Heisman slate (8.8).
Kyler Murray has flashed as a diminutive former No. 1 pick, but Young does not bring the Cardinals QB's elusiveness, adding intrigue to the Panthers' decision. Young topped out at 185 rushing yards in a season in Tuscaloosa, and while he is far from a statuesque option under center, he will not provide Carolina with a similar rushing dimension to compensate for size limitations. Although Young weighed 204 pounds at the Combine, he was believed to have played at around 190 in college.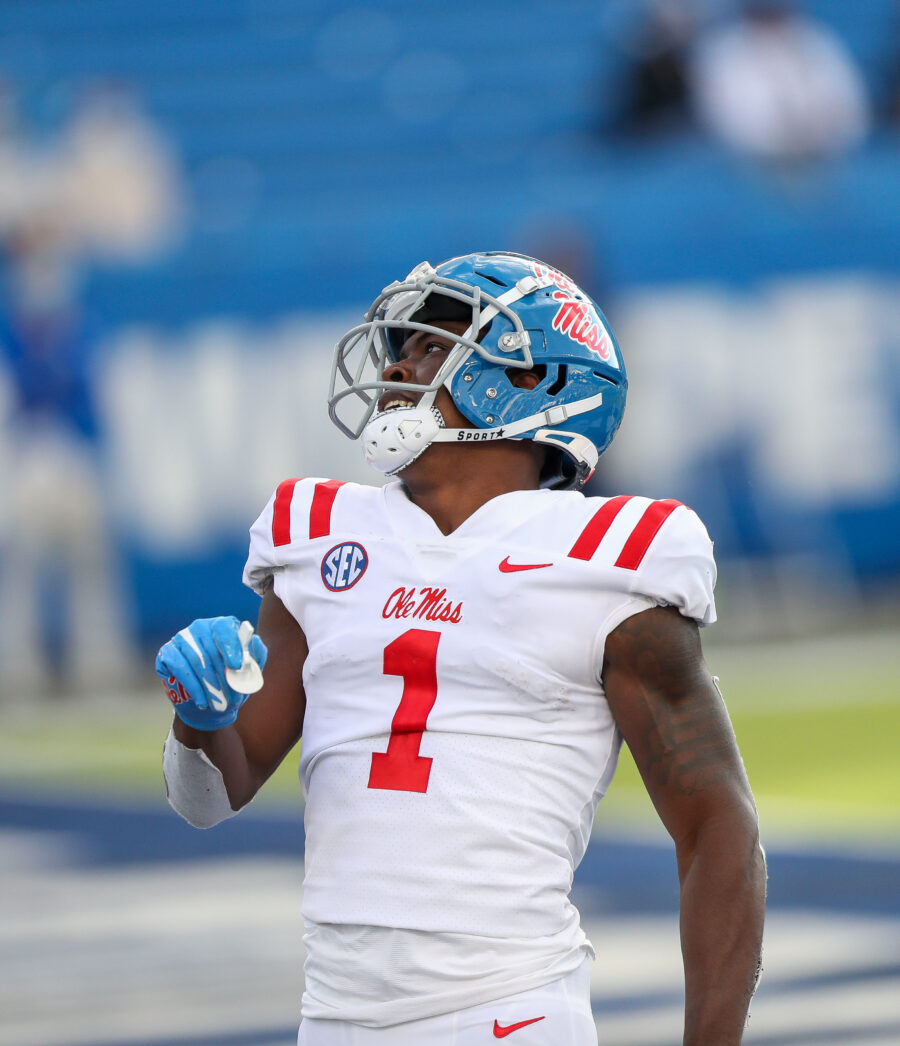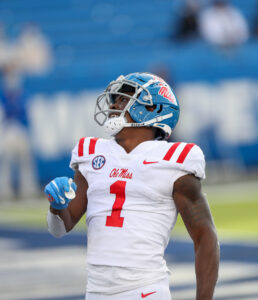 Viewed as a high-caliber processor as well, scoring higher than Stroud or Richardson on the S2 cognition test, Young adds to Saban's sudden QB factory's NFL footprint. He follows Mac Jones, Tua Tagovailoa and Jalen Hurts as starters. For Reich, this stops a revolving door of veterans at the position. Andrew Luck's retirement led to Philip Rivers, Carson Wentz and Matt Ryan one-year stays. Reich played a lead role in bringing Rivers and Wentz to Indianapolis. Profile- and age-wise, Young presents a different type of project for Reich. But the former Eagles OC did play a significant role in Wentz soaring to the MVP perch (before his ACL tear) in 2017 — heights he never approached again.
In identifying a potential long-term Young target, the Panthers also looked to a program that had produced recent options at the position. Mingo follows A.J. Brown, D.K. Metcalf and Elijah Moore into the NFL. The latest Ole Miss-produced second-round wideout brings a physical presence to the position, weighing 220 pounds. The Panthers are banking on Mingo's upside, as he produced only one 400-plus-yard season in college (an 861-yard 2022 showing). But Mingo earned a starting job out of camp. While Thielen and Chark are stopgaps, the Panthers have Mingo positioned as the only true Moore heir apparent option on the team.
Other:
Tepper's aim of hiring an offense-oriented coach, an increasingly common ownership practice in recent years, surfaced early this offseason. Wilks effectively rebounded from his 3-13 Cardinals season by guiding the Panthers to a 6-6 mark and bringing them to the cusp of a stunning division title. But Wilks' defense folded in a Week 17 do-or-die game in Tampa, helping the Bucs limp into the playoffs. Wilks has since landed in a prime spot, succeeding DeMeco Ryans as 49ers DC.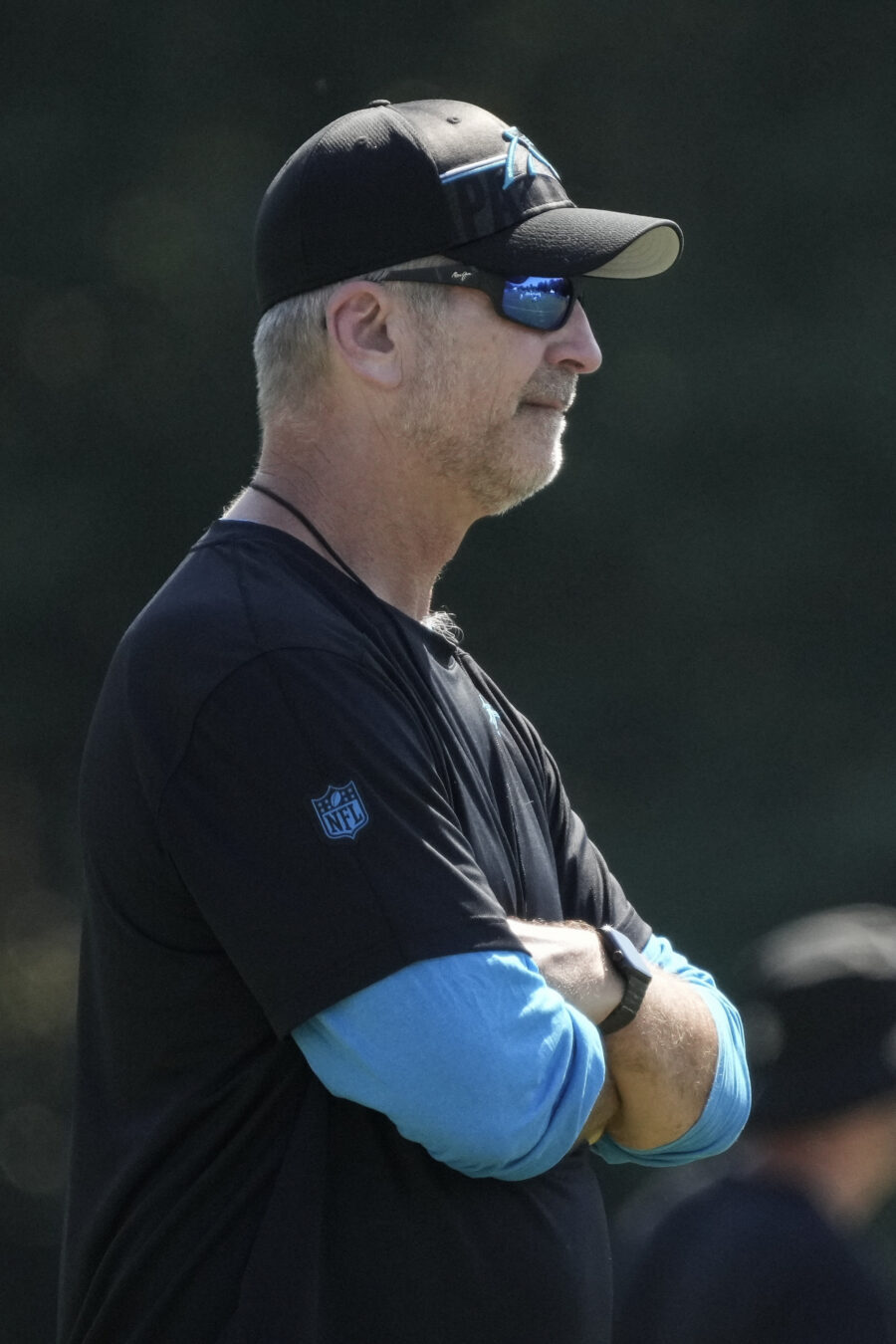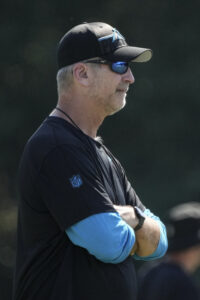 Early buzz pointed to Lions OC Ben Johnson having a legitimate opportunity to land the gig, but the young coordinator hopped off the HC carousel early. Ryans turned down an interview, while Sean Payton — who did interview — was always more closely tied to the Broncos. Three years after Tepper splurged for a college rebuilder, he chose Reich, who was only in the mix for one of the five NFL vacancies.
Reich, 61, has been either an NFL head coach or offensive coordinator for nine seasons. Jim Irsay's actions over the past year-plus reveal a rather difficult working environment for the Colts' football-ops honchos, though Tepper has not cultivated a great reputation as an NFL owner so far, either. After being one of the Panthers' 1995 expansion-draft choices, the former veteran quarterback will attempt to lead a recovery effort.
Following a surprising 2018 Colts playoff season, Luck's stunning retirement changed Reich's Indy trajectory. While the Colts' fortunes dimmed, Reich (40-33-1 as a head coach) still elevated them back to the playoffs in 2020 — with a 39-year-old Rivers at the helm — and had Wentz at 27 TD passes and seven INTs in 2021. A colossal Week 18 letdown in Jacksonville, knocking a two-touchdown favorite out of the playoffs, pushed Reich to the hot seat in Indy. He will have a bit of time to build something in Carolina, though after Rhule had final say during his HC tenure, Fitterer now holds that responsibility.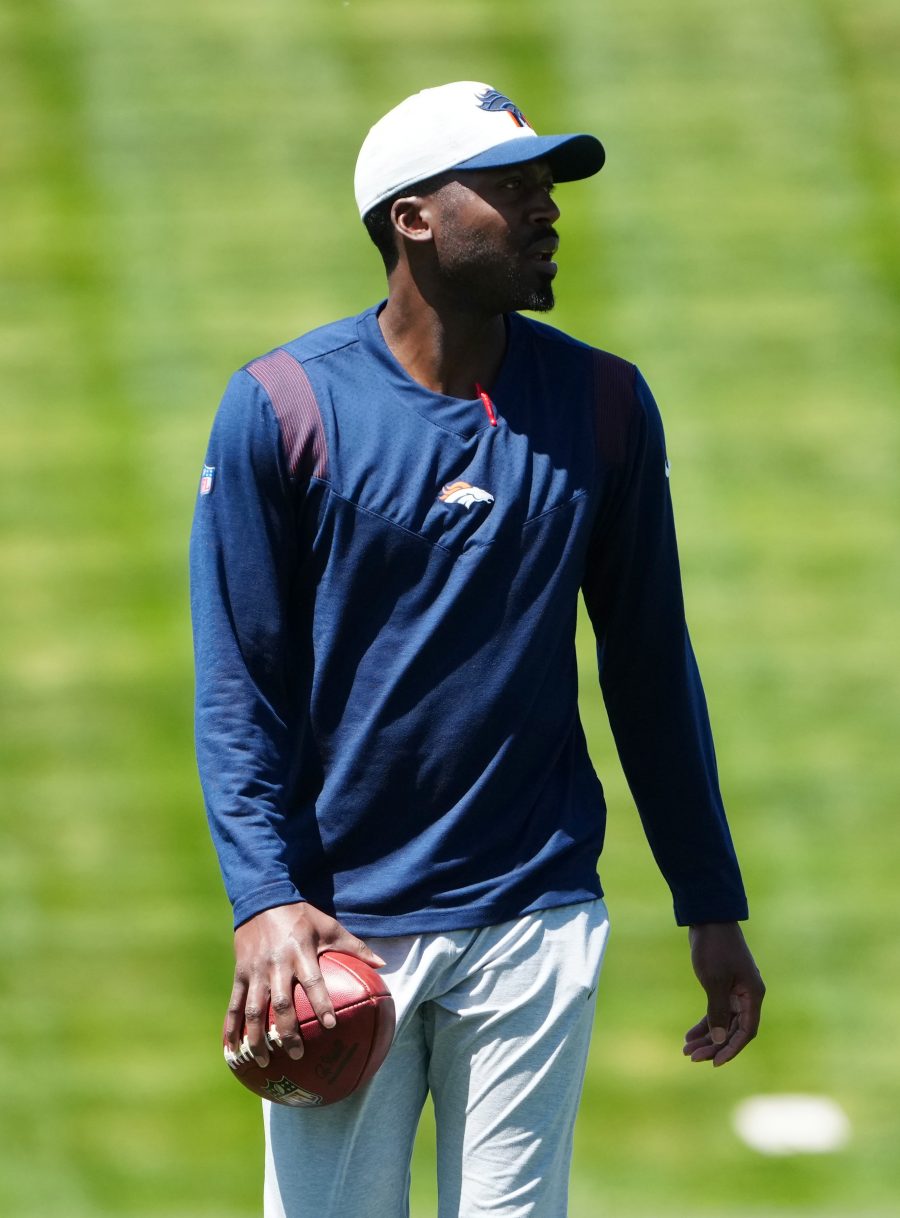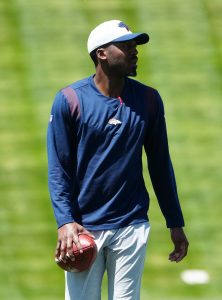 Evero led the way in offseason meetings, interviewing for all five available HC positions. The Colts and Texans interviewed Evero twice. The ex-Thomas Brown Rams coworker became the rare HC candidate from a 5-12 team. As Nathaniel Hackett's offense cratered, the Broncos stayed in many games thanks to Evero's defense. Denver still finished in the top 10 in defensive DVOA despite trading Bradley Chubb and seeing multiple key starters miss substantial portions of the season with injuries. The Broncos attempted to make it work with Evero and Payton, but the team eventually let the Hackett ally out of his contract. Despite Denver's disastrous 2022 form, few coaches' stock climbed more than Evero's last year.
Identified by Reich as a future play-caller, Brown has made the jump from South Carolina running backs coach (2019) to NFL OC in less than four years. Sean McVay heaped praise on his former running backs and tight ends coach, and he took multiple OC meetings and an HC interview (with the Texans) this offseason.
As Tepper adroitly stated this offseason, no salary cap is in place for coaches. Attached to a three-year deal, Evero will make more than $3MM per season. Tepper also greenlit the Panthers hiring McCown, Caldwell, Capers and Wash. Caldwell and Capers bring a combined 53 years of NFL coaching experience, with Capers back in Carolina after being the franchise's first HC (1995-98). Wash was the Jaguars' DC for five years. McCown interviewed for the Texans' HC job in 2021 and 2022; this will be the longtime QB's first opportunity to impress as a coach. Young progressing quickly could fast-track McCown, who has generated buzz as a future HC.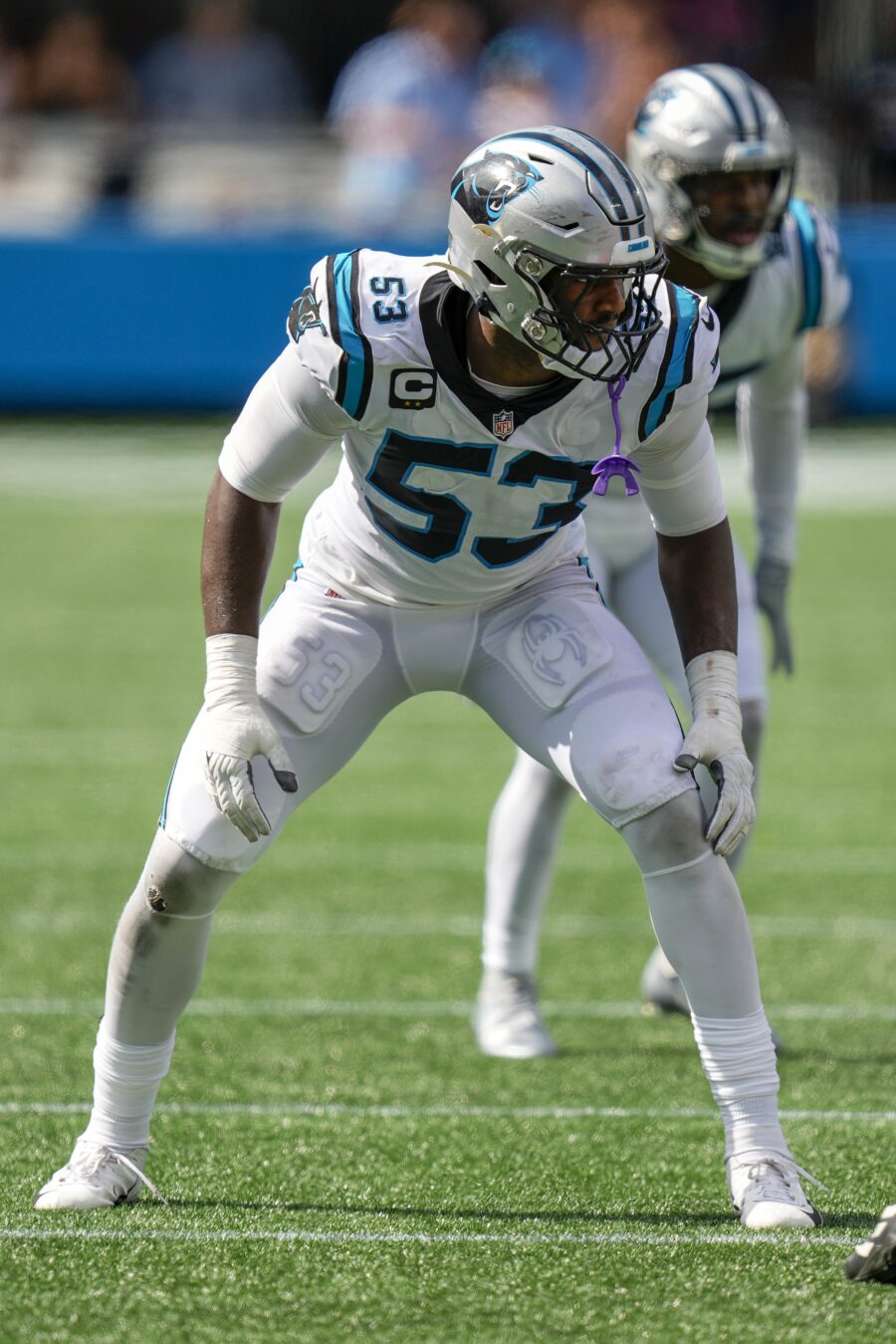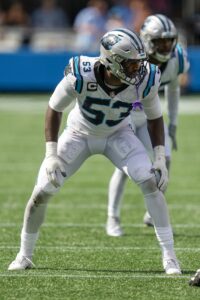 The Panthers have been targeting a Burns extension for over a year now. Most teams prefer to wait until the offseason before a player's fifth-year option campaign to ink an extension, but the Panthers and Burns have been at this since at least June without a deal in place.
Burns, 25, has been Carolina's top pass rusher throughout his career and is coming off a second Pro Bowl season. He was initially believed to be targeting top-five edge rusher money, which is now beyond $24MM per year, but may now be aiming higher. While Burns has some grounds to do so, despite a limited resume compared to the game's top-flight edge rushers, a lack of progress has led to a course change. Burns is now holding in.
It is certainly possible Burns' camp is waiting for a final negotiating session following Nick Bosa's 49ers deal, which will raise the DE/OLB ceiling. But time is running out. Burns brings the leverage of the Panthers having rejected a two-first-rounder Rams offer for him and the team successfully keeping him out of the Bears trade. As they go down to the wire with Burns, the Panthers have Brown signed through 2024. His re-up talks are likely coming next year.
Top 10 cap charges for 2023:
Of this year's three top-five QB draftees, Young's roadmap to a division title appears the friendliest. This is mostly because the NFC South produced four sub-.500 records last season and features four teams with big questions. While Young's height and the skill-position talent the Panthers have assembled around him invite scrutiny, the team returns its starting O-line and made a number of high-profile staff additions. The Panthers kept their young defensive pieces out of trades in 2022 and '23 as well. This will be a multi-offseason project for Fitterer and Reich, but it would not shock if the Panthers were in the playoff mix during Young's rookie year.
Follow @PFRumors