During the 2022 offseason, Drew Lock competed with Geno Smith for the Seahawks' starting job. That months-long battle ended up swinging decisively for Smith, who has made one of the more surprising re-emergences in recent NFL history. But Lock showed enough for the Seahawks to keep him around for a second season.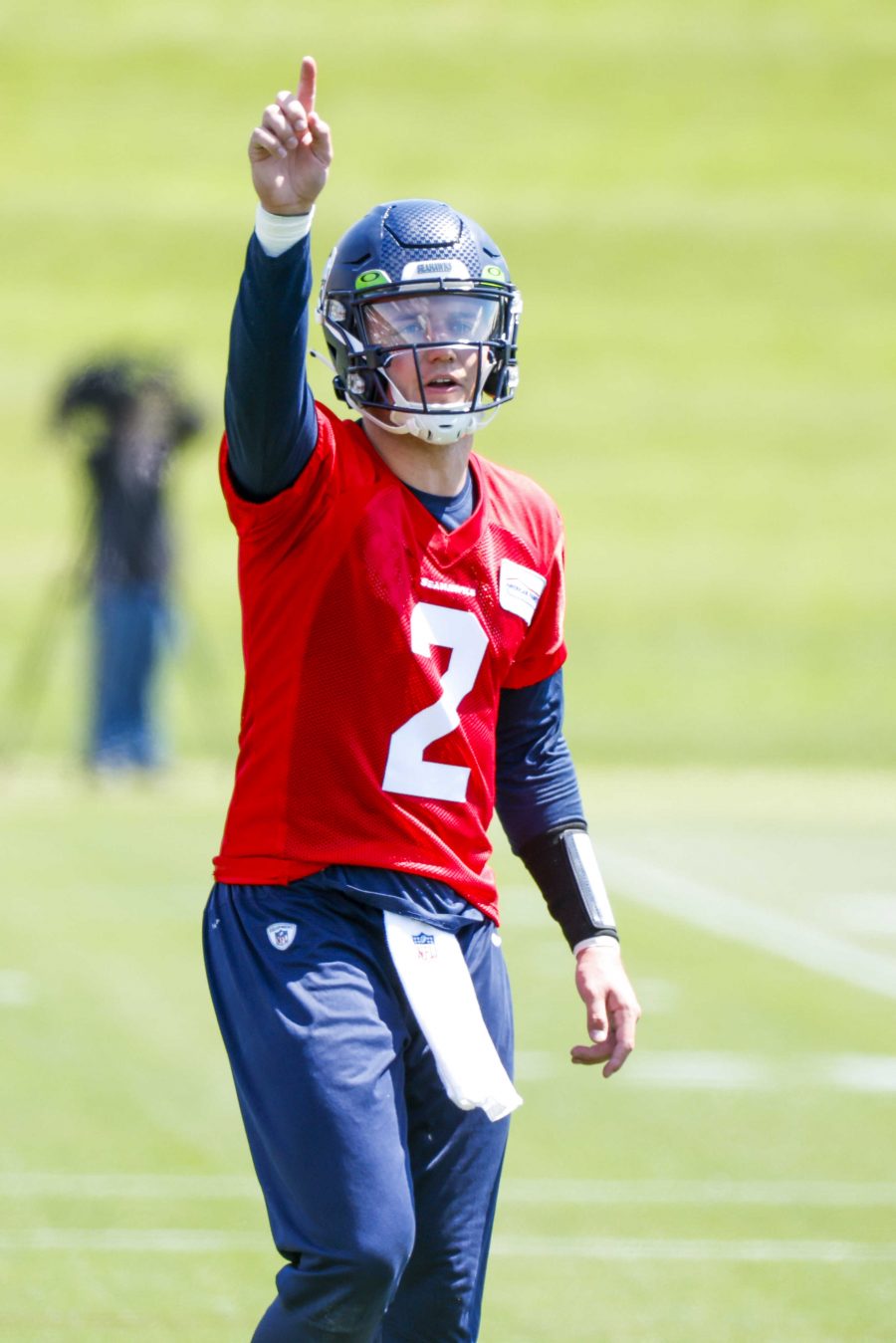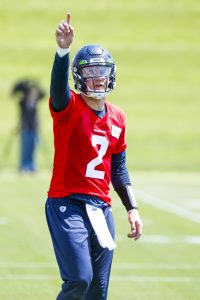 Lock also made an impression on his 2022 quarterbacks coach. After hiring Dave Canales as offensive coordinator, the Buccaneers looked into Lock as a possible starter option, Jason Licht said (via ESPN.com's Jeremy Fowler). The Bucs' eventual solution as a cheap Tom Brady successor — Baker Mayfield — did not require more money to sign compared to Lock.
While Mayfield has shown early-season indications of a comeback, he is only attached to a one-year deal worth $4MM. Those are the terms Lock agreed to upon re-signing with Seattle, though Mayfield received more guaranteed money. Lock receiving only $1.75MM guaranteed is a moot point now, as both vested veterans' $4MM salaries are locked in. But it does illustrate both where Mayfield's value checked in after a rough 2022 and the Bucs' limitations in the wake of Brady's void-years bill hitting.
Brady's three-year Tampa Bay tenure ending led to a $35.1MM dead-money hit due to the void years the Bucs tacked onto the legendary quarterback's contract. Brady's retirement pushed the Bucs into Saints-level cap territory, with the team more than $50MM over the 2023 salary ceiling in February. Although the Bucs carved out enough cap room — via cuts and restructures — to re-sign Jamel Dean and Lavonte David, they did not intend to venture into the QB market's deeper waters. This ruled out a genuine pursuit of Derek Carr or Jimmy Garoppolo, but Fowler adds the Bucs did zero in on free agents due to a belief they were not in position to land a top QB prospect and that 2021 second-round pick Kyle Trask could not simply be handed the job. Jacoby Brissett and another Blaine Gabbert deal were in play for the Bucs.
A 2019 second-round pick, Lock has thrown six passes as a Seahawk. Smith's early-30s return to relevancy relegated Lock, 26, to QB2 certainty. Lock has been a backup since the Broncos traded for Teddy Bridgewater in 2021. An uneven 2020 season cost Lock his shot as a potential long-term Denver starter, and the Broncos saw their fortunes crater when Lock needed to replace Bridgewater — who had suffered a second concussion — in December 2021. Losing narrowly to the Bengals after Bridgewater's injury, the Broncos dropped their final three with Lock back at the helm and opted to include him in the blockbuster Russell Wilson trade.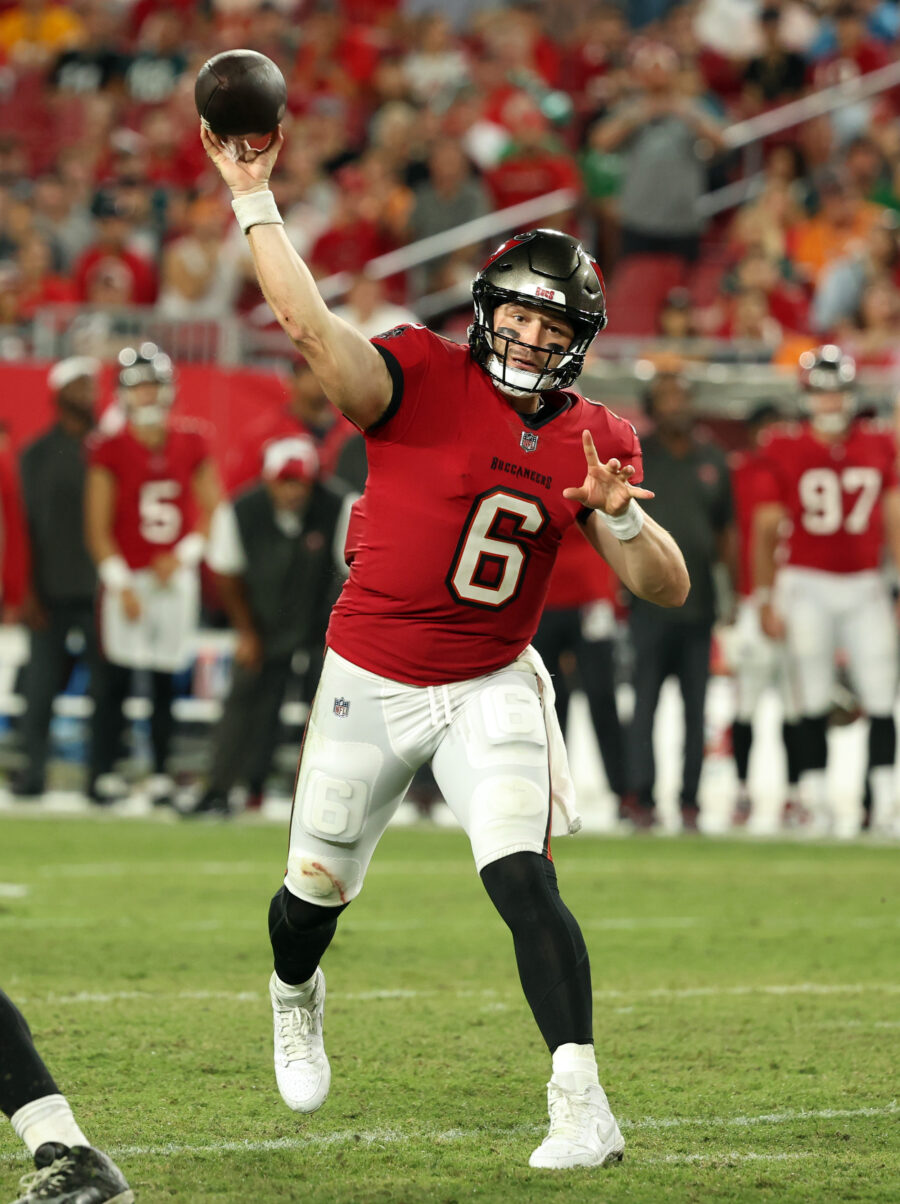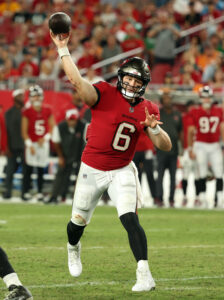 As Lock remains Smith's backup, Mayfield will attempt a Smith-like recovery. Although Mayfield has more early-career promise to hang his hat on compared to Smith, having piloted the Browns to their first playoff berth in 18 seasons, he ranked last in QBR in 2022 and did not draw much starter interest this offseason. The Ravens discussed a deal with Mayfield as a Lamar Jackson backup, but the former No. 1 overall pick signed with the Bucs and beat out Trask late in the preseason.
Through four games in Canales' offense, Mayfield ranks sixth in QBR and is completing 69.6% of his passes while having thrown seven touchdowns to two interceptions. The trade to the Panthers was billed as Mayfield's value-reestablishing opportunity, but his stock tumbled further in Carolina. Multiple ex-Panthers staffers viewed Mayfield's July arrival — after Carolina and Cleveland haggled for months over terms of the trade — as a key reason for the struggles, Fowler adds.
That situation helped lead to Mayfield being in the Bucs' price range. He will attempt to use this season as a path toward a lucrative Bucs extension or a Smith- or Garoppolo-like free agency accord in 2024.
Follow @PFRumors