Recent reports have suggested that the Bears, who seem like a sure bet to have two top-10 picks in the 2024 draft, will select a quarterback in the first round. However, Ian Rapoport of NFL.com writes that Chicago will have to be "blown away" by a quarterback prospect to pull the trigger and move on from incumbent Justin Fields.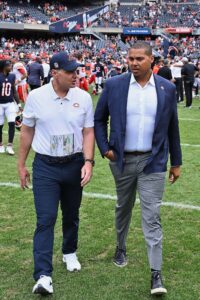 That is the same mindset that general manager Ryan Poles and head coach Matt Eberflus had when embarking on their first offseason with the Bears in 2022. The duo inherited Fields from Chicago's prior regime, but at the time, the Ohio State product had just finished his rookie campaign, and it made sense to give him some time to live up to his own lofty draft status (Fields was the No. 11 overall pick of the 2021 draft).
Since then, Fields has firmly cemented himself as a tremendous weapon when carrying the ball while proving to be more of a mixed bag as a passer. He has missed the Bears' last four contests due to a dislocated thumb, and he will have the final seven games of the season to convince the organization to use its draft assets on non-quarterback talent. Eberflus believes that represents enough of an audition opportunity to determine Fields' future with the franchise.
"I think seven weeks is enough time to show consistency and for him to be the high performer that we expect him to be," Eberflus said (h/t Courtney Cronin of ESPN.com). "I know he's had some good performances this year, certainly the last few have been solid."
Of course, even if Fields performs well down the stretch, he may not stick in Chicago. By virtue of their 2023 trade with the Panthers, who presently have a 1-8 record, the Bears could find themselves in position to draft a collegiate QB like USC's Caleb Williams or UNC's Drake Maye without even having to trade up the board. Those players are widely believed to be generational talents, and assuming that the club agrees with the prevailing industry assessment — in other words, if Poles and Eberflus are "blown away" by at least one of Williams and Maye — Fields' upcoming audition could really be a showcase for other teams.
A September report, which surfaced when the Bears were mired in a 13-game losing streak, suggested that both Eberflus and Poles were on the hot seat, and if ownership moves on from them at the end of the year, it obviously does not matter what they think of Fields or the top quarterbacks in the 2024 class. Fortunately for the power brokers, the Bears have gone 3-3 over their last six games, and Brad Biggs of the Chicago Tribune makes it sounds as if Poles will return in 2024 and will be using the remainder of the season not only to evaluate Fields, but to evaluate Eberflus. Indeed, Biggs says Poles will need to determine if he wants a more offensive-minded coach — which could be especially relevant if he drafts Williams or Maye — and will want to see if the team remains competitive under Eberflus' watch.
New team president Kevin Warren will obviously have considerable input as to the futures of both Eberflus and Poles.
Follow @PFRumors