Cardinals left tackle D.J. Humphries is playing out the fifth-year option of his rookie contract and will be eligible for unrestricted free agency in 2020. But even though Humphries has opened each of the past three seasons as Arizona's starting LT, Kent Somers of the Arizona Republic writes that the Cards are undecided as to whether they will attempt to retain the Florida product long-term.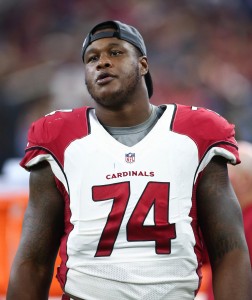 Humphries did not play a single snap in 2015, his rookie season, and then-head coach Bruce Arians criticized Humphries for his work ethic and commitment. Somers notes that no one doubts Humphries' dedication at this point, and Humphries has played well in stretches, but he has not been able to consistently sustain a high level of play.
He has also been unable to stay healthy, having not played a full season of football since his freshman year of college. And, given the level of compensation that even league-average LTs are making these days — Somers estimates that Humphries would earn at least $12MM per year on the open market — the Cardinals' reluctance to engage in extension talks is understandable.
When asked about Humphries' performance this season, new head coach Kliff Kingsbury was non-committal. Kingsbury said that Humphries is "continuing to improve, and that's what we've asked of him. We just have to keep him coming. He's still getting comfortable in our system, and we're getting comfortable with him, but I like what I've seen so far."
One way or another, the Cardinals will have to invest either big money or premium draft capital into the left tackle position in 2020. For his part, Humphries is trying not to think too much about it.
"Thinking about it is not going to do anything for you," Humphries said. "You can think all day about a paycheck — it's still not Friday. Friday is going to come when it comes. It's inevitable, if you're working all week like you're supposed to, Friday is inevitable."
Photo courtesy of USA Today Sports Images.