As two highly-talented quarterbacks anticipate being selected at the top of the 2016 draft, the quarterback selected No. 1 overall in the 2007 draft is petitioning teams for a second chance. Former Raiders signal caller JaMarcus Russell tells SI.com (video link) that he has penned a letter to all 32 teams looking for a shot.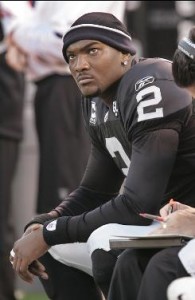 "As a former NFL player, I understand the daily grind that football operations can be," Russell wrote (via PFT). "I am prepared to be physically examined and to have my football IQ evaluated. I would sincerely like an opportunity to come to Dallas and meet with you and the coaching staff. I know that my name does not carry much weight in the NFL right now but I am more than the image that others have bestowed on me. I've been labeled as a bust, I have been labeled as lazy and I have been the target of many insults by the media. The blame for any negative press that I've received rests squarely on my shoulders."
Russell wowed scouts in workouts with his arm strength and his big 6'6″ frame led many to believe that he was destined for greatness at the next level. However, the LSU product did not deliver in the NFL. From 2007-2009, Russell started 25 games for the Raiders and in the following offseason, Oakland cut him loose. In his short time in the pros, Russell developed a reputation as a player with a weak worth ethic and a penchant for fluctuating on the scales.
In the last six years, no team has showed real interest in signing the former No. 1 pick. It would be surprising if Russell were to land an opportunity today, but that won't stop him from trying.
Photo courtesy of USA Today Sports Images.