After missing the first four games of the season because of a hamstring strain, Chargers defensive end Joey Bosa will make his highly anticipated NFL debut Sunday, he told Michael Gehlken of the San Diego Union-Tribune.
"This has been a long time coming. I'm finally going to play my first snap. But I'm going to stay calm and treat it like another game," said Bosa.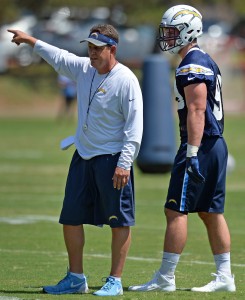 With Bosa set to crack the lineup against the AFC West rival Raiders, the 1-3 Chargers will finally get a glimpse of the third overall pick in a game situation. Bosa previously missed each of the Chargers' four preseason contests and all of training camp on account of a months-long contract battle between him and the team. The former Ohio State Buckeye and his representatives fought with San Diego over offset language and signing bonus distribution in his deal. They eventually agreed to a compromise Aug. 29, but only after publicly trading blows.
Given that Bosa just became a full participant in practice this week, the Chargers will likely limit his snap count against the Raiders, per Gehlken. For the Bolts, though, any impact from Bosa would be welcome against Oakland – which is 3-1 and in possession of one of the league's top offenses. The Chargers have struggled defensively and are banged up at cornerback, but their Bosa-less pass rush has fared well. San Diego ranks tied for 12th in the league in sacks (nine) and third in hurries (27).
Photo courtesy of USA Today Sports Images.