Steelers head coach Mike Tomlin announced the team will not be renewing outside linebackers coach Joey Porter's contract, ESPN's Jeremy Fowler writes.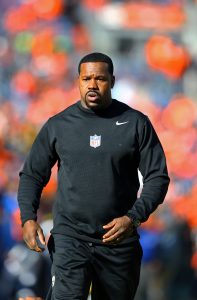 "I have informed outside linebackers coach Joey Porter that we will not renew his contract," Steelers coach Mike Tomlin said in a statement. "These are difficult decisions when it comes to someone like Joey who has meant a lot to this organization as both a player and coach. I want to thank Joey for his coaching efforts over the past five years on our defensive staff. We wish him the best in his future coaching career."
On the surface, the move seems like an odd one, seeing how the Steelers led the league in sacks in each of the past two seasons and finished third in 2015, Porter's first year on the job. One possible explanation is the move could've come from above Mike Tomlin, with an ownership looking to send a message, according to Pro Football Talk's Mike Florio.
Florio notes that nowhere in Tomlin's statement does the coach say that he initiated the move and cites Bruce Arians' retirement in 2012 as precedent for such a move.
However, Porter has been a distraction off the field during his tenure. In 2017, the former Steelers linebacker was arrested for public drunkenness and assault, but the charges were dropped. In the past postseason, he also got into it with cornerback Adam Jones during a game.
Photo courtesy of USA Today Sports Images.