The Falcons are eyeing an experienced lineman. The team worked out center Jonotthan Harrison yesterday, according to Pro Football Network's Aaron Wilson (on Twitter).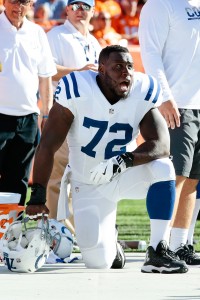 Harrison went undrafted out of Florida in 2014, but he immediately found himself in the Colts lineup. He started 10 of his 15 appearances as a rookie, and he ultimately saw time in 44 games (23 starts) across three seasons with the organization. He got into 40 games (19 starts) with the Jets between the 2017 and 2019 seasons.
The 30-year-old hasn't made an NFL appearance since that 2019 campaign. He was released by the Jets prior to the 2020 season, and he spent the majority of that year on the Bills practice squad. He spent the beginning of the 2021 campaign on the Giants practice squad before an Achilles injury landed him on IR.
Another notable player who worked out for Atlanta was defensive lineman Isaiah Buggs. The 2019 sixth-round pick spent the first three seasons of his career with the Steelers, seeing time in 29 games. 2021 was his most productive season as a professional, as he started six of his 10 appearances while collecting 17 tackles.
Harrison and Buggs joined a list of tryout players that also included linebacker Dakota Allen, offensive lineman Adam Coon, defensive lineman Jalen Dalton, and wideout Emeka Emezie.