The idea of a Jerry Jones lawsuit against the NFL became a real possibility recently, but the Cowboys owner has backed off of that stance.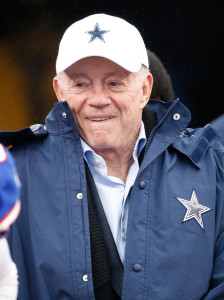 Jones told USA Today's Jarrett Bell he will not sue the league over Roger Goodell's contract. Instead, the Dallas decision-maker wants "accountability," seeking all 32 owners to approve Goodell's contract rather than just the six-man compensation committee.
The brash owner also didn't deny he made the comments attributed to him in the explosive report that emerged late last week. But he denied threatening the commissioner.
"As long as those comments are kept in the context of the overall conversation, then I don't deny that I said that," Jones said (via Bell). But I deny threatening Roger."
ESPN.com published a quote from Jones saying he was going to come after Goodell with "everything that I have" in a comment that also included a derogatory remark about Robert Kraft.
As for what's next with the commissioner, an owner who isn't on the compensation committee expects Goodell's contract to now be finalized as soon as next week, Bell reports. A separate owner said Jones' aggressiveness against the process has actually helped push it closer to completion.
Jones was part of a 32-0 owners' vote approving the compensation committee to work out a new Goodell deal, but the owner said Tuesday circumstances have changed since he voiced his approval for this measure.
"There have been material changes since the resolution," Jones said, explaining why he reconsidered his position regarding the May approval of Goodell's extension. "It should go back to the ownership."
Mark Maske of the Washington Post reported over the weekend some owners wanted sanctions against Jones for his actions in recent months, with another league source adding Goodell's contract would be completed soon and Jones would be "dealt with." Maske also reported another ratification from owners on Goodell's deal won't be required despite Jones' wishes.
Jones, however, said he had support from several owners as well regarding his stance. And he doesn't believe he should be disciplined for his recent actions, per Bell. He also denied recent reports' assertions this anti-Goodell charge was solely because of the Ezekiel Elliott suspension.
"This is not about replacing Roger," Jones said, via Bell. "It's a misnomer to say it's payback for Ezekiel Elliott. It is about the accountability of the commissioner to all of the ownership."
Photo courtesy of USA Today Sports Images.