Few receivers put up better numbers during the 2013 campaign than Eric Decker. In his fourth NFL season, Decker established new career-highs in receptions (87) and receiving yards (1,288), while hauling in 10 touchdown passes. All three totals ranked in the NFL's top 12, and the 26-year-old's advanced stats were even more impressive — he placed fourth in DYAR among receivers, behind only teammate Demaryius Thomas, Jordy Nelson, and Anquan Boldin.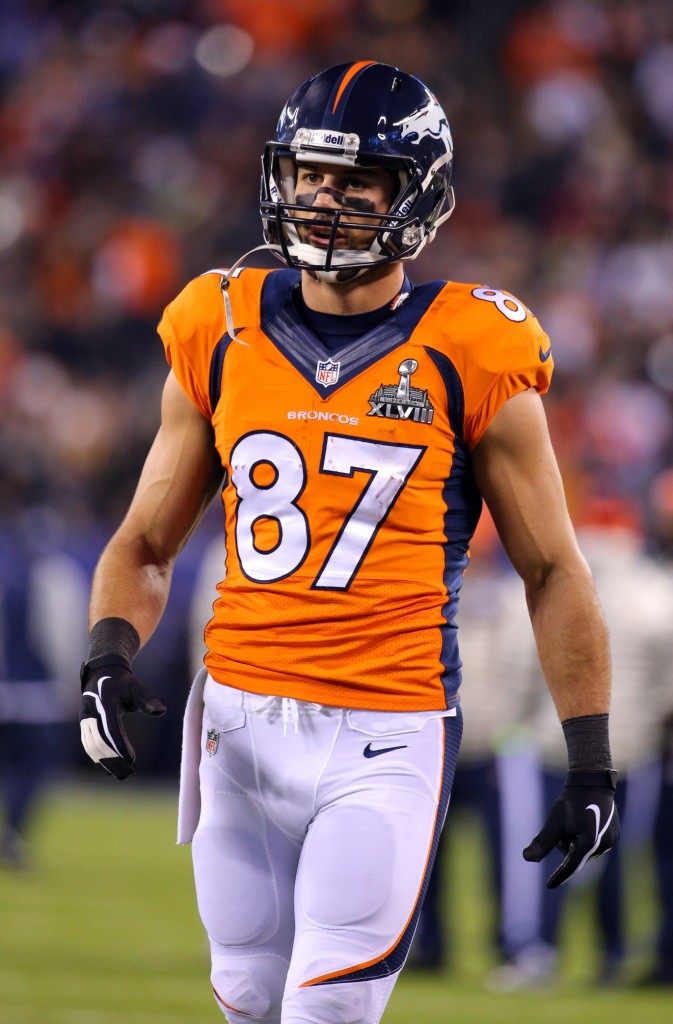 The career year couldn't have come at a better time for Decker, who is poised to hit unrestricted free agency for the first time this offseason after earning a base salary of just $1.32MM in 2013. He reportedly plans to test the market, which is no surprise given his competition on the market (Boldin and Julian Edelman are the only free agent WRs whose numbers came close to Decker's 2013 production) and the deals signed by receivers in recent years.
Taking into account Decker's career totals as well as his 2013 numbers, his resumé arguably looks better than Mike Wallace's did when the former Steeler reached free agency a year ago, and Wallace secured a five-year, $60MM contract in Miami, with $27MM in guaranteed money. While Wallace landed the largest free agent deal for a receiver on the open market last year, there were a couple other comparable contracts signed, including Dwayne Bowe's five-year pact with Kansas City ($11.2MM per year, $20MM guaranteed) and Greg Jennings' five-year deal with the Vikings ($9MM annually, $17.8MM guaranteed). Factoring in Decker's track record, age, and durability, you could make the case that his stock as he approaches free agency is higher than that of any of those receivers.
Still, as impressive as Decker's performance to date has been, potential suitors will take notice of a handful of red flags. The fact that Decker had Peyton Manning throwing him the ball helped buoy his overall stat line significantly, and he also benefited from the presence of other receiving threats like Demaryius Thomas, Julius Thomas, and Wes Welker, meaning he frequently faced single coverage. Additionally, there may be question marks about his ability to produce against physical secondaries, particularly after his no-show against the Seahawks in Sunday's Super Bowl, a game in which he totaled just six yards on one catch.
With or without Manning and the Broncos offense, Decker is a talented playmaker, but the recent history of free agent receivers suggest that interested teams should proceed with caution. After securing big paydays last winter, both Wallace and Jennings failed to put up 1,000-yard seasons, and combined for just nine TDs between them. Wallace was excellent in Pittsburgh playing across from Antonio Brown with Ben Roethlisberger throwing them the ball, while Jennings excelled in Green Bay catching passes from Aaron Rodgers alongside players like Nelson, Jermichael Finley, and James Jones. But being paired with lesser quarterbacks and assuming a number one role limited both Wallace's and Jennings' production last season. It's not hard to imagine Decker's receiving totals taking a similar hit if he finds himself in a comparable situation in 2014.
As such, it's possible that teams will temper their enthusiasm for Decker, perhaps submitting bids more comparable to recent deals signed by players like Victor Cruz ($8.6MM per year, $15.63MM guaranteed), Mike Williams ($7.92MM per year, $14.6MM guaranteed), or Antonio Brown ($8.39MM per year, $8.5MM guaranteed). The Jets, Browns, Patriots, Ravens, and Rams are among the teams who could turn to the free agent market for receiving help, though none of those clubs necessarily possess the perfect combination of cap flexibility and offensive firepower that would attract Decker.
If Decker isn't blown away by any offers on the open market, a return to Denver remains a possibility. The Broncos likely wouldn't be able to make the most competitive offer in years and dollars, given their limited cap flexibility and the need to take care of several other players who are hitting free agency this year or next. However, the team has the ability to clear some cap space this offseason, and could probably fit Decker in if he were willing to accept a small hometown discount. For his part, Decker recently indicated he loves the city of Denver and hopes he and the team can work something out.
Still, history suggests that there will be at least one team willing to bet the farm on Decker's ability to be a No. 1 receiver, or at least to share that role with another player. Concerns about whether Decker can sustain his previous level of production on another offense and with another quarterback may keep his price below Wallace's range, but it's not hard to imagine the Minnesota native landing a five-year contract worth in the neighborhood of $10MM annually, with between $15-20MM in guaranteed money.
Follow @PFRumors