If Alabama's Ha Ha Clinton Dix is not the top safety in this draft, then Louisville's Calvin Pryor is. While nominally these two players inhabit the same position on the field, the two free safeties have very different styles of play. While we already examined the playmaking ability in the center field that Dix could bring to the table, Pryor counters with the big-hitting, in-your-face style of play of safeties past.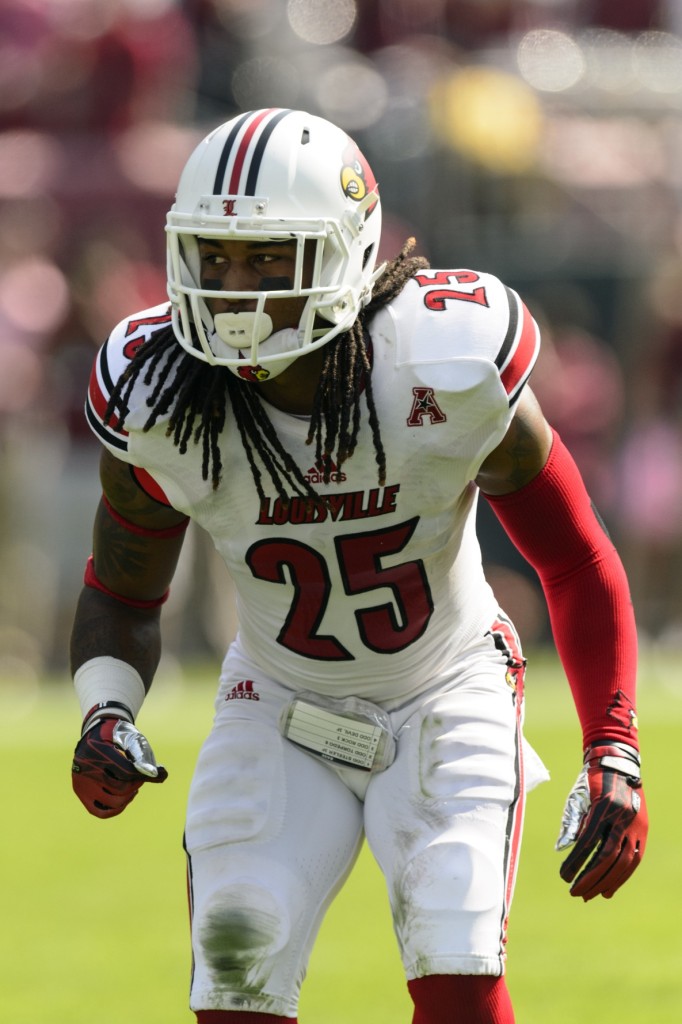 Pryor's biggest strength on the football field is violence. He struck fear in the hearts of any receiver running a crossing route in front of him. His highlight clips on YouTube are among the most fun watches of any prospect, filled with big plays that look as if they were scripted to elicit groans from all who watch. He throws his body into every play with full force and no hesitation. His dedication to those highlight hits makes him a weapon as a run defender. For an insight into his physical dominance, he had a stretch in which he knocked an opponent out of a game in three consecutive games, according to NFL.com.
While most fans will probably remember him for his ability to put ball carriers on the ground, Pryor never proved to be a weakness covering the middle of the field. It was rare to find him in man coverage, but he was able to cover deep in the middle of the field, exhibiting good range. His athleticism is not dissimilar to that of Clinton-Dix, as Pryor weighed in at 207 pounds and posted an identical time of 4.58 in the 40-yard dash. Pryor did measure in at 5'11", a full two inches shorter than Clinton-Dix.
Pryor's aggressiveness can be his greatest weakness on tape, as expected for a player always going for the big hit. He has the tendency to overrun plays, leaving himself susceptible to the cutback. He might take some bad angles, and a big hitter always risk the chance of missing on a tackle, especially as he meets bigger and stronger runners in the NFL.
Still, for a safety not known as a ballhawk, Pryor managed to get his hands on seven passes in his three years at Louisville, with a few highlight catches among those. He also forced nine devastating fumbles for his career, solidifying himself as one of the biggest hitters in college football regardless of position. Pryor was named Second Team All-Big East as a sophomore, and after a conference change, achieved First Team All-ACC as a junior before declaring for the NFL Draft. Like his counterpart from Alabama, Pryor was suspended for violating a team rule, forcing him to miss a game during his final collegiate season.
Early in the draft process, a common thought was that Pryor could be too physical for the NFL game. Pundits worried that he was almost a guarantee for fines and suspensions, a potential magnet for defenseless receiver calls. For the most part, that thinking corrected itself, and coincided with Pryor's rise up draft boards. While most still have him as the second best safety in this class, he has closed the gap between himself and Clinton-Dix. Both ESPN's Mel Kiper, Jr. and Todd McShay have Pryor falling to the Cowboys (No. 16) (subscription required), while two out of the four mock drafts posted by CBS Sports have him up at No. 13, to the Rams. The Louisville hammer also has some traction among the Bears (No. 14) and Ravens (No.17).
Photo courtesy of USA Today Sports Images.
Follow @PFRumors