New Vikings offensive coordinator Norv Turner is known as something of a "tight end whisperer" — his ability to induce production out of the position, with players like Antonio Gates and Jordan Cameron, is virtually unparallelled in the NFL. His newest protégé is Kyle Rudolph, who is entering not only his fourth season in the league but the final year of his rookie contract, which is set to pay him a base salary of nearly $1MM. The Vikings, then, in something of a buy-low opportunity, may look to extend the 24-year-old before 2014, when his talents, combined with Turner's instruction, could lead to a monster season, allowing Rudolph to price himself out of Minnesota's range.
Rudolph, a 2011 second-round pick, has accrued decidedly mediocre statistics over the course of his career — he averaged 39 receptions for 371 yards and six to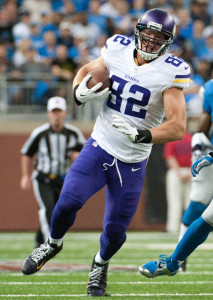 uchdowns over his first two seasons; he nearly matched those numbers in 2013, however, despite starting only eight games due to a fractured foot. Advanced metrics paint a more favorable picture of Rudolph, as he graded as a top-15 tight end in both 2011 and 2012, according to Pro Football Focus (subscription required). DYAR, a Football Outsiders statistic that measures only receiving ability (omitting blocking) wasn't quite as impressed — over the past three seasons, Rudolph ranked 43rd, 28th, and 27th. Of course, the Vikings haven't had the most capable quarterbacks delivering the ball over that span, as Rudolph caught passes from the likes of Christian Ponder, Matt Cassel, and a near-retirement Donovan McNabb.
For his part, Rudolph has expressed his desire to remain with the Vikings. "…[M]y financial situation is completely in their hands right now," Rudolph told Chris Tomasson of the Pioneer Press. "I've got one year left on my deal here and I'm extremely excited for the changes that have been made around here (under first-year coach Mike Zimmer)…All I can worry about is going out and being successful. The contract will take care of itself. … I'd be more than happy to stay here for a long time." However, as of mid-April, the Vikings had not approached him about an extension, according to Matt Vensel of the Minneapolis Star-Tribune.

Tight end contracts can be more difficult to evaluate than other positions because of the vast differences between players' usage and roles. Having said that, it's probably safe to disregard any potential deal regarding Jimmy Graham, as well as the 2012 extension signed by Rob Gronkowski, as the two are considered to be in completely different stratosphere. Also complicating matters is Rudolph's youth — at 24, he is far younger than were most tight ends who received extensions.
Martellus Bennett of the Bears and Dennis Pitta of the Ravens offer the two best options when looking for comparable players and a potential contract. Bennett, who was 25 when he signed as a free agent with Chicago, had put up analogous numbers to Rudolph, but was a free agent — he received $20.4MM over five years, with $5.215MM in guarantees. Pitta has better statistics to Rudolph, but, like the Viking, was coming off an injury. He re-signed with Baltimore in late February, so while the deal was nominally an extension, he was effectively a free agent, as free agency began less than two weeks later. Pitta's contract, signed when he was four years older than Rudolph, was worth $32MM over five years, $16MM of which was guaranteed.
I would set Bennett's contract as the floor, and Pitta's deal the ceiling, when discussing a Rudolph extension. A deal worth four to five years, with an AAV of $5.5MM, and guarantees in the $10-12MM range wouldn't be out of the question. However, the Vikings need to factor in the risk of a huge 2014 season by Rudolph into their valuation; if he succeeds on the level of other Turner-coached tight ends, Rudolph could angle for an even larger contract. So perhaps the team, in the interest of getting a deal done now, offers a tad more in either AAV or guarantees in order to stave off a potential free agent negotiation.
Photo courtesy of USA Today Sports Images.
Follow @PFRumors