As foreshadowed earlier this offseason, Kyle Rudolph is bringing his playing days to a close. The veteran tight end informed the Score's Jordan Schultz that he will retire as a member of the Vikings.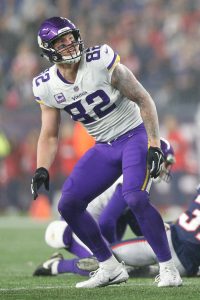 In July, Rudolph made clear his plans to try his hand at broadcasting this season, something which signaled his intention of hanging up his cleats. He will be a member of NBC's Big Ten coverage in the fall, something he considered in large part as a result of the network's existing relationship with his alma mater, Notre Dame. Today's new confirms the end of Rudolph's 12-year career.
The former second-rounder spent his first 10 years in Minnesota, immediately establishing himself as a full-time starter. Rudolph was a mainstay during his time with the Vikings, earning a pair of Pro Bowl nods and posting 4,488 receiving yards. The latter figure ranks 11th in franchise history and second to only Steve Jordan at the tight end position.
He was released in 2021, a move which began a pair of one-year stints elsewhere in the NFC. Rudolph inked a two-year deal with the Giants, but his time in New York lasted only half that long. His production (26 receptions, 257 yards, one touchdown) was enough for Tom Brady to recruit him in 2022 as one of several veterans to join the Buccaneers during their three-year run with him at the QB position. Rudolph played nine games in Tampa Bay, but made only three catches during his time there.
As a result, he garnered little (if any) interest on the open market, leading to his decision to head to the broadcast booth. That move is now official, and Rudolph will leave the field with just under $60MM in career earnings. Schultz adds that the Vikings plan to officially honor the 33-year-old around the time of their Week 3 contest against the Chargers.