Landing a kicker may be an afterthought when you're putting together a fantasy football team, but it's far from that for most clubs around the NFL. Recent contracts at the position have shown that locking up a reliable kicker for several years is a priority for NFL squads — within the last year alone, Sebastian Janikowski re-upped with the Raiders for nearly $3.8MM per year, with $8MM in guaranteed money, and Robbie Gould and Dan Bailey both landed guarantees of nearly $5MM with their respective teams.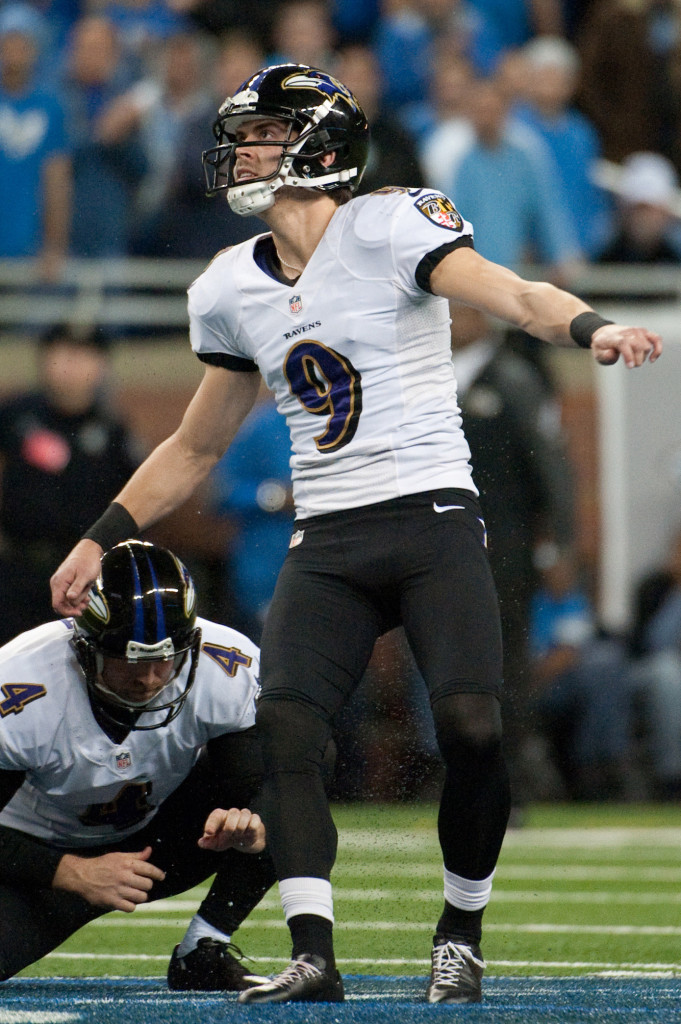 Those figures may not seem significant when compared to some positions on the field, but just ask 2014's crop of free agent running backs how good those guarantees look. No one in this year's class of free agent backs even matched Gould's and Bailey's $4.9MM, let alone Janikowski's $8MM.
The recent string of lucrative contracts for kickers bodes well for Justin Tucker of the Ravens, whose deal the club is reportedly trying to extend. As Jamison Hensley of ESPN.com writes today, a contract extension for Tucker seems to be in the best interests of both the team and the player. The Ravens would secure one of the league's most reliable kickers, who led the NFL in field goals made (38) in 2013. And Tucker would receive a little more financial security after playing for the minimum salary for his first few years in the league.
While the Ravens have a few extension candidates on the roster, including wide receiver Torrey Smith and cornerback Jimmy Smith, Hensley views Tucker as the player most likely to receive a new deal before the coming season. Baltimore could put off an extension for another year and retain the kicker at an affordable rate when he hits restricted free agency in 2015, but ensuring he's under contract for several years beyond that seems to be a priority for the team.
During his two years with the Ravens, Tucker has missed just six kicks, connecting on 68 of 74 field goal attempts (91.9%), as well as all 68 of his extra-point tries. He has also shown a knack for connecting on long kicks, missing just one of his 11 career attempts from 50+ yards and memorably making a game-winning 61-yarder in a Monday Night Football game last year against the Lions. At age 24, the former Texas Longhorn appears poised to remain among the league's elite kickers for years to come, meaning his next contract should reflect that.
As OverTheCap.com's data shows, the going rate for top NFL kickers is $3MM+ per year, with 10 players currently averaging above that threshold — Janikowski's $3.775MM annual value is tops at the position. Given his 91.9% success rate on field goals so far, Tucker could make the case that his annual salary ought to rival the top earners at his position, including Janikowski (79.9% career rate), Gould (86.0%), and Josh Scobee (81.1%).
Of course, with just 74 career FG attempts, Tucker's track record isn't exactly extensive, so the Ravens could point to that small sample size and argue that he doesn't quite deserve to be the league's highest-paid kicker, but that they're willing to put him among the league's seven or eight highest-paid. To that end, Bailey's recent extension with the Cowboys could provide a logical point of comparison.
Like Tucker, Bailey doesn't have an incredibly lengthy track record of NFL success, but the Cowboys kicker has converted 89 of 98 field goal attempts (90.8%) early in his career and was just 25 when he inked his extension. While no other kicker is currently locked up beyond the 2017 season, Bailey's deal keeps him under team control through 2020, at a rate of $3.214MM annually, with nearly $5MM in guaranteed money.
I think the Ravens would be amenable to a similar deal for Tucker, though perhaps the Baltimore kicker would prefer something shorter-term, or with a larger guarantee — Bailey's $4.9MM in guaranteed money is tied for second most among kickers, but the extra years on the pact mean that only 21.8% of his total salary is guaranteed, which doesn't compare favorably to other top players at the position.
With Tucker eligible for restricted, rather than unrestricted, free agency at year's end, there isn't quite as much urgency for the Ravens to complete a deal soon, but it wouldn't be a surprise if the team announced an extension for its kicker before the 2014 season begins. In that event, I'd expect an annual salary approaching $3.5MM — the length of the deal and the size of the guarantee will be the real points of contention that the two sides figure to haggle over in the coming weeks, and perhaps longer than that.
Photo courtesy of USA Today Sports Images.
Follow @PFRumors