It's been an unusual offseason for edge defender Jason Babin, who was the only player in the NFL to void his contract, re-sign with the same team, then get cut by that club a few months later. The sequence of moves leaves him on the free agent market, but there's been no indication that Babin is considering retirement. As training camps approach, it's worth considering which teams may have interest in the former first-round pick, who will likely try to catch on with a new club in time for the regular season.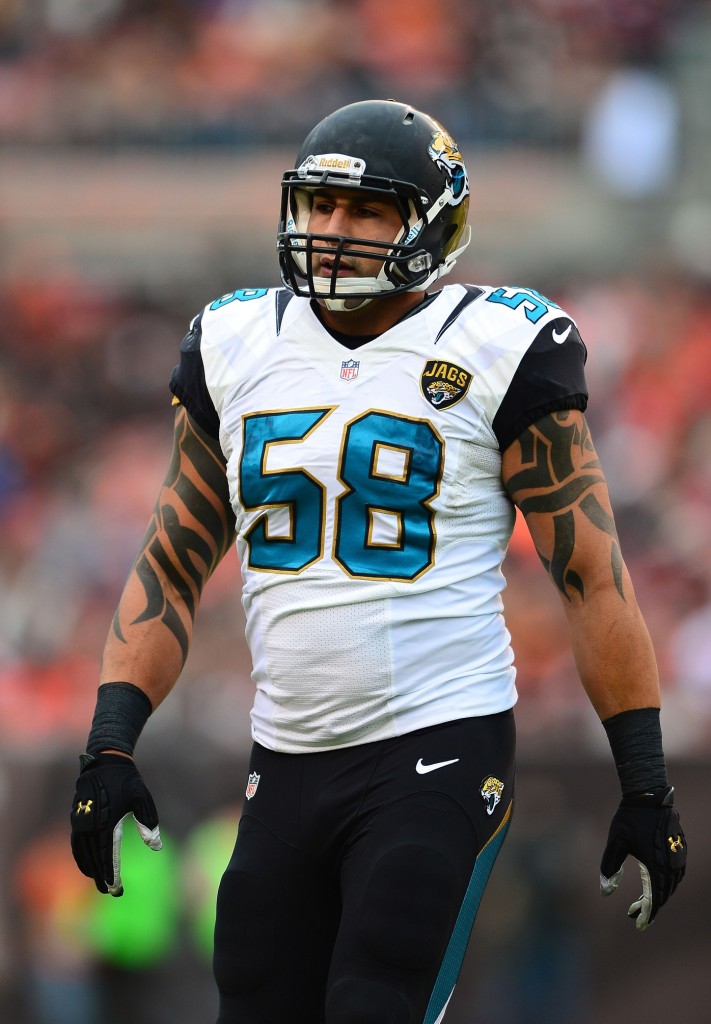 Babin, who turned 34 in May, played in all 16 games last season for the Jaguars, racking up 31 tackles, 7.5 sacks, three forced fumbles, and two passes defended. Those are solid numbers, albeit a far cry from the ones he was posting just three years ago — in 2011 for the Eagles, Babin set a career high with 18 sacks, earning his second consecutive Pro Bowl berth. The veteran's days of ranking among the NFL's league leaders in sacks may be over, but he's still very capable of getting to the quarterback, finishing with 59 total QB pressures for the Jags in '13.
Of course, as Dan Pompei of Bleacher Report observed last month, teams have some concern that Babin has become increasingly one-dimensional, a strong pass rusher but not a player who can contribute on non-passing downs. That sort of player has some value, but many clubs may be seeking backups with more versatility, who could be of greater use in the event of an injury to a starter.
Still, Babin's one-dimensional style of play isn't exactly a new development. During his two Pro Bowl seasons in 2010 and 2011, the Western Michigan recorded an incredible total pass rush grade of +52.1, according to Pro Football Focus' advanced metrics (subscription required). However, his overall grade was significantly lower due to below-average marks as a run stopper (-4.9) and an inability to avoid penalties (-17.3). His PFF grades maintained a similar pattern last year for the Jags, with a +8.6 pass rush mark to go along with -7.9 as a run defender and -8.0 for penalties.
The difference between Babin circa 2010-11 and last season's version is that he's no longer so exceptional at getting to the quarterback that it outweighs his deficiencies elsewhere. In his Pro Bowl seasons, Babin's PFF grades had him ranked among the league's top 10 defensive ends. In 2013, he placed just 35th of 52 qualified players at the position.
With his pass-rushing skills seemingly on the decline as he enters his mid-30s, Babin certainly won't be in line for a lucrative deal this summer. However, his willingness to accept a fairly modest offer from the Jags in March suggests that the well-traveled defender could be had for a reasonable price. That three-year deal with Jacksonville had a base value of just $7.275MM and only included $500K in guaranteed money. Perhaps something in the range of $1.5-2MM per year would be enough for a club to bring Babin into the fold, and that wouldn't be an exorbitant price tag for a part-time player with a knack for getting after the quarterback on passing downs.
Which team might be a fit for Babin? His apparent desire to return to the Jags suggests that it wouldn't necessarily have to be a contender, though there are a few contending teams that could potentially use him. The Falcons, Bengals, Seahawks, and Giants are among the clubs that might be a fit, and several others could become suitors as well, depending on how their training camps play out.
Babin has experience in both 4-3 and 3-4 defenses, and as a veteran player wouldn't necessarily need a full camp in order to be ready for the regular season, it may be in his best interests to wait until mid-to-late August to see if injuries or disappointing performances prompt any teams to become a little more desperate for a free agent pass rusher.
Photo courtesy of USA Today Sports Images.
Follow @PFRumors