Veteran wide receiver Santonio Holmes is perhaps the biggest name left on the free agent market at the moment. Holmes was released by the Jets in March, but it is unclear if any team has made contact with him since then. In May, we learned that Holmes has interest in returning to his first club, the Steelers, but it does not appear as though the interest is mutual at this point.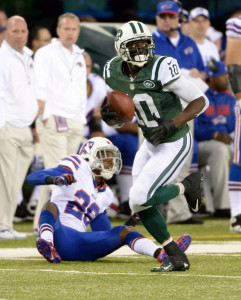 Holmes, who established himself as an electrifying playmaker and Super Bowl hero with Pittsburgh, saw very little success after signing a lucrative free agent deal with the Jets. During his four seasons in New York, Holmes totaled a meager 2,128 total yards. Of course, not all of that was entirely his fault. The Jets' quarterback play has been shaky at best in recent years, and Holmes suffered through injury as well, appearing in just 15 games over the past two seasons.
Nonetheless, Holmes' attitude has also negatively impacted his value as he searches for a new team and a fresh start. As one unnamed front office executive said last month, "We'd have to look more closely at what happened in New York with him in the locker room." And Holmes' trainer, Tom Shaw, recently said that Holmes would find a team this season–if he can find one that doesn't think he would be a distraction.
There is no doubt that Holmes still offers some intriguing upside. Even though injuries and age–he turned 30 in March–have combined to take away some of his explosiveness, he could still be effectively utilized as a playmaking threat out of the slot, and getting a fresh start after his disastrous stint in the Meadowlands can only help. Improved maturity, which Shaw believes Holmes has demonstrated, would also go a long way.
He will probably have to wait until someone suffers a training camp injury to demonstrate that he has, in fact, matured, and that he still has some of the ability that once made him a favorite target of Ben Roethlisberger. Anticipating Holmes' release in February, Mike Florio of Pro Football Talk suggested the Cardinals, Rams, and Steelers as potential destinations for Holmes, but that was based more upon speculation than anything else. Assuming an injury does indeed claim a wideout in training camp, Holmes will begin to look a lot more appealing to the afflicted club. At that point, he will look like a low-cost, high-upside risk that might just pay off in a big way in 2014.
Follow @PFRumors