Notable signings:
Notable losses:
Draft picks:
Other:
You can criticize the Jets for a lot of things. And I mean a lot of things. But you can't call them risk averse. The Jets love nothing more than stealing the tabloid back pages from the Giants and they did just that this offseason with three high-profile singings.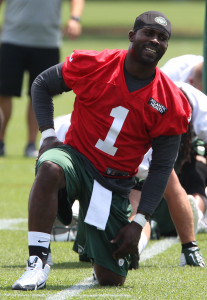 For all the hoopla surrounding Michael Vick this offseason, the veteran is telling anyone who will listen that he's just there to hold the clipboard and give sage advice to sophomore Geno Smith. "Geno's the starting quarterback for that football team," Vick told Dom Cosentino of NJ.com at an event earlier this offseason. "Ultimately our goal is to try to help Geno become the best quarterback that he can be. Myself and [third-stringer Matt Simms] are all trying to put him in a position where he can get better from year one or year two."
Of course, after watching Smith's many, many hiccups last season, that might not be the case three weeks into the season. Some may have already forgotten, but before Nick Foles established himself as one of the better quarterbacks in the NFL, Vick was off to an insanely hot start in the early weeks of the 2013 campaign. At 34, Vick is no longer a spring chicken, but he still offers mobility and in the second act of his career he has become a much more judicious signal caller. Vick can climb to the top of the Meadowlands' ugly shopping mall in development with a megaphone and announce that he's only there to be No. 2 on the depth chart. No one will believe him. Smith will be under center against the Raiders for Week 1 but a couple of errant throws could vault Vick into the starting job rather quickly. Vick knows it too. After all, with so many QB vacancies this offseason, would Vick have signed a one-year deal with the Jets only to ride the pine?
Smith and/or Vick will have the pleasure of throwing to one of this offseason's top free agent wide receivers. Eric Decker surely benefitted from getting to play alongside future Hall of Famer Peyton Manning, but he's still a significant upgrade in the passing game for Gang Green. Decker hauled in 87 catches for a career-high 1,288 yards and found pay dirt 11 times. At 6'3″, Decker gives the Jets another tall passing target capable of huge plays, filling the void left by the over-the-hill Santonio Holmes.
The question is – do the Jets have enough firepower in their receiving corps outside of Decker? Georgia Tech product Stephen Hill looks like the favorite to come out as the No. 2 wide receiver with David Nelson, Jeremy Kerley, and fourth-round picks Shaquelle Evans and Jalen Saunders in support. The Jets were tied to other notable wide receivers in free agency – like James Jones – but Jacoby Ford wound up being the only other WR inked on the open market. They were also expected to use one of their top two picks on a wide receiver but they went defense with their first round choice and were unable to trade up for USC's Marqise Lee in the second round. It'll be up to Hill to take some of the pressure off of Decker in his first year in green. Texas Tech tight end Jace Amaro, hailed by many as an underrated gem in this year's draft, will also be in the mix and fighting incumbent Jeff Cumberland for the starting spot.
The Jets' third major signing came late in the game when they signed longtime Titans tailback Chris Johnson. It's unclear what CJ?K can provide the Jets, but there's no question that the two-year, $8MM deal with just $3MM guaranteed is a phenomenal value. The Jets got Johnson at a bargain basement price for two reasons. One, it was a depressed market for running backs with big names like Ben Tate ($3.1MM guaranteed), Knowshon Moreno ($3MM), Rashad Jennings ($2.5MM), and Maurice Jones-Drew ($1.2MM) getting a whole lot less than anyone would have predicted a year ago. However, that great value was mainly thanks to the fact that the Titans released Johnson late in the game after most teams already had their RB situations squared away.
The 28-year-old is recovering from a torn meniscus, and even though he reached 1,000 yards in 2013, those yards were hard to come by — he graded out as the league's 42nd-best running back out of 55 qualified players last season, according to Pro Football Focus (subscription required). It was widely expected that Johnson would have signed a one-year deal to try and re-establish his value, but the Jets got him on a two-year pact that includes a team option on year two. Johnson will be the feature back for the Jets with the powerful Bilal Powell and the crafty Chris Ivory there to mix things up. Gone from the roster is the troubled Mike Goodson, who will have to get his house in order before getting back to the gridiron.
Protecting the Jets suddenly star-studded backfield at right tackle will be former Seahawks lineman Breno Giacomini, brought in on a four-year, $18MM deal ($7MM guaranteed). It's hard to find fault with Giacomini and his price and GM John Idzik is familiar with the journeyman from his time in Seattle. However, Giacomini will be stepping in for Austin Howard, whom the Jets have watched develop into a pretty solid tackle as of late. The Raiders inked the still up-and-coming Howard to a five-year, $30MM deal (50% of which is guaranteed) after the Jets were unable to reach a deal before he hit the open market. Howard is probably the better player for 2014 and beyond, but dollar-for-dollar Giacomini is probably the better bet. Of course, after years of watching the turnstile that was Wayne Hunter man the right tackle position for a number of seasons, Jets fans want to see a steady force hold down the position. The physically gifted but sometimes absent-minded Vlad Ducasse is also out of the picture after hooking on with the Vikings.
On the other side of the ball, the Jets bid farewell to veteran Antonio Cromartie and replaced him with free agent Dimitri Patterson. The journeyman is talented, but talent doesn't mean much if you can't stay healthy. Patterson has missed a boatload of time in recent years and some say that he's more a slot assignment type of guy, not someone who should be charged with locking down the outside receivers. Patterson is pegged to be opposite of Dee Milliner with Kyle Wilson, third-round choice Dexter McDougle, and Ellis Lankster behind them on the depth chart. That could work out just fine, but this won't resemble the secondary that featured Darrelle Revis just a couple of years ago.
With the Mark Sanchez era in the rear view mirror, it's time for the Jets to erase the memories of the butt fumble and the futility of the last few years. If they don't, coach Rex Ryan and GM John Idzik will be on the chopping block.
Spotrac and Over The Cap were used in the creation of this post. Photo courtesy of USA Today Sports Images.
Follow @PFRumors