Notable signings:
Notable losses:
Trades:
Acquired a second-round pick (No. 47) and a third-round pick (No. 78) from the Cowboys in exchange for a second-round pick (No. 34).
Acquired a sixth-round pick (No. 186) and a seventh-round pick (No. 228) from the Titans in exchange for a sixth-round pick (No. 178).
Draft picks:
Other:
Hired Jay Gruden as head coach.
Promoted tight ends coach Sean McVay to offensive coordinator.
Exercised Ryan Kerrigan's fifth-year option for 2015 ($7.038MM).
U.S. Patent Office canceled Redskins trademark.
Tanard Jackson suspended indefinitely again.
Signed 14 rookie free agents after the draft.
Okay, so things didn't go quite as planned in 2013 in the nation's capital. The Redskins finished with their worst record since 1994, canned coach Mike Shanahan after four seasons, and waged what might be a losing PR battle against those who want them to change their nickname. In more ways than one, this is a team in search of its true identity.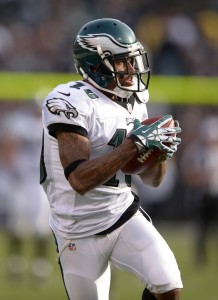 While John Gruden has been connected to multiple openings in recent years, but it was younger brother Jay Gruden who was hired to be a head coach in 2014. The former Bengals offensive coordinator and longtime arena football mainstay is also an ex-quarterback and the Redskins are hopeful that he'll click with Robert Griffin III better than his predecessor did last season. The game is bigger than one person, but the Redskins won't get far if Gruden can't get RGIII back to his 2012 form.
Between the player-friendly Gruden and the arrival of former Eagles receiver DeSean Jackson, RGIII won't have many excuses in 2014. After he was cut by Philly, the Redskins gave Jackson what amounts to a three-year pact worth ~$24MM, with $16MM fully guaranteed. The average annual value and guarantee are higher than what Eric Decker got from the Jets and shows how important it was for the Redskins to get another weapon in the passing game. Last year, Pierre Garcon led the league with 181 targets and many of those looks figure to transfer over to Jackson this season. Jackson should also pick up more attention from opposing secondaries, opening things up more for Garcon and others. The only person in D.C. who might not be thrilled about the arrival of Jackson might be fellow free agent addition Andre Roberts. Roberts was often overshadowed in Arizona by Larry Fitzgerald and, at times, Michael Floyd, and came to the Redskins in hopes of occupying the No. 2 WR role. Jackson's arrival bumps him down the depth chart a bit and barring injury, there's no way he'll see the kind of target total he was hoping for. Impressively, the Redskins were able to add Jackson and Roberts to their receiving corps while losing only Dezmon Briscoe and Josh Morgan.
While Jackson and Gruden should bring change to the offense, the bulk of the Redskins' change came on the other side of the football this offseason. The Redskins added defensive tackle Jason Hatcher on a four-year, $27.5MM deal. The 32-year-old was a valuable member of the Cowboys, recording 19.5 sacks on both the interior and exterior over the past three years. However, Dallas' cap situation kept them from competing to retain his services. In support of defensive line starters Hatcher, Barry Coefield, and Jarvis Jenkins, the Redskins retained Chris Baker and added former Eagles lineman Clifton Geathers. Both players can play on the inside and outside, giving the Redskins additional versatility off the bench.
London Fletcher decided to hang 'em up after the 2013 season, but there's still plenty of stability in the linebacking corps. The Redskins used the franchise tender on Brian Orakpo, giving him a fully guaranteed one-year, $11.45MM deal. The Redskins could have also worked out a new deal to lock him up for years to come, but that deadline came and went this week. Orakpo ranked fourth among 3-4 outside linebackers in 2013 according to Pro Football Focus' metrics (subscription required). Ryan Kerrigan, who was a Pro Bowler in 2012, will be back alongside him after the Redskins exercised his fifth-year option at just over $7MM. The 25-year-old turned in 8.5 sacks in each of the last two seasons and even though PFF's metrics weren't as kind to him in 2013 as they were in 2012, Kerrigan is still a force that can help put pressure on opposing QBs. Perry Riley will also be back in the fold after signing a three-year, $12MM ($5MM guaranteed) pact.
Longtime Redskins safety Reed Doughty is no longer with the team and a couple of notable veterans are slated to start at safety for the Skins this season. Ryan Clark and Brandon Meriweather both came aboard on highly reasonable one-year make-good deals. Meriweather, who re-signed for just $1MM, was the Redskins' choice as they weren't enamored with the second-tier safeties available on the open market. Playing free safety and strong safety for the Redskins in 2013, Meriweather logged 69 tackles and a pair of interceptions in 13 games. However, he ranked just 77th out of 86 qualified safeties according to Pro Football Focus' advanced metrics (subscription required). Clark, who was Troy Polamalu's partner in crime in Pittsburgh for years, agreed to terms with Washington in early April. The 34-year-old had a career-high 104 tackles to go along with two interceptions in 2013 and Washington got him for just over $1MM when factoring in the signing bonus. Cornerback Tracy Porter, who appeared to be getting pretty cozy with the Giants, joined up with the Redskins following a strong year for Oakland. He'll look to keep receivers in check with DeAngelo Hall, back on a four-year, $17MM deal, manning the other side of the field.
This wasn't an offseason of tremendous on-the-field change for the Redskins, but what they needed more than anything was a new voice in the locker room and another offensive weapon. They got just that in Gruden and Jackson, respectively. Now it's time for Washington to get back on track.
Spotrac and Over The Cap were used in the creation of this post. Photo courtesy of USA Today Sports Images.
Follow @PFRumors