The Vikings and tight end Kyle Rudolph have agreed to a five-year, $36.5MM deal, reports Fox Sports' Jay Glazer (via Twitter). The player will receive a practical guarantee of $19.4MM and his new money average is $7.3MM, according to a tweet from NFL.com's Ian Rapoport. ESPN.com's Ben Goessling tweets that Rudolph will receive a $6.5MM signing bonus and a $960K guaranteed salary for 2014, with the remaining $12MM being guaranteed for injury only. Goessling also tweets that the deal could be worth as much as $40MM.
Rudolph discussed his new extension on Vikings.com: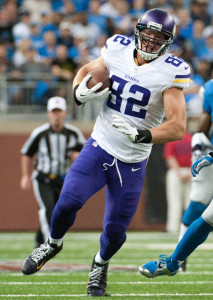 "I'm extremely excited to get this extension completed and continue my career with the Minnesota Vikings. I've said all along I wanted to stay in Minnesota. I love the fans, the community and, most importantly, I'm excited about where this team is going. I'm looking forward to the 2014 season and helping this organization reach our ultimate goal."
General manager Rick Spielman also addressed the new contract:
"I'm very excited to get this extension done with Kyle. We drafted him, he's done a tremendous job since he's been here. Our whole focus on moving forward in this organization is to draft our players, develop them and keep them here. He's one of our young guys who is going to be a building block as we go forward in the future and just very excited to get this behind us so we can look forward to seeing him produce over the coming years."
Rudolph, a former second-round pick, battled through a foot injury last season and only appeared in eight games, but he was on track to surpass his previous career-highs. The Notre Dame product ultimately caught 30 passes for 313 yards and three touchdowns. As PFR's Dallas Robison noted in our Extension Candidate series, Rudolph ranked among the top-15 tight ends in both 2011 and 2012, according to Pro Football Focus (subscription required). However, his DYAR (a Football Outsiders metric that ranks players based on only receiving) placed 43rd, 28th, and 27th over his three-year career.
As Brian McIntyre notes (on Twitter), the tight end was set to make a bit over $956K next season. Now, Rudolph will be among the highest-paid tight ends in the league. According to OverTheCap.com, the total value of the contract ranks fifth (between Vernon Davis and Antonio Gates) while the estimated $7.4MM guaranteed would rank 12th (between Tyler Eifert and Jermaine Gresham).
Follow @PFRumors