As Lindsay H. Jones of USA Today noted last month, the 2014 offseason has not been kind to linebackers. Sean Lee, Kiko Alonso, Sean Weatherspoon, Daryl Washington, and Robert Mathis are among the LBs who have been lost to either injury or suspension. While allowing that linebacker is one of football's most fungible positions (excluding 3-4 outside pass-rushers), teams still need to deploy competent defensive players in the middle of the field. As training camp gets underway, more LBs will inevitably suffer injuries, forcing teams to inquire on available free agents. Among defensive players, veteran inside 'backer Jonathan Vilma is perhaps the most intriguing name who is still out of a job.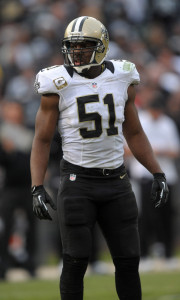 Vilma, 32, entered the league with the Jets in 2004 as the 12th overall pick out of Miami. After four largely successful seasons in New York, during which he was selected Defensive Rookie of the Year and was named to the Pro Bowl, he was traded to the Saints. During seven years with New Orleans, Vilma was again named a Pro Bowler (twice) and won a Super Bowl. He was, however, engaged in the Saints' "bounty scandal"; after a suspension, appeals, and courtroom action, Vilma was somewhat exonerated, but only played in 11 games in 2012. He underwent a knee scope before the 2013 season, and ultimately made it on the field for just 12 defensive snaps. Vilma was not re-signed by New Orleans in March 2014.
Besides Vilma's play, the obvious concern for teams would be his health. He was originally placed on the injured reserve/designated for return list following his knee injury last summer. When he returned midseason, he barely lasted a series' worth of snaps before being placed back on I.R. The immediacy with which the Saints' medical staff determined Vilma was unfit to play is certainly concerning, especially for a 32-year-old. However, Ian Rapoport of NFL.com reported on June 18 that Vilma's knee received a "thumbs-up" medically, so perhaps his injury concerns are lessened for the time being.
Many teams could use help at linebacker, but it's always important to consider scheme fit when discussing LBs. When Vilma was traded by the Jets, the prevailing opinion around the league was that he was a poor match for Eric Mangini's 3-4 look. The Saints mixed in some 3-4 fronts while Gregg Williams was the defensive coordinator, and Vilma did struggle — during Williams' final two seasons in New Orleans, Vilma ranked as the worst and third-worst LB in the league, per Pro Football Focus (subscription required). At 230 pounds, Vilma is generally considered too small to flourish as a 3-4 "Mike" linebacker. However, when the Saints brought in Rob Ryan and his 3-4 defense in 2013, there was some optimism that Vilma could fit as the weakside linebacker. Additionally, 3-4 LBs aren't expected to cover nearly that ground that 4-3 'backers do, so perhaps a 3-4 look could benefit an aging Vilma.
All of which is to note that Vilma doesn't lack for options when searching for a potential match with a team. PFR's pages show that Vilma has been linked to teams such as the Falcons and the Cowboys (each of whom lost a key linebacker), while Vilma himself reached out to the Dolphins, who were not interested in his services. I think the Cardinals would make some sense, as they are relying on an inexperienced Kevin Minter and an older Larry Foote in the wake of Washington's suspension. The Broncos and Giants are also asking marginal players to contribute in the middle, and could be viable landing spots. The Vikings could be interested, as well, but Vilma might not want to play for a team that probably won't contend in 2014.
At this point in his career, Vilma won't be handed anything but a one-year deal. A contract for the minimum salary benefit, with a modest signing bonus, is a real possibility, especially considering his injury history. A team could potentially get desperate later in training camp, and offer Vilma a slightly larger deal, perhaps laden with performance-based incentives and/or gameday active roster bonuses. Ultimately, he'll have to decide how badly he wants to return to the league, and if he lands with the right team and the right defensive front, he could end up being something of a bargain.
Follow @PFRumors