Notable signings:
Notable losses:
Extensions and restructures:
Trades:
Draft picks:
Other:
What's that cheesy adage? "Save the best for last"? Well, here at Pro Football Rumors we did just that. Here's a look back at the Seahawks' offseason as they look to repeat as Super Bowl champions.
Seattle's bid to reach the top of the mountain again in the years to come won't be easy, but it'll be made easier thanks to their success in retaining their most critical pieces. Outspoken cornerback Richard Sherman got a deal that made him the highest paid cornerback in the NFL – at least for a couple of months or so. The corner got four new years that will pay him $56MM with roughly $12.4MM guaranteed. Big bucks, but it's money well spent if the Legion of Boom's leader continues his stellar play. The 26-year-old is one of the NFL's best cornerbacks and you could certainly make the case he deserves to be atop that list. Pro Football Focus' grades (subscription required) ranked Sherman outside the top five at the position in 2013, though quarterbacks compiled a meager 47.3 QB rating on passes into his coverage, which was the best mark in the league. The former fifth-round pick also grabbed a league-leading eight interceptions in 2013.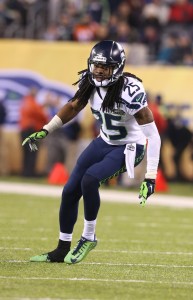 Seattle also gave safety Earl Thomas a four-year extension that made him the highest-paid safety in the NFL. Thomas earned an All-Pro spot in back-to-back years, and has made three straight Pro Bowls. According to Pro Football Focus' advanced metrics (subscription required), Thomas has recorded a positive grade every year of his career, and ranked ninth among 86 qualified safeties in 2013. He also recorded 127 tackles and grabbed five interceptions last season.
Not everyone in the Seahawks' secondary will be returning, however. Brandon Browner, who played on the opposite side of the field from Sherman at cornerback, inked a three-year deal with the Patriots that could be worth up to $17MM when all is said and done. The 6'4″ corner wasn't the star of the show, obviously, but he did wind up covering a lot of No. 1 receiving targets since Sherman didn't follow No. 1 WRs across the formation. Walter Thurmond was also a valuable part of Seattle's secondary last season, even though he missed four games due to a violation of the league's substance abuse policy. Still, he recorded 24 tackles to go along with one interception and one sack and he'll now take his talents to the Meadowlands to join forces with the Giants.
Moving to the defensive line, the Seahawks managed to keep Michael Bennett, one of the top available free agents this offseason, with a lucrative four-year deal. The 28-year-old settled for a one-year deal with Seattle last offseason and boosted his value tremendously by registering 8.5 sacks and 65 quarterback pressures. According to Pro Football Focus' metrics, Bennett's was the NFL's fifth-best 4-3 defensive end in 2013 — his 617 defensive snaps were also the fewest of any ends in PFF's top 10, making his overall grades and stats even more impressive. On the interior of the d-line, Tony McDaniel will return after agreeing to a two-year deal with a max payout of $6.3MM. The 29-year-old appeared in all 16 games last season, something he hasn't accomplished since 2009, and also was a regular starter for the first time.
To help make room for Bennett's new contract, the Seahawks bid farewell to Red Bryant and Chris Clemons. Bryant spent all six seasons of his NFL career in Seattle and started in 15 games last season, registering 17 tackles and 1.5 sacks. Chris Clemons, who was set to have a cap hit of nearly $10MM in 2014, was released after a down year. The 32-year-old recorded at least 11 sacks in his first three seasons with the Seahawks, but recovery from a torn ACL slowed him down in 2013, resulting in just 4.5 sacks and a -7.7 grade from Pro Football Focus, which placed him 42nd among 52 qualified 4-3 defensive ends.
The offensive line will look a little bit different this season after Breno Giacomini left for the Jets and Michael Bowie was waived earlier this week. Giacomini, who is currently tearing things up for Gang Green in practice, missed significant time during the regular season but came back and started at right tackle for the Super Bowl champs. Bowie, a 2013 seventh-round choice, was thrust into significant playing time thanks to injuries on the o-line and played well, but dissatisfaction from the team's front office with his conditioning apparently spelled the end for him in Seattle.
Golden Tate started the offseason by saying that he'd take a hometown discount to stay with the Seahawks before quickly walking those comments back. Ultimately, he spurned Seattle to sign with the Lions. After the most productive season of his career in which he hauled in 64 catches for 898 yards and five touchdowns, that loss could sting. However, there are a lot of people who are big fans of early second-round choice Paul Richardson. The speedster battled back from injury to have a strong final season at Colorado and he'll be there as an insurance policy for the oft-injured Percy Harvin. Still, Seattle could wind up wishing they still had Tate this season if they stumble in the passing game or if they're unable to get the same sort of production on returns.
It seemed somewhat doubtful at different points this offseason, but Marshawn Lynch will return after a lengthy holdout resulted in a few contract tweaks. He won't get any new money, but a bit more money given up front was enough to get Beast Mode back in the fold. There was some talk this summer that the Seahawks would go with a running back by committee approach, but Lynch and his fantasy owners can breath a little easier now that Seahawks offensive coordinator Darrell Bevell has backed off of his earlier comments on the matter.
The Seahawks will have many of their key pieces, including coach Pete Carroll, in place for the foreseeable future, but staying at the top in the NFL is tremendously difficult. Keeping the band together is great, but it remains to be seen whether they can win in the tremendously competitive NFC West.
Spotrac and Over The Cap were used in the creation of this post. Photo courtesy of USA Today Sports Images.

Follow @PFRumors