We learned several weeks ago that the Cardinals had opened extension talks with quarterback Carson Palmer, who is set to become a free agent at the end of the 2014 campaign. The Cardinals have been desperate for consistency under center since Kurt Warner retired after the 2009 season, and their search has taken them through eight different quarterbacks in a little less than five years.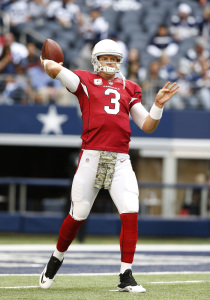 Given Arizona's quarterback woes and the success that Palmer and second-year head coach Bruce Arians have enjoyed together—the Cardinals are 14-7 under Arians when Palmer starts—it is easy to see why the team would want to secure Palmer's services for at least the next couple of seasons. This is despite Palmer's age (35) and recent injury history.
Although Drew Stanton went 2-1 this year in Palmer's absence, the 30-year-old did little to prove that he is anything more than a career backup, and fourth-round rookie Logan Thomas is very much a work in progress. Furthermore, the top quarterbacks in the 2015 free agent class, assuming neither is re-signed by their current clubs, are Michael Vick and Brian Hoyer, and the 7-1 Cardinals are unlikely to have a shot at the top signal-callers in the 2015 draft unless they trade up.
As our Zach Links pointed out, even with the shortage of quality quarterbacks available, Palmer is unlikely to receive a significant hike in annual salary. He is earning $9MM this year, and that seems to be about right for a quarterback who is having something of a late-career renaissance but who does have age and injury concerns.
Palmer has amassed a 99.3 quarterback rating this season, throwing 11 touchdown passes to just two interceptions, and Pro Football Focus (subscription required) rates him as a solid but unspectacular passer, akin to Alex Smith and Andy Dalton. The naked eye test supports the PFF assessment, but as of right now, Arizona does not need Palmer to be an All-Pro. The Cardinals simply need continued stability and consistency, which, combined with their excellent defense, have created a surprising championship contender.
So if Palmer does not get a big boost in average annual value if and when he signs an extension with Arizona, and if Arians is right in his prediction that Palmer can play until he is 36 or 37, then a two-year pact worth between $20-22MM would appear to work well for both sides. The Cardinals could continue to groom Thomas, if they still believe in him, and the young talent they have at the offensive skill positions—not to mention the return of players like Daryl Washington and Darnell Dockett on the defensive side of the ball—should keep the Cards in contention for at least a wild card berth during the life of Palmer's deal.
Wherever his next contract takes him, it will likely be the last in what has been an up-and-down, but nonetheless successful, career, the highlight of which may be yet to come.
Photo courtesy of USA Today Sports Images
Follow @PFRumors