Although they came into the season looking up at the defending-champion Seahawks, having been steamrolled by Russell Wilson and company back in February's Super Bowl, the Broncos have since established themselves as 2014's best team through eight weeks. At 6-1, Denver's only loss came against those aforementioned Seahawks, and that was an overtime contest that could've gone either way. With solid victories against the Colts, Chiefs, Cardinals, 49ers, and Chargers also on their 2014 resumé, the Broncos head into the second half in pole position for the AFC's top seed.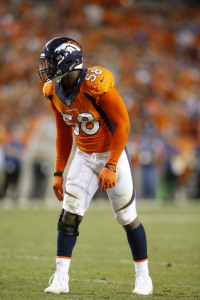 Everything is firing on all cylinders now for the Broncos, but at season's end, the team will have several tough decisions to make. Impact players like wideouts Demaryius Thomas and Wes Welker, tight end Julius Thomas, and cornerback Chris Harris face potential unrestricted free agency, and with about $108MM in salaries already on the books for 2015, the team may not have the flexibility to retain all its key players.
While those players whose deals expire at the end of the 2014 season will likely be Denver's top priorities, the team also figures to address another important contract situation this offseason, with standout linebacker Von Miller eligible for an extension. Denver picked up its fifth-year option on Miller this past spring, meaning he's under contract for a $9.754MM salary in 2015. However, it may be in both sides' best interests to work out a longer-term agreement, one that locks up Miller for a few additional years and perhaps lowers his cap hit for '15.
Two years ago, Miller was one of the league's best defensive players in just his second NFL season, piling up 18.5 sacks and forcing six fumbles for the Broncos, earning himself a Pro Bowl spot and a First-Team All-Pro nod. 2013 was a struggle for Miller though, beginning with a six-game suspension for attempting to cheat a drug test and ending with a torn ACL that ended his year early. In between, the former second overall pick also recorded just five sacks in nine games and dealt with off-field legal issues.
As such, 2014 was an important year for Miller as the team assessed which soon-to-be free agents would be part of the long-term plans in Denver, and which were more expendable. So far, the 25-year-old's play hasn't left any doubt — the Broncos should do everything they can to lock him up. Through seven games, only Justin Houston of the divisional-rival Chiefs has more sacks (10) than Miller's nine.
Of course, even in 2013, an apparent down year, advanced metrics suggested that Miller was far and away the best 4-3 outside linebacker in the league. Since he entered the NFL in 2011, Miller has ranked atop the list of qualified players at the position, and it hasn't been close, according to Pro Football Focus' data (subscription required). Miller's grades of +48.2, +82.6, +42.8, and +26.4 have given him a double-digit margin over the runner-up in each of his four seasons, and have provided an indication of just how good he is against the run as well as the pass — his grade as a run defender has placed first among 4-3 OLBs in each of his four seasons.
There's no question then that any team would love to have Miller on the field, and if he were a model citizen off the field, it would probably be just a matter of time until he signed one of the most lucrative contract extensions in all of football. But those off-field problems that have nagged Miller throughout his career figure to come up in contract negotiations, even if accounts out of Denver this season suggest that the Texas A&M product is developing into one of the Broncos' leaders on defense. With the NFL facing increased public scrutiny in recent months, the league's policies and penalties for off-field transgressions could become more punitive, and the risk of future suspensions for Miller might make the Broncos shy away from making a massive investment.
Still, it's hard to downplay Miller's on-field contributions. With the exception of J.J. Watt and perhaps a couple other players, no defender in the league has the sort of impact at his position that Miller does. Offseason additions like Aqib Talib, T.J. Ward, and DeMarcus Ware have played a part in the Broncos' improved defense this season, but Miller is the unit's most valuable piece, and I'd be shocked if the club ever let him reach the open market, even if there are lingering concerns about his off-field conduct.
In order to re-sign players like the Thomases and Harris in the offseason, the Broncos may look to reduce Miller's $9.754MM cap hit for 2015 by signing him to an extension that pushes some of that money back to future seasons. If the two sides do try to work something out this winter, recent contracts signed by pass rushers like Tamba Hali and Trent Cole could serve as a baseline for Miller's new deal. Given his astronomical numbers, I'd expect a deal for Miller to exceed the $11.5-12MM annual salaries secured by those players and perhaps land in the neighborhood of contracts signed by Charles Johnson, Robert Quinn, or even Mario Williams.
Those three deals range from four to six years, at a rate of $12.5-16MM per season, with between $15-32MM in guaranteed money. Based on Miller's history and the Broncos' typical method for structuring contracts, I could picture the two sides agreeing to a deal for something in the neighborhood of five years and $70-75MM, with a fairly modest guarantee — perhaps $15MM or so. An offer like that would give Miller the opportunity to earn significant annual salaries while giving the team some insurance in case the veteran's off-field issues resurface.
General manager John Elway and company aren't likely to address Miller's contract, or any others, until after the season, but these negotiations shouldn't be overlooked, even as the team attempts to re-sign Peyton Manning's top receivers (Thomas and Thomas) and the defense's best cornerback (Harris). Playing out the 2015 season with Miller on a one-year deal is a possibility, particularly if the team wants to see him continue to mature, but this winter could be the best time to hammer out a long-term contract from a financial perspective.
Photo courtesy of USA Today Sports Images.
Follow @PFRumors