Pending free agents:
Top 10 2015 cap hits:
Notable coaching changes:
Draft:
No. 9 overall pick
Acquired seventh-round pick from Broncos for Brandon McManus.
Other:
Overview
Needless to say, 2014 was not a banner year for football in the Big Apple. The Giants came into the season with hope – and even gave us a few early flashes of something promising – but fell into a vicious mid-season slump that they could not recover from.
Entering the year, there was buzz about the Giants' offense under newly-hired offensive coordinator Ben McAdoo. Quarterback Eli Manning had his worst season in 2013, having thrown a league-high and career-high 27 interceptions. McAdoo, who was pushed by the front office even though he might not have been head coach Tom Coughlin's first choice – was expected to breathe fresh air into the Giants offense with the kind of inventive play calling that helped guide Aaron Rodgers for the preceding two seasons. Instead, Manning improved only marginally while the running game continued to sputter.
The defense, meanwhile, didn't exactly help matters. Perry Fewell's unit went from sixth in Football Outsiders' DVOA in 2013 to 25th in 2014. Coughlin furiously went to bat for Fewell when talking to the media and, presumably, did the same behind closed doors, but it wasn't enough to save his job. After parting ways with Fewell, the Giants welcomed Steve Spagnuolo back to his old job after six years away. Spags served as the Ravens' secondary coach in 2014 and Football Outsiders, Baltimore finished 15th in DVOA against the pass which is really quite admirable when considering how banged up their defensive backs were. The Giants have confidence in Spagnuolo, but former pupils Michael Strahan, Justin Tuck, and Osi Umenyiora aren't walking through that door. It remains to be seen what Big Blue will do between now and the fall, but it stands to reason that he'll have to do more with less.
Positions Of Need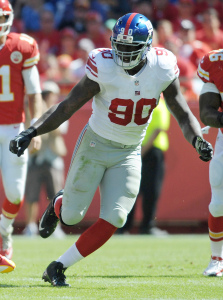 If the Giants are unable to retain Jason Pierre-Paul this offseason, the defensive end position automatically becomes their top need by a mile. Without JPP, Big Blue is left with a skeleton crew of headed by Robert Ayers and Damontre Moore at the bookends. The Giants likely can't find an equal to Pierre-Paul this offseason if he walks, but they'd have to do the best they can to fill his shoes. The Giants aren't going to find a bonafide superstar defensive end on the open market, leaving them to explore possible trades and, more likely, the upcoming draft. This year's class includes Nebraska's Randy Gregory as well as Missouri's Shane Ray, Kentucky's Alvin Dupree, and Trey Flowers of Arkansas. At this time, Gregory is regarded as the pick of the litter, though it's far from guaranteed that he'll be on the board at No. 9.
The Giants will also need to bolster their offensive line which was battered by injuries in 2014. Geoff Schwartz will be welcomed back after playing in just two games last season and he was so sorely missed that the Giants just might throw him an old school New Jersey Devils-style ticker tape parade in the Meadowlands parking lot. His return will mean a lot to Big Blue, but there's more work to be done. The Giants are expected to plug Weston Richburg in at center and use Justin Pugh at guard or tackle, leaving one spot open. Ideally, the Giants would shift Pugh to the interior line and go out-of-house for a right tackle solution. Failing that, the Giants could theoretically stand pat with what they have: a line of left tackle Will Beatty, Schwartz, center J.D. Walton, guard Weston Richburg, and Pugh. However, after watching the Cowboys soar in 2014 behind an all-world offensive line, one has to think that the Giants will try and follow suit. In the draft, it wouldn't be surprising to see the Giants target Iowa tackle Brandon Scherff.
Like the defensive end position, the Giants could be in serious need of a safety depending on what happens with free agent Antrel Rolle and, probably to a lesser extent, Stevie Brown and Quintin Demps. Rolle is proven, but at 32 it's not clear how much the Giants will be willing to spend in order to keep him. Internally, the Giants could turn to rising sophomore Nat Berhe and rising junior Cooper Taylor at safety, but neither one has a really strong track record. Berhe is the more realistic option between the two, but he's still regarded by many as being a little too green. If the Giants are ready/able to spend big, Devin McCourty could be a free agent option for them. The Pats star and former Rutgers notable could be interested in a homecoming, but he probably won't go for a major discount on his first massive payday.
The Giants linebacking corps likely needs to be addressed since Mark Herzlich and Jacquian Williams are free agents while there are serious question marks about Jon Beason looking ahead to the fall. Jameel McClain could be plugged in to fill a hole and Devon Kennard was a bright spot for the Giants last season, but the Giants would like to get a little younger and faster in that group if at all possible.
Beyond that, the Giants can be expected to look into defensive tackles. Ndamukong Suh's camp made it known in the middle of last season that he would like to play in New York and the Giants would surely love to make that a reality for him. Of course, with greater needs elsewhere, Suh probably isn't walking through that door. Still, after allowing 2,162 rushing yards and 4.94 yards per carry last season, it remains a need as Johnathan Hankins requires a qualified partner.
Key Free Agents
For a long time, many questioned whether Pierre-Paul was the same player that burst onto the national landscape with a brilliant season in 2011. JPP continued to give those critics fuel during the first half of 2014 before changing the script in the season's final six games. The 25-year-old (26 at the end of February) registered nine sacks, five QB hits, and 15 QB hurries to close out the year, a perfect advertisement for himself as he gets set for his next contract. Out of 67 eligible players, Pro Football Focus (subscription required) rated Pierre-Paul as as the league's sixth best 4-3 defensive end. Giants owner John Mara is confident that Pierre-Paul will be in New York in 2015, which could be an indication that the Giants are prepared to use the franchise tag on him if necessary. However, GM Jerry Reese would certainly prefer not to dedicate ~$15MM worth of cap space to the defensive end. As we touched on before, however, the pool of available DEs beyond No. 90 is rather weak. The Giants just might have to pay more than they'd otherwise be comfortable with if they want to have an aggressive defensive line next season.
Rolle will be a key free agent for the Giants due to their lack of battle-tested alternatives on the depth chart, but the veteran is not expected to entertain a hometown discount. He's believed to be looking for a three-year deal and if the Giants don't give it to him, another team probably will. Elsewhere in the secondary, cornerback Walter Thurmond will be a priority for the Giants. Although he missed a good chunk of the season, the Giants would rather retain him at a fair price rather than attempt to replace him.
Possible Cap Casualties
Mathias Kiwanuka has restructured his contract multiple times in the past in the name of the greater good. Still, at his advanced age, he's still overpriced with a $7.45MM cap hit. More importantly, he's a potential impediment to re-signing Pierre-Paul. Kiwanuka is one of the longest-tenured members of the team and a fan favorite, but this could be where he and the Giants part ways.
Running back Rashad Jennings could be a post-June 1st cut for the Giants in order to save $2.25MM of cap space, but it also wouldn't be a surprise for him to stay. Jennings, of course, was one of the many, many players to miss time for the Giants in 2014 due to injuries. Punter Steve Weatherford has a $3.075MM cap number and the Giants could save $1.325MM if they drop him. Dropping defensive tackle Cullen Jenkins would save the Giants $2.25MM versus his cap number of ~$2.9MM and would give the Giants a chance to give more burn to their younger defensive linemen. Assuming we see a revamp of the offensive line, J.D. Walton could be shown the door to save about $3MM against the cap.
Many have isolated Beason as a possible cap casualty given his age, proneness to injury, and the $3.5MM they'd save by cutting him. However, there's no one in-house to really take his place in the middle and they'd still have to eat a good amount of dead money to drop him. It wasn't long ago that the Giants made Beason one of just a few of their own free agents to be retained. Surely, they still see some promise in him, even if he's had trouble staying on the field. Beason only played five games in 2014.
Extension Candidates/Contract Issues
Manning represents the largest salary cap hit on the Giants' 2015 roster and the Giants could approach him about a contract extension in order to lock him up beyond 2015 and to help carve out some additional space in the upcoming league year. On the surface, one would say that Manning should be content with a repeat of his previous deal which paid him an average of $16.25MM per season given his recent play. But (stop me if you've heard this before), the price tag for starting quarterbacks has risen dramatically over the last few years and it's not hard to see Manning's camp pushing for a bit of a raise. Are the Giants willing to forgive and forget about Manning's interception-laden 2013 and marry themselves to him at an increased cost? Conversely, GM Jerry Reese could opt to play out the year with Manning, but that would mean less improvement across the board for 2015 and a possible rebuilding effort heading into 2016.
In a distant second place, Victor Cruz represents the second-highest cap hit on their roster at $8.125MM. Cruz has four lears left on his deal with an average cap hit of $9MM. The base salary climbs each season and this year he's scheduled to make $6.15MM. That's not an unreasonable number for a healthy Cruz, but no one knows how much salsa dancing he'll be doing in the years to come. Cruz tore the patellar tendon in his right knee during the Giants' October contest against the Eagles, ending his season. In those six games, Cruz logged 337 receiving yards and a touchdown. If the Giants want to play hardball, they might be able to convince Cruz to knock a couple million off of his salary by playing up his injury concerns and the emergence of Odell Beckham Jr. as a top receiver in the NFL. It would be a surprise to see the Giants cut the fan favorite, however, as that would only save them about $2.4MM in cap space.
Overall Outlook
The Giants, who have won two Super Bowl rings under the tutelage of Coughlin, have seen better days. Still, the NFC East isn't exactly murderer's row. Washington doesn't look the part of a contender, no one knows which version of the Eagles will show up in 2015, and the Cowboys could be faced with replacing last season's offensive player of the year. Much of how the Giants' season goes will depend on whether they can keep Pierre-Paul in 2015 — and at what price. If JPP stays put without crippling the Giants' cap room, then they can retool the roster in a hurry and get back to their winning ways.
Information from Over The Cap was used in the creation of this post. Photo courtesy of USA Today Sports Images.
Follow @PFRumors