Less than a year ago, on April 22, 2014, linebacker Rolando McClain retired from the NFL. After being reinstated by the Ravens and working out for the team, McClain had such a poor showing at that workout that he decided to give up his comeback attempt and end his NFL career.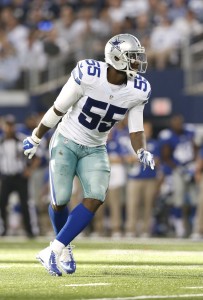 "I'm done," McClain said at the time in a text message to Seth Wickersham of ESPN.com. "If football made me complete I would play. But whenever I think of it my heart pulls me away [for] whatever reason."
About two and a half months later, the Cowboys unexpectedly swung a deal for McClain, sending a late-round draft pick to Baltimore to acquire the former eighth overall pick. Apparently, the veteran linebacker, who has been plagued by off-field troubles since entering the NFL, wasn't quite as retired as he had suggested back in April. Still, it seemed unlikely that he'd contribute much for the Cowboys after having not appeared in a regular season game since 2012, and having announced his retirement twice in the interim.
As such, McClain's performance in 2014 was one of the most surprising storylines of the year. In 13 games for Dallas, McClain racked up 87 tackles and a sack to go along with two interceptions. Pro Football Focus (subscription required) ranked McClain eighth out of 60 qualified inside linebackers, and he excelled in every aspect of the game — PFF's grades placed him eighth as a pass rusher, seventh as a cover man, and 11th as a run defender, among inside linebackers.
Based on that impressive performance, and his pedigree as a former top-10 draft pick, I ranked McClain as the 35th-best free agent available this offseason. However, it's becoming increasingly clear that teams around the league aren't necessarily on board with that assessment. Of our top 50 free agents, only four remain unsigned, and only one (Michael Crabtree) ranked higher on our list than McClain.
That wariness is certainly justified. After all, less than 12 months ago, McClain was talking about his heart pulling away from football, which could very well make any team reluctant to offer him a multiyear contract. Additionally, the former Raider failed a third drug test earlier this year — the league's new substance abuse policy simply calls for a fine for a third failed test, but a fourth violation of the policy would result in an automatic four-game suspension. Potential suitors for McClain may try to alleviate the risk of a possible suspension by include significant per-game roster bonuses in their contract offers, like the Cowboys did with Greg Hardy.
Those off-field concerns surrounding McClain may limit his market, or result in short-term offers, which could help to explain why he remains available. From McClain's perspective, some long-term security would be preferable, but if he signs a one-year deal and stays healthy, productive, and out of trouble in 2015, it could increase teams' willingness to commit to him on a longer-term contract a year from now.
As far as potential fits go, Dallas was clearly a good one for McClain, and it certainly wouldn't hurt the team to bring him back for 2015. Linebackers Justin Durant and Bruce Carter, who were regular contributors in 2014, have signed elsewhere this month, replaced by incoming free agents Jasper Brinkley and Andrew Gachkar. With the linebacking corps undergoing an overhaul this offseason, re-signing McClain to anchor the unit in the middle would at least provide some stability and continuity.
If McClain doesn't return to Dallas, teams like the Saints, Dolphins, Vikings are among the clubs who run a 4-3 scheme and could use some help at the middle linebacker position. Of course, New Orleans may not be an ideal match for McClain, given his history with former Raiders head coach Dennis Allen, who is now a defensive assistant for the Saints. Free agent players often end up reconnecting with former coaches on new teams, but in the case of McClain and Allen, the relationship in Oakland was somewhat strained.
As far as other former coaches go, McClain could explore the idea of rejoining Tom Cable in Seattle, or Hue Jackson in Cincinnati, though neither of those teams look like the fit that Dallas, Miami, or Minnesota would be.
Ultimately, McClain may be forced to settle for the sort of short-term, prove-it contract that notable free agents like Nick Fairley and Terrance Knighton signed. An impressive 2014 season in Dallas helped to partially rebuild McClain's value, but it doesn't appear that any team is ready to spend big on him, particularly since he plays a position where huge free agent deals are somewhat rare. A one-year agreement heavy on incentives and per-game roster bonuses wouldn't be a surprise.
Photo courtesy of USA Today Sports Images.
Follow @PFRumors