Using the 2015 franchise tag figures as a gauge, it's evident that edge defenders are considered, and compensated as, one of the most important position on the field, second only to quarterbacks. While the QB franchise number for the upcoming season is set at $18.544MM, the figure for pass rushers (which I determined by averaging the franchise salaries for defensive ends and li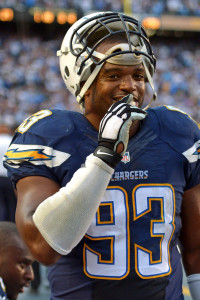 nebackers) will be $13.854MM.
The need for high-quality edge defenders was borne out in free agency, where the best available rushers garnered top-end contracts. Jerry Hughes signed a five-year, $45MM pact to stay with the Bills, the Bears handed Pernell McPhee $38.75MM to lure him away from Baltimore, and Brandon Graham was retain by the Eagles on a four-year, $26MM deal. The market for rushers (and defenders as a whole) is mostly picked over now that we're a month removed from the beginning of free agency, but there are a few options still remaining, one of whom is veteran LB/DE Dwight Freeney.
Entering his age-35 season, Freeney obviously isn't the player he once was during his prime when the Colts, with whom he averaged 10 sacks per year from 2002-12 (including a league-leading 16 in 2004). But the Syracuse alum still has a lot to offer on the football field, including the ability to stand up and play outside linebacker, the position he manned during the past two seasons in San Diego. Freeney didn't rack up the same gaudy sacks totals with the Chargers that he did with Indianapolis — he posted just four total sacks from 2013-14 — but a deeper look his statistics shows that he's still capable of affecting an opposing club's passing attack.
Freeney played on approximately 55% of San Diego's defensive snaps last year, rushing the passer or defending the run on nearly every play (he saw just 14 coverage snaps). While he accrued just 3.5 sacks, he placed third among qualifying 3-4 OLBs with 40 quarterback hurries, and 14th with nine QB hits — as such, he graded as the sixth-best at his position in terms of pass-rush productivity, an all-encompassing metric from Pro Football Focus (subscription required) that seeks to measure a defender's total pressure output. Subscribing to Josh Norris of Rotoworld's theory that "disruption is production" — in other words, sack totals aren't the only way to judge a pass rusher — it's clear that Freeney has quite a bit left to offer.
Unlike the other edge rushers mentioned above, Freeney shouldn't require a multi-year deal or any significant amount of guaranteed money. That might seem like an odd statement given his production last season, but given his advanced age, and the fact that he's yet to draw any known interest since announcing his intention to play this season on March 2, it seems like Freeney will have to end up accepting a one-year deal with minimal risk attached for the team.
Freeney, a three-time All Pro, is coming off a contract that paid him nearly $4.5MM annually (though he eventually accepted a pay cut from the Chargers), but he probably won't be able to match that figure again. Fellow OLB Sean Weatherspoon recently signed a one-year, $3.875MM pact with the Cardinals, and while Weatherspoon does have a lengthy injury history to account for, he's also eight years younger than Freeney. As such, I'd guess that something like $3MM over one year, perhaps with some incentives available, would be a fair deal for Freeney.
There a quite a few teams that could use a situational rusher like Freeney, and because he has experience both with his hand in the ground and standing up, I wouldn't think he'd be limited to one scheme. That versatility could prove handy, especially for clubs that like to mix up their defensive fronts. One such team, the Patriots, always seem to be able to coax out the last bit of production from veteran players, so Freeney could be a fit in New England. Elsewhere, the Falcons, Packers, Bengals, Bears, and Chiefs all finished among the bottom-10 in adjusted sack rate, and might be interested in adding edge talent. For his part, Peter King of TheMMQB.com opined last month that the Buccaneers could also be a possible fit, while I recently suggested another NFC South club, the Panthers, could find a bargain in Freeney.
One club that won't be signing Freeney is the Chargers, as general manager Tom Telesco told Freeney in March that San Diego wouldn't be retaining him. Personally, I find that a bit surprising, as San Diego's pass rush was nothing special last season — the team finished 29th in sacks and 20th in adjusted sack rate. Following the retirement of Jarret Johnson, the Chargers don't have much depth at outside linebacker, so unless they're especially high on 2013 sixth-round pick Tourek Williams (the projected starter at LOLB), I'm confused as to why San Diego wouldn't welcome Freeney back.
One reason that could help explain why Freeney remains unsigned is that free agent contracts are still tied compensatory draft picks for another month. In the past, the cutoff date for draft pick compensation was June 1, but the league recently moved that deadline up to May 12. Based on Zack Moore of Over the Cap's calculations, Miles Austin's $2.3MM deal with the Browns is currently the least-expensive contract tied to a compensatory pick. So if Freeney is asking for the ~$3MM that I estimated for him, interested clubs might be wary of possibly forfeiting the chance at a comp pick to sign him (even if that pick will only be a sixth- or seventh-rounder). As such, we'll probably have to wait until after that May 12 date so see Freeney (and other veterans like him) find new homes.
Like I noted when I profiled fellow free agent Brandon Spikes, I think NFL teams are wise to focus on what a player can do, instead of what he can't do. Spikes is out of his element in pass coverage, but he's an effective run defender when given the chance. Freeney is 35 years old and needs to have his playing time monitored, but as a part-time pass rusher who sees 35 snaps per game, he can still be highly productive. A club could do much worse than to hand Freeney $3MM or so and insert him into it's edge defender rotation.
Follow @PFRumors