3:22pm: La'el Collins' contract with the Cowboys has been altered, reports Pro Football Talk (via Twitter). The total value of the contract has been reduced by $50,000 because of the 25-percent rule, which limits the year-to-year raises allowed for rookie contracts.
Collins' deal will remained fully guaranteed with no offset, according to Pro Football Talk.
SATURDAY, 8:24am: The NFL has "disapproved" Collins' fully guaranteed contract, reports Aaron Wilson of the Baltimore Sun (via Twitter). However, there's no need to panic if you're a Cowboys fan; Wilson notes that the two sides will "tweak" the language before refiling the contract next week.
THURSDAY, 3:38pm: The Cowboys formally introduced Collins today at a press conference, as Jon Machota of the Dallas Morning News tweets.
1:02pm: Collins' deal with the Cowboys doesn't include offsets, according to Jason La Canfora of CBSports.com (Twitter links). La Canfora adds that about 25 teams expressed some level of interest in Collins, who will have a chance to start at left guard this year in Dallas. That suggests that Leary's days in Dallas could be numbered.
12:34pm: After paying a visit to Dallas yesterday to meet with Jerry Jones and the Cowboys, La'el Collins is signing with the team, according to Charean Williams of the Fort Worth Star-Telegram (via Twitter). Collins had reportedly been scheduled to fly to Miami to meet with the Dolphins, and had other teams trying to set up visits, but the former LSU lineman has instead decided to join one of the best offensive lines in the NFL.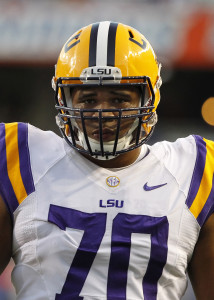 The news comes as a bit of a surprise, since Collins wasn't expected to make a decision on his NFL destination until at least this weekend, and it's not clear if he's been officially exonerated yet by Baton Rouge police in an investigation into the death of Brittney Mills. Mills, believed to be an ex-girlfriend of Collins', was shot and killed on April 24. She was pregnant at the time of her death, and while the child initially survived the incident, he also passed away earlier this week.
Baton Rouge police have maintained all along that Collins is not considered a suspect in the case, and a paternity test proved that he was not the father of the child. However, after all 32 teams repeatedly passed on Collins during last week's draft, it appeared that those clubs would wait for a formal exoneration before proceeding on the undrafted free agent.
Still, according to Ian Rapoport of NFL.com (Twitter link), the Cowboys monitored Collins' situation closely from the beginning, doing "endless homework" on him, and nearly drafting him a few times. So presumably the organization is confident in the former LSU lineman's character. According to multiple reports, Dallas rolled the red carpet out for Collins during his visit, with Jones, Tony Romo, and several of the team's offensive linemen in attendance. The Cowboys owner reportedly told Collins that the club wants to assemble "the greatest offensive line ever."
Having paved the way for the NFL's leading rusher (DeMarco Murray) in 2014, that offensive line is already perhaps the league's best, and it's not clear if there will be room for Collins in the starting lineup in 2015. Left tackle Tyron Smith, center Travis Frederick, and right guard Zack Martin are all Pro Bowlers, while left guard Ronald Leary and right tackle Doug Free are solid veterans. Leary is heading into the final year of his rookie contract though, while Free doesn't have guaranteed money on his deal beyond this season, so perhaps the Cowboys view Collins as a long-term replacement at one of those spots.
Collins had been viewed as a likely first-round pick before he was connected to a murder investigation. He and his camp had asked if he could enter the supplemental draft instead, but that request was turned down by the NFL. Multiple reports also suggested that Collins would sit out a year if he was selected on day three in the draft, opting to re-enter the draft pool in 2016, in the hopes of being picked much higher. Ultimately, since he went undrafted, Collins' options were limited.
Because teams can only offer UDFAs minimum-salary contracts, Collins will be in line for a three-year deal worth about $1.65MM, tweets Adam Schefter of ESPN.com. That includes base salaries totaling $1.575MM, plus the team's remaining bonus money for UDFAs. Collins' contract will be fully guaranteed, per Rapoport (Twitter link), and he'll be able to renegotiate it after two years.
The signing of Collins is the latest indication that the Cowboys aren't afraid to take chances on players with off-field red flags. Already this offseason, the team has signed defensive end Greg Hardy – who now faces a 10-game suspension for a domestic violence incident – and used a second-round draft pick on Nebraska pass rusher Randy Gregory, who failed a drug test at the combine.
Photo courtesy of USA Today Sports Images.
Follow @PFRumors