5:00pm: Dareus' deal calls for $42.9MM fully guaranteed at signing, Rand Getlin of NFL Network tweets. That puts him second only to Ndamukong Suh for defensive players and well north of the guarantees given to quarterbacks Russell Wilson and Cam Newton.
He'll make a whopping $28MM in the first year of his deal, Ian Rapoport of NFL.com tweets.
9:54am: As is often the case with new contracts, it appears the initial reports on Dareus' extension overvalued the deal a little. Per Vic Carucci of The Buffalo News (all Twitter links), the base value for Dareus' six new years is around $95MM, though he could earn up to about $100.35MM via incentives. That sounds similar to Mario Williams' six-year deal with the Bills, which is worth $96MM, or up to $100MM in incentives.
Carucci adds, as expected, that the $60MM in guarantees aren't all full guarantees.
9:30am: Ian Rapoport of NFL.com provides an important detail on Dareus' deal, tweeting that the $108MM figure includes the 2015 season, so the six new years are worth about $100MM — right in line with Watt's deal.
9:17am: With just three days to go until their regular season opener, the Bills have locked up star defensive lineman Marcell Dareus to a new contract, reports Adam Schefter of ESPN.com. According to Schefter (via Twitter), the Bills and Dareus have agreed to a six-year extension worth $108MM.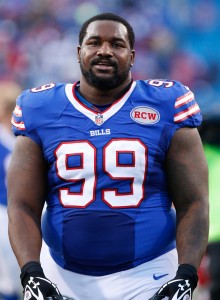 The agreement is the result of negotiations that appeared to be ongoing for a good chunk of the offseason, with Bills GM Doug Whaley indicating after the draft that getting Dareus signed to a new contract was the team's top priority this summer. Dareus had been set to play out the final year of his rookie contract, with a fifth-year option salary of $8.06MM.
A defensive tackle under old head coach Doug Marrone, Dareus appears likely to continue playing on the inside under Rex Ryan, occupying the nose tackle role in Dennis Thurmond's 3-4 scheme. Interior defensive linemen typically don't post huge sack numbers, but Dareus has done an impressive job getting after the quarterback in his first four seasons, recording 28.5 career sacks, including 10 in 2014, a total that matched teammate Jerry Hughes' output. That number may decline for the first time in 2015 as Dareus moves to nose tackle, but the Bills value his ability to stop the run at least as much as his ability to bring down the quarterback.
Without extensively studying Dareus' game tape, his overall impact against opposing run games is hard to quantify, particularly since the Bills were outside of the top 10 run defenses in 2014, allowing 106.4 yards per game and 4.1 yards per carry. However, Pro Football Focus (subscription required) ranked Dareus first among the league's defensive tackles as a run defender, giving him a +20.7 grade. By comparison, Ndamukong Suh was second, with a +17.6 mark.
Speaking of Suh, when Dareus addressed his contract situation last month, he cited the Dolphins' defensive star when he expressed his frustration with his own negotiations. At that point, the Bills had reportedly offered Dareus an extension worth $90MM over six years, and when he was asked what sort of figures he was seeking, the Bills' star replied, "I'll just say, 'Thank you, Suh.'"
His new extension doesn't quite match Suh's deal with Miami, but Dareus appears to have done very well, surpassing J.J. Watt's six-year, $100MM contract with the Texans. According to Schefter (via Twitter), Dareus' contract features $60MM in guaranteed money, which would be the highest guarantee for a non-quarterback deal in NFL history. Jason La Canfora of CBSSports.com tweets that the extension includes $65MM in injury guarantees, along with a $25MM signing bonus.
At this stage, many of those figures are coming from the player's camp, so we'll have to see how much of the contract is fully guaranteed. But it sounds like a massive deal for Dareus, and one that will keep him in Buffalo for the next several years. It could also pave the way for other defensive lineman extensions, with players like Muhammed Wilkerson of the Jets and Dontari Poe of the Chiefs among the extension candidates at the position.
Dareus will serve a one-game suspension to start the 2014 season.
Photo courtesy of USA Today Sports Images.
Follow @PFRumors