Mike Glennon, the subject of trade rumors and speculation nearly every offseason, is expected to be retained by the Buccaneers for the 2016 season, according to general manager Jason Licht. Licht tells Scott Reynolds of PewterReport.com that he intends for Glennon to enter the '16 season as Jameis Winston's backup.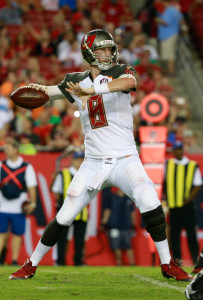 "Mike Glennon is just so valuable to us right now while we have him, while he's under contract, I feel like we have two starting quarterbacks with him and Jameis," Licht said. "If you just go out and get a mid-round pick for him, the chances of the mid-round pick working out or drafting a quarterback and that pick working out, the odds aren't in your favor. Unless there's [an offer] that blows us away, I think you lean towards keeping him and having him on your roster."
As Reynolds explains, the Buccaneers view the idea of keeping Glennon as a win-win proposition. Either he eventually extends his contract with Tampa Bay and the team continues to have a very solid backup behind Winston, or he eventually leaves in free agency and earns the Bucs a compensatory draft pick.
According to Reynolds, the club may showcase Glennon this summer in the preseason, but it would be more about improving his stock for free agency – and therefore improving the Bucs' comp pick – rather than showcasing him as a trade chip.
Here are a couple more items of interest out of Tampa Bay, via Reynolds:
The Buccaneers met with agent David Dunn at the Senior Bowl this week to begin preliminary contract talks for running back Doug Martin, according to Reynolds. Tampa Bay does not intend to use its franchise tag on Martin, since the one-year price tag would be exorbitant for a running back, but the two sides are hopeful that they can work something out before free agency begins on March 9.
The Buccaneers plan to bring back veteran receiver Vincent Jackson for the 2016 season without adjusting his salary or his cap hit, reports Reynolds. Jackson's $12.21MM cap hit is sizable, but the Bucs have plenty of cap room and don't view the free agent market or draft class this year as particularly strong for wideouts.
Tampa Bay will likely add at least one receiver in free agency or the draft for depth purposes, but the team likes its current group, according to Reynolds.
Photo courtesy of USA Today Sports Images.
Follow @PFRumors