Pending free agents:
Top 15 cap hits for 2016:
Notable coaching/front office changes:
Draft:
No. 8 overall pick
Acquired seventh-round pick from Ravens in deal for CB Will Davis.
Other:
Overview:
The Dolphins entered the 2015 season with playoff aspirations, but they ultimately went through two different head coaches, Joe Philbin and Dan Campbell, en route to another bitterly disappointing campaign. Miami finished last in the AFC East at 6-10, its worst record since 2011, and extended its playoff drought to seven years. The Dolphins have also failed to register a season above .500 during that span.
Naturally, then, major changes are needed, and those changes began last month with the ouster of general manager Dennis Hickey, the promotion of Chris Grier from director of college scouting to GM, and the hiring of Campbell's replacement, first-time head coach Adam Gase. Grier and Gase will work in unison with the rest of the Dolphins' hierarchy, led by executive vice president of football operations Mike Tannenbaum, as they try to restore glory to a franchise with just one playoff berth since 2002.
The organization is optimistic that the 37-year-old Gase, the NFL's youngest head coach, is the right fit to get the most out of big-money quarterback Ryan Tannehill and his teammates. Prior to serving as the Bears' offensive coordinator last season, Gase held the same position with the Broncos from 2013-14, during which time Peyton Manning piled up 94 touchdown passes. In Chicago, Gase helped maligned quarterback Jay Cutler to one of the most efficient seasons of his career — Cutler completed better than 64 percent of his passes and threw only 11 interceptions in 15 games.
In addition to having full control over the Dolphins' 53-man roster, Gase will call their offensive plays, giving him an unusually high amount of responsibility for a neophyte head coach. He'll have assistance on the offensive side from coordinator Clyde Christensen, formerly the quarterbacks coach in Indianapolis. Vance Joseph, who previously coached the Bengals' defensive backs, will run a Dolphins defense that placed 25th overall in '15-16 and looks poised to undergo a drastic overhaul in the approaching months.
Key Free Agents:
The Dolphins' most noteworthy pending free agent is defensive end Olivier Vernon, who hasn't missed a game since they spent a third-round pick on him in 2012. Vernon has paired durability with productivity, having racked up 29 sacks in four years (25.5 over the last three seasons). Vernon took down enemy QBs 7.5 times this past season and ranked third out of 91 qualifying edge defenders in overall performance by Pro Football Focus' standards (subscription required), trailing only superstars Khalil Mack and Von Miller. When you consider all of the above, not to mention his age (26 in October), it's clear Vernon is on the cusp of a significant payday. Vernon is aware of that, and he indicated in early January that the Dolphins won't have an easy time keeping him.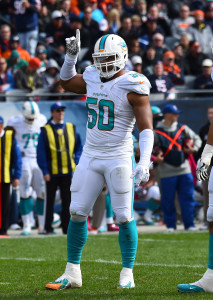 "I only get one shot [at free agency], so I'm not [doing] a hometown discount," he told Barry Jackson of the Miami Herald.
Given their lack of long-term certainty at defensive end (Cameron Wake is 34 and recovering from a torn Achilles, Dion Jordan's career has been a disaster on and off the field, and Derrick Shelby joins Vernon as a free agent-to-be), the Dolphins should do everything within reason to retain Vernon. It's estimated the franchise tag for DEs in 2016 will be just under $15MM, which looks too rich for a team that has work to do to get under the cap. It's possible the Dolphins will tag Vernon in order to keep him under their control as they try to work out a long-term accord, though. Otherwise, he's an obvious risk to go to the open market and sign with the highest bidder. James Walker of ESPN.com wrote that a contract worth upward of $9MM annually for Vernon could take the Dolphins out of the race to sign him. Considering all that he brings to the table, that type of annual value seems fair for Vernon, who could end up with a deal in the neighborhood of the five-year, $47.25MM pact fellow 4-3 edge rusher Vinny Curry recently signed with the Eagles.
It's conceivable Vernon's fate will determine Shelby's, as the Dolphins might have trouble re-signing both. Shelby, who has missed only one game in four years, played over 72% of Miami's defensive snaps in 2015-16 and totaled a career-high 3.5 sacks. He also ranked as PFF's 23rd-best edge defender. Shelby, 27 in March, is seemingly in line for a raise over his expiring $2.36MM salary. If the Dolphins work something out with Vernon, Shelby will probably get his pay increase someplace else. Should Vernon walk, perhaps the Dolphins will look to Shelby as a cheaper, albeit less effective, replacement. A defense that finished 25th in sacks can't afford to lose both Vernon and Shelby, so the likelihood is that at least one of them will stay in the fold.
Aside from Vernon and Shelby, the Dolphins have other defenders primed for free agency in middle linebacker Kelvin Sheppard, who started 14 games last season, and safeties Michael Thomas and Louis Delmas.
Sheppard has been underwhelming throughout his five-year career, last season included, and doesn't seem likely to return to Miami – not as a starter, anyway.
As an exclusive rights free agent, Thomas can't negotiate with other teams. That means he should be a Dolphin again. Thomas started 12 games last season and earned a respectable assessment from PFF (41st-ranked safety out of 88). He's also a standout on special teams.
Delmas has been solid when on the field during his career, but health has long been an issue. The 28-year-old sat out all of '15-16 with a torn ACL (his second in a nine-month span) and has missed 33 of a possible 112 regular-season games since entering the league in 2009. If the Dolphins elect to bring him back, expect a short-term, inexpensive deal with possible incentives.
On the offensive side, the Dolphins' control over running back Lamar Miller is set to end. Miller has put up a tremendous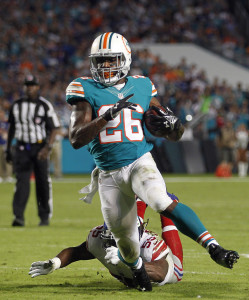 4.6 yards-per-carry average during his four-year career, but the Dolphins haven't leaned on him enough. The 24-year-old accrued only the 18th-most carries in the league last season (194), though he made them count with 872 yards and eight touchdowns, also adding 47 receptions and two more scores. Miller closed the season poorly, however, rushing for 103 yards on 43 attempts over the final three weeks. He also had seven games with 10 carries or fewer, which is more an indictment of the prior coaching staff than him.
Gase puts much heavier emphasis on the run than previous Dolphins regimes, as Fox Sports' Cameron DaSilva wrote last month. Gase's offenses ranked in the league's top 12 in rushing attempts the last three years (sixth in '15), while the Dolphins were 29th, 22nd and 32nd, respectively. There's a chance Gase believes in Miller and will make a push for the front office to re-sign him, but Miller's future "depends on the economics," a club official told Jackson last month. Miller is ostensibly a good bet to test the market, which would make him a good bet to find a contract richer than the one Miami will presumably offer.
Receiver Rishard Matthews joins Miller as a notable Dolphins weapon scheduled to explore free agency. Matthews' departure seems likelier than Miller's considering the Dolphins already have three capable wideouts in Jarvis Landry, Kenny Stills and 2015 first-rounder DeVante Parker. After catching a paltry four passes through Nov. 22, Parker broke out during the final six games of his rookie season and became an explosive part of Miami's offense. That was especially evident in the 13-catch, 286-yard tear he went on over the season's closing three weeks. Thanks to Parker's emergence, the Dolphins are in fine shape at the position and will presumably let Matthews walk.
Matthews appeared in 11 games last season and caught 43 passes for 662 yards (a prolific 15.4 YPC) and four TDs. Before Matthews' season ended in late November on account of broken ribs, Adam H. Beasley of the Miami Herald reported that the 26-year-old was in line for a deal worth $4MM to $6MM annually. The expectation is that Matthews will have to get that money from another team.
Possible Cap Casualties/Contract Issues:
The Dolphins are over the cap right now, but they'll free up a sizable chunk of room by releasing a slew of players. The most obvious of the bunch is edge defender Quinton Coples, whom the Dolphins claimed off waivers from the Jets in November. Coples didn't make a single tackle for the Dolphins and certainly won't be on their books next season at the $7.75MM for which he's presently slated.
Similarly, releasing 35-catch tight end Jordan Cameron would save Miami a large amount ($7.5MM). There's also receiver Greg Jennings, who was a non-factor last season and whose release would make $4MM of space. Defensive tackle Earl Mitchell and cornerback Brice McCain are both pink slip possibilities, which would open up another $5MM ($2.5MM apiece).
The same is possible for linebacker Koa Misi, who has been with the Dolphins since they took him in the second round of the 2010 draft. Although he earned above-average '15-16 marks from PFF (21st-ranked LB out of 97 qualifiers), Miami would save $4.3MM by designating Misi a post-June 1 cut ($3.72MM beforehand). That could seal his fate, according to Armando Salguero of the Miami Herald.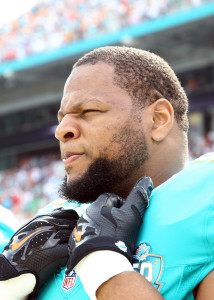 In addition to getting rid of players, the Dolphins could look to create cap space by restructuring a handful of contracts. Defensive tackle Ndamukong Suh, cornerback Brent Grimes, Wake, Cameron, and Jordan are candidates to have lesser cap hits next season. If none are open to that, all except Suh may end up on the chopping block.
In Suh's case, it's worth noting that Jason Fitzgerald of Over the Cap has warned against restructuring his contract because of the negative ramifications it would bring over the long haul. Nevertheless, in an effort to decrease Suh's $28.6MM cap number this year, the Dolphins are considering altering the mammoth deal he signed last offseason, a move which wouldn't require the former Lion's approval.
Wake has 70 sacks in seven years with the Dolphins – seven of which came in only seven games last season. But it's hard to imagine the team being content with an aging player coming off a serious injury taking up $9.8MM of its cap. Worst-case scenario: Miami can release Wake and recoup $8.4MM of breathing room. If that happens, it could help the Dolphins retain both Vernon and Shelby.
Grimes will eat into $9.5MM of the cap, $6.5MM of which can be saved by parting with him before June 1. By designating Grimes as a post-June 1 cut, the team would create $8MM in cap savings. However, given Grimes' track record and their dearth of quality corners, bringing the nine-year veteran back at a lower amount would seem more beneficial for the Dolphins.
Finally, there's Jordan, who had to sit out this past season after the league suspended him for violating its substance abuse policy. If the league reinstates Jordan in the spring, he'll go back to factoring into the Dolphins' cap. His hit for next season exceeds $6.2MM, an unpalatable total for a player who has amassed three sacks and 22 games missed because of suspensions since Miami drafted him third overall in 2013. While cutting Jordan outright would save the Dolphins upward of $3.21MM this year, they're open to giving him another chance, according to Jackson.
Positions Of Need:
Even without taking the nebulous statuses of its all-important edge rushers into account, most of Miami's offseason focus will lie with a defense that struggled against both the run and pass, and didn't generate much pressure or force many turnovers last season.
With Sheppard's contract up and Misi a release candidate, the team could search for two new starting linebackers this offseason to join the young and inexpensive Jelani Jenkins, per Salguero. The Dolphins might be better served continuing on with Misi instead of creating another hole, though. Keeping Misi would mean the Dolphins would only have to land one starting-caliber LB. That player could come via the draft, where UCLA's Myles Jack, Alabama's Reggie Ragland and Notre Dame's Jaylon Smith are all potential fits for the Dolphins at eighth overall.
Miami's defensive backfield, which largely aided in allowing 31 touchdown passes and an opposing QB rating of over 97.0 in '15-16, also requires fixing. Even if Grimes isn't released, the unit is devoid of impact players outside of him and star strong safety Reshad Jones. With Joseph now in charge of the defense, Jackson thinks the Dolphins will consider cornerback Adam Jones and free safety Reggie Nelson. Both played under Joseph in Cincinnati and are presently without contracts.
Jackson also lists the Rams' Trumaine Johnson and Janoris Jenkins, ex-Dolphin Sean Smith (Chiefs), Casey Hayward (Packers) and Prince Amukamara (Giants) as some established corners Miami could turn to in free agency. If the Dolphins want to go for a high-ceiling CB in the draft, a couple of in-state collegians – Jalen Ramsey (Florida State) and Vernon Hargreaves III (Florida) – are prospective top 10 picks. Another local product, the Miami Hurricanes' Artie Burns, could be a second-round target, along with William Jackson (Houston) and Eli Apple (Ohio State).
As for safety, after intercepting a career-high eight passes and ranking as PFF's 10th-best player at his position last season, Nelson will be on plenty of teams' radars — not just the Dolphins'. The same is true regarding the Chargers' Eric Weddle, a three-time Pro Bowler who "would welcome" an offer from Miami, Jackson wrote in January. The Browns' Tashaun Gipson also looks like a player who could garner interest from the Dolphins. At 26, the one-time Pro Bowler would be more of a long-term solution than Nelson or Weddle.
Offensively, the Dolphins' concerns begin along the line. With Branden Albert and Ja'Wuan James manning the tackle positions and Mike Pouncey at center, most of their starting five is a strength. Guards Dallas Thomas and Billy Turner are in over their heads, however. The Dolphins agree, per Jackson, and will search for more suitable starters.
If true, that should put the club in contention for in-their-prime free agents like the Ravens' Kelechi Osemele, the 49ers' Alex Boone and the Texans' Brandon Brooks. Osemele would upgrade left guard substantially and bring experience at left tackle, where he'd be able to sub for Albert in the event of an injury (Albert hasn't played a 16-game season since 2011). Boone has played both guard spots and has a connection to Miami's new offensive line coach, Chris Foerster, who oversaw Boone and the rest of San Francisco's O-line last season.
Other options include Denver's Evan Mathis, whom the Dolphins courted last summer, and Atlanta's Chris Chester. Both are among the adept veteran Band-Aid types who are likely to sign low-term, mid-tier-money contracts. They should be appealing to the Dolphins if they're unable to reel in the younger choices, as should adding depth to the position later in the draft.
With Miller's contract up, Jay Ajayi is the in-house starter at running back. After combining for 89 yards on 11 carries in his first two appearances, the fifth-round rookie fell to earth, accumulating 98 yards on 38 attempts the rest of the season. With that in mind, it would be overly optimistic of the Dolphins to hand the reins to Ajayi in the wake of Miller's possible departure. They could instead pair with him with a free agent, perhaps the Bears' Matt Forte – who totaled 1,200-plus yards and seven TDs under Gase last season – or Washington's Alfred Morris. Gase also has familiarity with the Broncos' Ronnie Hillman, who is set to hit the market off a career year and won't turn 25 until September.
As is the case with running back, how Miami will handle tight end is unclear. Whether the team brings in a prominent outsider will depend on what happens with Cameron, who, as mentioned earlier, is unlikely to return at his current cap hit. If he agrees to come back at a lower cost, the Dolphins will get by with him and Dion Sims for at least another year. Otherwise, they might have to venture into free agency for another unremarkable veteran of Cameron's ilk to helm the position until someone better comes along.
Overall Outlook:
The Dolphins will have plenty to do in the coming months as they try to ascend from the cellar of the AFC East, a division which they went 1-5 against last season, to playoff contention. Not only will Gase have to prove himself as the correct coaching hire, but the front office must make numerous shrewd roster moves to boost a club that had the league's eighth-worst record and fifth-worst point differential during the 2015-16 campaign. Tannehill is the Dolphins' most scrutinized player, but any possible progress he makes next season will probably go for naught if the front office doesn't adequately address the team's abundance of glaring issues through free agency and the draft.
Information from Over The Cap was used in the creation of this post. Photo courtesy of USA Today Sports Images.
Follow @PFRumors