One of the country's top NFL Draft prospects received some huge news today. Alabama left tackle Cam Robinson was previously facing a felony weapons charge after being arrested in May, but the district attorney in Monroe, Louisiana has decided not to pursue prosecution, Michael Casagrande of AL.com writes.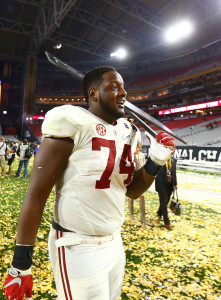 Police arrested Robinson and Alabama defensive back Laurence "Hootie" Jones for the illegal possession of stolen firearms, a misdemeanor charge of possession of a controlled substance, and an additional charge of carrying a weapon in the presence of illegal narcotics. According to the police report, there was a bag of marijuana and a handgun in plain sight in addition to a stolen handgun found under the passenger seat.
The 6-foot-6, 327 pound rising junior is universally considered to be one of the ten best talents eligible for the 2017 draft. Today's development is good news for Robinson's draft stock, though he will certainly face questions from concerned NFL teams. Robinson's performance on the field and behavior off the field will be critical for his future prospects. If Robinson can demonstrate that his May arrest was a one-off error in judgement – and that he doesn't have a predilection for carrying illegal firearms – he could very well keep his status as a top 10 pick.
One of two returning starters for the Tide last season, Robinson has blocked for second-round pick T.J. Yeldon and Heisman winner Derrick Henry, helping guide those respective ball-carriers to 17 100-yard rushing performances over the last two seasons. Jones, meanwhile, is not a starter, but he does hold some NFL potential.
Photo courtesy of USA Today Sports Images.
Follow @PFRumors