Last week, we learned that the Jets have offered Ryan Fitzpatrick a three-year deal worth $24MM, with half of that sum coming in year one. Some have suggested that the Jets could entice the QB to accept the offer if they simply cut out the final two years of that deal and make in a one-year, $12MM pact. Unfortunately, that's not going to work for Gang Green. The Jets are not interested in giving Fitzpatrick a one-year, $12MM deal, sources tell Manish Mehta of the New York Daily News.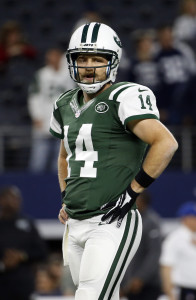 If the Jets were to make that offer to the 33-year-old, they would be increasing the annual average of the deal by 50% and increasing their own salary cap hit for 2015. Mehta notes that, in theory, the Jets could increase their ~$3MM in cap space by converting the base salary of some players to signing bonuses. However, the Jets do not appear inclined to do that sort of contract tinkering with notable candidates such as Buster Skrine, Marcus Gilchrist, Eric Decker, Brandon Marshall, and perhaps even Darrelle Revis.
The Jets also want to have Fitzpatrick around as an insurance policy in 2017, Mehta writes, in the event that second-round pick Christian Hackenberg is not ready to take the reins. For these reasons, the Jets would only entertain a one-year offer for $8MM, an amount that would match the AAV of their current three-year offer to the veteran.
While the deadline for a deal "seems to be" the start of training camp, Mehta writes that the Jets could "move on" from Fitzpatrick sooner rather than later if a deal does not materialize. Personally, I would be surprised if the Jets truly break off talks with Fitzpatrick as long as he remains on the open market. Publicly, the Jets have expressed confidence in Geno Smith, but the team surely knows that there is a sizable gap between the two QBs.
Photo courtesy of USA Today Sports Images.
Follow @PFRumors