The Rams announced that they have signed their entire 2016 draft class. It was long expected that the Rams would all sign their rookies on the same day in June, as the team has done in recent years.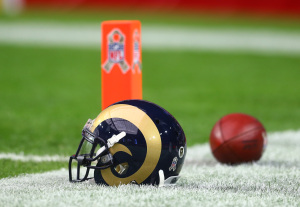 This morning, word leaked out that the Rams and No. 1 overall pick Jared Goff had agreed to terms on his contract. Of course, thanks to the rookie slotting in the latest CBA, contract negotiations are, by and large, pretty painless. The only exception to that is in the third round where there is a little more wiggle room between players and teams, but the Rams did not have any third-round picks in this year's draft thanks to the massive haul of picks they sent to the Titans in order to select Goff.
After Goff, the Rams' next highest draft pick was Western Kentucky tight end Tyler Higbee. In the weeks leading up to the draft, Higbee made headlines for all the wrong reasons when he was charged with second-degree assault. One scout expressed concern about Higbee shortly after he was selected by L.A.:
"He is a major partier," said the anonymous scout. "That was his big problem, despite the arrests. He has a lot of maturing to do, and I'm not sure he can mature fast enough."
The 23-year-old was considered a potential third-round talent, but the charges predictably impacted his stock. Higbee caught 48 passes for 563 yards and eight touchdowns last season but missed five games due to a knee injury. When asked about the injury at his pro day, the WKU product told reporters he was 75-80% recovered.
Here is the complete rundown of the Rams' entire 2016 draft class:
Photo courtesy of USA Today Sports Images.
Follow @PFRumors