The headlines from the past week at PFR:
The Dolphins land a running back. After striking out on C.J. Anderson, Chris Johnson, and others over the offseason, the Dolphins agreed to terms with former Texans running back Arian Foster, hammering out a one-year deal that contains $400K guaranteed and has a maximum value of $3.5MM. Foster, 29, had been linked to Miami for the past several months, but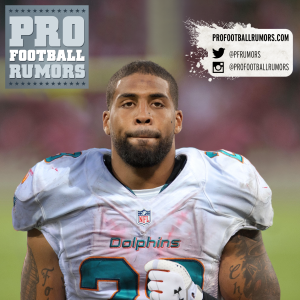 was also scheduled to visit the Lions last week had he not inked a contract with the Fins. In South Beach, Foster will compete for playing time with second-year pro Jay Ajayi, while Foster's presence will likely mean less action for rookie Kenyan Drake and fellow backs Damien Williams and Daniel Thomas.
Suspensions affect contenders. After being suspended for the first two games of the 2015 campaign, Steelers running back Le'Veon Bell is now facing a four-game ban after missing several drug tests. The appeal process is ongoing, but Pittsburgh, which already lost wide receiver Martavis Bryant to a season-long suspension, is now set to be without another key offensive weapon. Bell, of course, is also recovering from a knee injury suffered last season. Another AFC contender will deal with a suspension, as Colts defensive lineman Arthur Jones will be banned four games for violating the league's PED policy.
The league's best defender is hurting. Texans defensive end J.J. Watt recently underwent back surgery and is now facing an uncertain timeline for recovery. While initial reports suggested that Watt would certainly be ready for Houston's opener, new information has indicated that Watt could miss as many as 10 weeks, which would not only but his availability for Week 1 in doubt, but could force him to miss as much as a month of regular season action.
Off-field issues in the news. Browns wide receiver Josh Gordon met with commissioner Roger Goodell last week regarding his reinstatement, and Goodell could make his decision any time after August 1. Reports have indicated that the summit was a good first step for Gordon, though it's not a certainty that Cleveland will keep him on the roster even if he is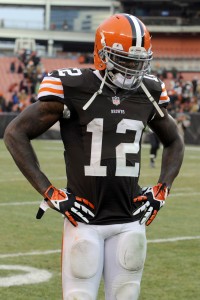 allowed to return to the NFL. Meanwhile, former Ravens running back Ray Rice has vowed to donate his entire salary to combat domestic violence if a club gives him a chance in 2016. Elsewhere, Cardinals safety Chris Clemons is facing possible legal trouble after an alleged assault, while Shawn Oakman, once thought to be a top NFL prospect, was indicted on sexual assault.
An NFL pariah garners interest. Defensive Greg Hardy hadn't met with any club until this week, when the Jaguars worked him out but did not offer him a contract. Hardy's history of domestic violence has made him a black sheep in league circles, with no team willing to deal with the public relations backlash that would come with signing him. Still, Hardy's price figures to drop low enough that a club will eventually take the risk, and I identified eight clubs that could show interest earlier this summer.
Retirements galore. Two of the best defenders of the 2000s announced their retirements this week, as cornerback Charles Tillman and defensive tackle Darnell Dockett decided to hang up their cleats. "Peanut" Tillman made his name as an excellent cover corner who had a knack for forcing fumbles, while Dockett terrorized quarterbacks as an undersized defensive lineman. Both players appeared in one Super Bowl, Tillman with the Bears in 2007 and Dockett with the Cardinals in 2009. Meanwhile, offensive linemen Eugene Monroe and Nate Chandler continued the trend of under-30 players retiring, with Monroe specifically citing CTE concerns in his announcement.
Photos courtesy of Pro Football Rumors on Instagram and USA Today Sports Images.
Follow @PFRumors