The old adage that defense wins championships may or may not be true, but you'll be hard-pressed to find a title-winning team that didn't build heavily through the draft. Rookie classes, naturally, are evaluated on the perceived upside of the NFL newcomers, but which rookies are ready to contribute right out of the gate? And, how do they fit in with their new team schematically?
To help us forecast the immediate future of these NFL neophytes, we enlisted the help of draft guru Dave-Te Thomas who has served as a scouting personnel consultant to NFL teams for multiple decades.
Today, we continue PFR's Impact Rookie series with his insight on the Miami Dolphins' draft class:
Well, I must say, the folks in South Beach surely know how to make draft day proceedings interesting. On Day One, they somehow managed to walk away with a player most had been calling the best prospect in the draft – Mississippi offensive tackle Laremy Tunsil. Tunsil slid to the Dolphins at No. 13 due to a myriad of off-field issues back in college that was capped by a social media disaster (love your head gear, Laremy, but in the NFL, you have to wear a Riddell model).
The Dolphins entered the draft with eight selections and went home with the same, but they played a little bit of musical chairs in swapping out draft slots before they were done. They even ended playing doing ping-pong with the No. 186 overall selection in round six. Miami had first made a deal with Minnesota, sending two mid-round 2017 slots, along with pick No. 186 to the Vikings in order to move up and select Rutgers receiver Leonte Caroo with the draft's 86th pick (round three). As the draft continued, the two teams again came to a deal – this time, Minnesota returned that No. 186 selection to South Beach for the No. 196 and No. 227 overall choices. They then used that choice to snatch another receiver, taking Texas Tech's Jakeem Grant.
After an entertaining and active draft weekend, here are the Dolphins rookies that I expect to make a mark in 2016:
First Round – Laremy Tunsil, OT (Ole Miss, No. 13 overall)
The new Miami coaching staff is looking to make major changes to their offensive front wall and Tunsil, if he lives up to his college hype, could be that unit's foundation, much like high-priced veteran Ndamukong Suh is for the defensive line. Despite some poor decisions in life, there is no questioning Tunsil's talent, but now comes the task of getting him into the lineup from Day One.
The coaches have slotted the rookie into the left guard spot, lining him up next to a man he will eventually replace at left tackle – Branden Albert. Gone from the first unit is 2015 left guard starter, Dallas Thomas. The team also signed New Orleans castoff, Jermon Bushrod. If the former Saint has anything left in the tank, he gives the Dolphins left side of the line three capable bodies to move around, if injuries do occur during the season.
Continue reading about Tunsil and the rest of the Dolphins' rookie class..
Tunsil's arrival also pushed Billy Turner into a battle for the right guard position, where former Bills starter Kraig Urbik is expected to do battle. Thomas is still around, but like Turner, he's failed to impress in his time on the field. If the team is looking to take the "penny saved, dollar earned" approach, Thomas ($787K) or Turner ($712K) in 2016, could give way to former Niner Anthony Steen, who is commanding a $525K sum in 2016. With Urbik signed for $1.25MM and Bushrod taking home $1.5MM, it is hard to see Thomas or Turner being considered starting material any longer.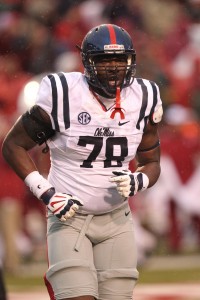 Tunsil leaves the Rebel program having allowed only two quarterback sacks through twenty-nine appearances that included twenty-seven starting assignments at the demanding left tackle position. During his time in the trenches, he has registered 249 knockdown/key blocks, including 37 that resulted in touchdowns. He has shown excellent stalking ability, producing nineteen of those blocks down field. He registered a blocking consistency grade of 89.38% for his three-year performance, easily the highest grade attained by any blocker eligible for the 2016 NFL Draft.
Tunsil has natural strength and quickness, as his 40-yard dash clocking does not properly highlight that quick initial step he possesses that can consistently shock and stall a lethargic defender. He shows excellent balance and change of direction flexibility, along with outstanding acceleration when working into the second level, perhaps due to his prep experience on the basketball court and in track. He plays on his feet well, thanks to superb balance and shows the body control to play and adjust in space and pick up blocks on the move down field. He can slide and readjust to mirror edge rushers in pass protection.
The Ole Miss blocker also displays the lower body flexibility to drop his pads and anchor firmly versus stunts and the bull rush. He shows ease of movement accelerating into the second level and excellent change of direction agility to make plays working down the line. He plays with a strong base, keeping his feet wide and pad level low to generate enough explosiveness coming off the snap. He has the lateral range to make adjustments in his pass set. Tunsil bends his knees with good flexibility and shows that he has the quickness to get out on the edge and seal off the rush (see 2015 Auburn, Louisiana State, and Oklahoma State games). He has the agility to pull and trap with effectiveness from the outside position and displays good hand usage and the redirection skills to mirror on stunts and blitzes.
Historically, Ole Miss is not really known for being a feeding ground for blocking expertise. Since the universal draft in 1970, only ten Rebel offensive tackles have been drafted, with 1971 seventh round pick Worthy McClure the first one to be taken. McClure would be one of four Ole Miss offensive tackles who were drafted, only to never appear in an NFL regular season game.
The Ole Miss first tackle draftee since 1970 to actually perform professionally was 1993 fifth round pick, Everett Lindsay, who was taken 133rd overall in the fifth round by Minnesota. In 136 contests, he started 63 times before retiring after the 2003 schedule. Todd Wade was a second round choice by Miami in 2000, earning 96 starting assignments through 99 games during his eight-year career. Cincinnati followed in 2004 by taking Stacy Andrews with the 123rd pick. Injuries would limit the powerhouse blocker to just 49 starts before he was forced to retire in 2011.
Ole Miss may not have the best track record for tackles, but Tunsil could be the guy to snap the cold streak.
Second Round – Xavien Howard, CB (Baylor, No. 38 overall)
With Brent Grimes and his wife's eloquent messages on social media thankfully a thing in the past, at least in South Beach, the Dolphins new they had to make cornerback a top priority. Word in the scouting industry was that they had coveted the Giants' Eli Apple, but when he went three picks earlier, it was a no-brainer either way that they could not pass on Tunsil for any defensive back at No. 13. By the time the second round rolled around, Miami was ready to pounce on Howard, a player several other teams pegged as a rising player with late first round potential.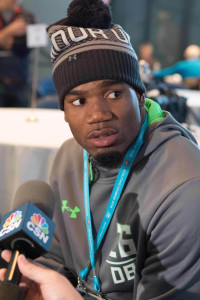 Sensing that the Giants might go for another cornerback in the second round and knowing full-well that Baltimore intended to take one, Miami moved up four spots in the second round in a deal with the Ravens, giving up the No. 42 overall pick and a fourth rounder (No. 104 overall) to get the deal done. Wasting little time, Howard was slotted in as the Dolphins' starting right cornerback before the ink could dry on his contract.
The two-time All-Big Twelve Conference cornerback was a key member of Baylor's most successful four-year span in school history that included two conference championships, two bowl victories and 40 wins (22-3 home mark) in four seasons. As a starter, Howard helped the starting right corner, he helped the Bears record a 32-7 record, finishing his career ranked tenth on the school record chart with ten interceptions. He paced the squad with five thefts as a senior and tied for the title with four more his junior year. All told, he collected 98 tackles (84 solo) with 23 pass deflections, gaining 121 yards via his interception runbacks.
Howard is the perfect NFL press-cover cornerback, thanks to his combination of size, strength and speed. He needs to be more patient in man coverage, as he gets in a lot of trouble when he attacks the ball, rather than keep relationship with his coverage assignment. Then, he will come up with a big play, make proper reads versus the receiver's move and react quickly. He possesses quick feet and smooth hips to turn and run, doing a nice job of maintaining contact with most any receiver down the sideline. He's the type than can close well when playing off the line, as he attacks the midsection of ball carriers and receivers while staying low in his pads to wrap and tackle.
Seventh Round – Brandon Doughty, QB (Western Kentucky, No. 223 overall)
I'm not trying to be funny here, folks, but don't you find it a bit interesting that the coach known as the "Quarterback Whisperer," Adam Gase, has a starting quarterback who has been dogged by the press for not living up to his first round status in Ryan Tannehill? After all, last year, a Tannehill-led offense ranked 19th in the league in passing yards (3,811) and pass completion percentage (62.1), tied for 19th with 24 touchdowns, tied for 17th worst with twelve interceptions and ranked as the eighth-worst team in protecting the quarterback, allowing 45 sacks for a league-worst minus 420 yards.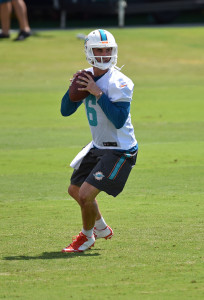 Miami finished 26th in total offense (331.7 ypg), 30th in third down conversions (30.7%; 63-of-205) and 29th in time of possession (27:22 minutes). The result was a paltry 88.7 quarterback rating for Tannehill. Right now, the coaching staff is saying all the right things, but while he appears to be a longshot, this seventh rounder might be making a big move up the depth charts in Miami before long. With Matt Moore and Zac Dysert as his competition, Doughty has a pretty good chance for at least holding the clipboard in 2016, if the team keeps three quarterbacks, as expected.
After being granted a medical hardship waiver and a sixth year of eligibility, Doughty lived up to lofty 2015 expectations and surpassed even his record-shattering performance from 2014. The owner of 37 school records, he again led the country in passing yards (5,055) and touchdown passes (48) and added another national-best mark, completion percentage (71.9). He also became just the third quarterback in the last 50 years to lead the country in all three categories, joining Colt Brennan (Hawaii, 2006) and Steve Young (BYU, 1983).
Doughty quarterbacked the Hilltoppers to their first-ever FBS conference championship, first-ever Associated Press Top 25 ranking and a second consecutive bowl victory. The Hilltoppers dominated C-USA play, winning by an average margin of 27.1 points, the second-largest margin by a league champion ever. They were also the first team to go undefeated in conference play and win the championship game. Doughty threw for at least 200 yards in all 14 games and a FBS-best's of 10 games of 300-yards or more and six games of 400-yards or more.
Doughty not only impressed teams throughout the East-West Shrine Game practices, but carried that performance over to the 2016 NFL Scouting Combine. With his production numbers, he has shown that he can attack the middle of the field, but there are obvious mechanical flaws, especially when trying to zip the ball. He just seems to lack great velocity and must rely more on timing. He can be rattled in the pocket and when this happens, his footwork gets sloppy and he forces his throws (33 interceptions the last three years). Still, you can imagine Gase getting the most out of this interesting prospect. It would only add to the coach's "quarterback whisperer" legend, if this ends as a happy story.
Dave-Te Thomas owns and operates The NFL Draft Report, a service providing insight to league scouting departments for over 40 years. All year round, you can read Thomas' in-depth reviews of both blue chip prospects and diamonds in the rough by visiting the NFL Draft Report blog.
Photos courtesy of USA Today Sports Images.
Follow @PFRumors