The Cardinals have trimmed two quarterbacks from the roster. Signal callers Brandon Doughty and Alek Torgersen were handed their pink slips on Monday afternoon, the team announced.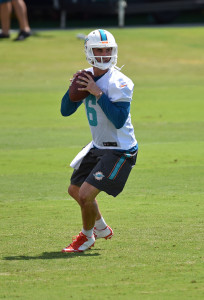 Arizona claimed Doughty and Torgersen off waivers April 5 when they were cut by the Dolphins and Lions, respectively. The It appears the team likes what it has seen from Princeton quarterback Chad Kanoff – a UDFA signing – leading to the release of both players after just one month on the roster.
After the selection of Josh Rosen in April, it seemed very unlikely that either Doughty or Torgersen would make the final cut. The Cardinals plan to start Sam Bradford in Week 1 with Rosen and Mike Glennon in support, giving them the standard three QBs. Kanoff is now positioned to serve as a camp arm for Arizona and appears more likely to be a practice squad signee than a main roster addition.
Torgersen played his college football at Penn before hooking on with the Falcons as a UDFA in 2017. He missed the final cut and hooked on with the Redskins' taxi squad before finishing out the year in Detroit.
Doughty, a seventh-round pick of Miami in 2016, re-upped with the team on a reserve/futures deal in January before he was cut by the Fins this year. In his final year at Western Kentucky, Doughty completed 71.9% of his passes for 5,055 yards with 48 touchdowns against just nine interceptions.