Mike Pouncey's season is over. After wrestling with how to handle their injured center, the Dolphins will place Pouncey on IR following his meeting with a specialist early Tuesday morning, Armando Salguero of The Miami Herald writes.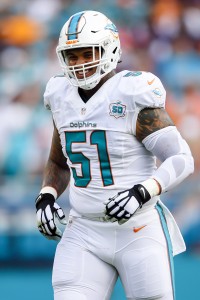 The Dolphins feared that Pouncey would do further damage to his surgically-repaired hip if he continued to play this year. And, if they left the decision up to him, he probably would have let his competitive nature overrule the long-term view. Miami took the decision out of the Pro Bowler's hands, which will hopefully allow him to return pain-free in 2017. Right now, the belief is that his injury is not career-threatening, despite previous reports to the contrary.
Now that the Dolphins have an open roster spot, they are likely to use that room to sign a quarterback. With Ryan Tannehill likely out of action this weekend, Miami will need a backup QB behind Matt Moore. In theory, the team could promote seventh-round rookie Brandon Doughty from the practice squad to fill that role, but Salguero hears that they are more likely to go out-of-house.
The Dolphins are taking the long view with Pouncey, but their season is far from over. According to Five Thirty Eight, the 8-5 Dolphins have a 27% chance of making the playoffs.
Photo courtesy of USA Today Sports Images.
Follow @PFRumors