SUNDAY, 10:05am: In the clearest sign yet that Stork will report to the Redskins, Stork himself tweeted that he is looking forward to making great memories in Washington, and he added a "Hail to the Redskins" hashtag at the end of his tweet.
SATURDAY, 11:25am: While most reports indicate that Stork will indeed report, Redskins coach Jay Gruden didn't necessarily sound convinced following his team's preseason win last night.
As Michael David Smith of ProFootballTalk.com notes, Gruden said the lineman will "supposedly" report to the Redskins today, although he notes that Stork still has to make a "final decision."
THURSDAY, 8:55pm: Stork has informed the Redskins that he will report to team headquarters this weekend, according to Mike Jones of the Washington Post.
12:28pm: It sounds like Bryan Stork will suit up for the Redskins after all. The newly-acquired center was leaning towards retirement, but he is now expected to be in town and ready to go this weekend, a source tells Ian Rapoport of NFL.com (on Twitter).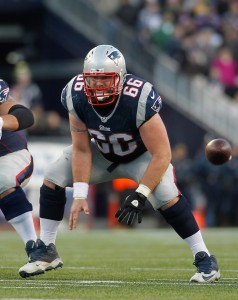 For those of you who weren't following Storkgate on Wednesday, here is a quick recap. On Wednesday morning, Stork was supposedly on the verge of being released by the Patriots. Later on in the day, the Redskins got word that Stork was about to be cut loose they decided to work out a trade with the Patriots rather than duke it out with other interested teams. Hours later, we learned that Stork was thinking about quitting football altogether.
Had Stork opted to retire, he would have been forced to give up half of his $477K signing bonus (~$238K), in addition to losing his 2016 salary of $600K. His retirement also would have left the Redskins in a bad spot with their offensive line. Washington hoping that Stork will serve as a backup to Kory Lichtensteiger, or maybe even push him for the starting job.
Photo courtesy of USA Today Sports Images.
Follow @PFRumors