The old adage that defense wins championships may or may not be true, but you'll be hard-pressed to find a title-winning team that didn't build heavily through the draft. Rookie classes, naturally, are evaluated on the perceived upside of the NFL newcomers, but which rookies are ready to contribute right out of the gate? And, how do they fit in with their new team schematically?
To help us forecast the immediate future of these NFL neophytes, we enlisted the help of draft guru Dave-Te Thomas who has served as a scouting personnel consultant to NFL teams for multiple decades.
First Round – Leonard Floyd, OLB (Georgia, No. 9 overall)
The Bears came into the draft looking to improve the talent on both of their lines. But, they instead traded up from No. 11 to No. 9 to land Georgia 'backer Leonard Floyd. Hopefully, he survives the rigors of training camp, as his professional debut saw him carted off the practice field after he was overcome by the heat and scrimmage action.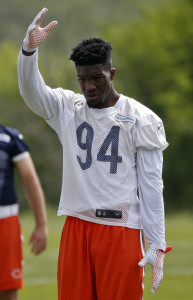 When the NFL teams arrived in Athens for the Georgia March 17th Pro Day, they not only wanted to see how Floyd performed in drills, they also wanted to figure out what his best position might be. . That has been the "pleasant" problem for Georgia coaches during the last three years – where to put their top playmaker. It was not as if he could not perform at any of these positions, but more so that he was needed elsewhere to fill the voids created by injuries or poor performances by others. Since first putting on the Georgia uniform, Floyd played all the "name" game positions – Jack, Sam, Mike and Will. He's lined up as a rush end and even played inside as a defensive tackle for three contests late in the 2014 campaign.
Wherever he has played, Floyd has done so at a high level. He started 32-of-38 games at various positions while recording 184 tackles that saw him deliver 33 of those stops behind the line of scrimmage. He got in on twenty quarterback sacks and pressured opposing passers 54 times. On five of those plays in the backfield, he caused fumbles, recovering two to set up Georgia touchdown drives. All in all, a good day of work is usually the norm for Floyd on Saturdays. Now, he's likely ticketed for the outside linebacker position on Sundays with Chicago.
Floyd has never been known for being a bulky guy and his thin frame did draw considerable concerns from scouts who analyzed him in 2014. He played at 237 last season after checking in at 220 during his first two years, but impressed team decision-makers with his 244-pound weigh-in at the 2016 NFL Scouting Combine. While his frame is likely at a maximum growth potential, he demonstrated to the Bears that he has plenty of strength and also eased concerns about his surgically repaired shoulder.
Floyd has that quick first step that will usually see him gain advantage on a slower offensive lineman. He can get up field quickly and reaches the corners with good urgency to push the outside running game back in. He flashes that burst to surprise a lethargic blocker (see 2015 ULM, Vanderbilt, South Carolina, Missouri and Georgia Southern games), which allows him to get instant penetration. He has the lateral range to slip into the backfield when working in-line and with his quick hands and feet, he has no problem retreating and chasing down receivers when working in the second level (might be considered as a Sam linebacker because of this). He has the acceleration to take a wide loop around the corner and still pressure the pocket.
He stays low in his pads and has the loose hips to redirect, also displaying the second gear needed to excel in long pursuit. He is a quick twitch type with very active hands and good balance, keeping his feet on the move while doing a nice job of avoiding low blocks. Because of his shoulder surgery, Floyd was limited a bit early in the year, but as the 2015 season progressed, he showed that he actually was getting stronger and quicker deeper into the games, thanks to his excellent athletic ability. There's no reason to doubt that he can do the same at the next level.
Continue reading about the Bears' rookie class..
Second Round- Cody Whitehair, G (Kansas State, No. 56 overall)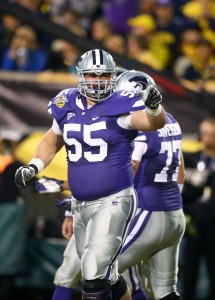 Regarded as the one of the best offensive guard prospects in the draft, Whitehair spent his last 26 games lining up at the demanding left tackle position. He had previously started 22 times at left guard, but made his debut with the Wildcats first unit lining up at right tackle. With that wealth of experience, college football's most versatile blocker could play almost anywhere on the line for the Bears. Of course, that's a good thing in the wake of Hroniss Grasu's season-ending injury.
Whitehair was scheduled to take over left guard duties after the team shed Matt Slauson from their roster in the offseason, but he might have to slide further inside if Ted Larsen proves he's not capable there. For now, the plan is for Larsen to play center and for Whitehair to start at left guard, as shown on Roster Resource.
Whitehair is not a mauler who can simply use his size to take over blocks, lock on and grind it out with the more physical defenders, but in 2015, his positioning technique saw him do a solid job of using his size to take over defenders. What he lacks in brute strength, he makes up in good hand usage and a decent punch. He has the ability to wall off and screen edge players, but must improve his base power in order to finish at the next level. Still, with his explosion and quickness, he can generate enough pop on contact to surprise an opponent.
He is really a technically sound blocker when he plays with a flat back to get movement at the point of attack. The thing you see on film is the success he has in the second level, as he has a good concept for taking proper angles to screen and wall off. When he keeps his pads down, he can gain movement on contact, but he gets most of his success for the ground game as a cut-and-reach blocker. When he tries to get too physical, he will sometimes lose his base (gets too narrow with his feet), but he does get good movement once he engages the defender, using his active hands to steer and has shown in 2015 better strength behind his hand punch to jolt.
Since moving to left tackle as a junior, Whitehair has shown marked improvement taking on edge rushers and protecting the pocket. He now keeps his head on a swivel in pass blocking scenarios (he used to put his head down, at times) and displays the initial quickness and hand technique work in his pass set to get under and lock on to a defender's jersey. The Kansas State product has an adequate base for pass protection, unless he gets too high in his stance. He might not have the strongest anchor you will find in a left tackle, but has the recovery quickness and slide agility to stay in front of the edge rushers. The thing I like is his ability to sink his hips, slide and shuffle his feet and recoil his hands quick enough to generate another punch. It is rare to see him over-extend or get too aggressive, as he plays with a good tempo and vision. As a senior, he has been very quick with his pass set (see Louisiana Tech, TCU and Oklahoma State games). When he comes out of his stance, he sets with a good base, demonstrating the quick feet to adjust in space.
Quarterback Jay Cutler will be counting on Whitehair to do a solid job at guard as his offensive line has undergone massive changes. In fact, the entire offensive unit is in an upheaval, as Cutler is the only starter from the end of 2015 returning in 2016 at the position he played.
Dave-Te Thomas owns and operates The NFL Draft Report, a service providing insight to league scouting departments for over 40 years. All year round, you can read Thomas' in-depth reviews of both blue chip prospects and diamonds in the rough by visiting the NFL Draft Report blog.
Fifth Round – Jordan Howard, RB (Indiana, No. 150 overall)
Howard began his college football at the University of Alabama at Birmingham in 2013. As a sophomore in 2014, he set a UAB single-season record with 1,587 rushing yards and ranked seventh among Division I FBS players with an average of 132.3 rushing yards per game. Following the shutdown of UAB's football team, Howard transferred to Indiana prior to the 2015 season.
Howard missed several games and left a few others while dealing with a nagging ankle problem since the Hoosiers' fifth contest. It was not the first time that he had to overcome injuries, as UAB was one of the few teams still interested in him on the recruiting trails after other colleges backed off the tailback when he suffered a torn meniscus and a pelvis stress fracture during his prep junior season.
Despite his injury-shorten season at Indiana that saw Howard miss eighteen quarters of action, he finished second in the Big Ten Conference with an average of 134.8 rushing yards per game (ninth nationally) and with 146.6 all-purpose yards per game (14th). He closed out the season with 1,213 rushing yards (third in the league 34th nationally) on 196 carries, a 6.2-yard average (third in the league), with nine rushing touchdowns, ten total TDs, and eleven receptions for 106 yards with one score.
The Bears recognize that Howard is an underrated power-type running back with a nice burst into an inside hole, as he displays excellent field vision and the burst, along with solid footwork needed to pick through traffic and find a running lane. He is very effective in either a one-back or I-formation, as he shows patience and good ability to read his blocks and follow his fullback through the rush lanes. He demonstrates good forward body lean and his leg drive allows him to fall forward and get those few extra yards breaking through arm tackles.
Howard is limited as a receiver and does not show valid blocking skills to serve as a fullback, but he does a good job of securing the ball and shows the upper body strength needed to drag multiple defenders when running between tackles. He is not a fancy runner and you will not see him make one of those nifty cutback-and-explode moves, but he will run hard through the holes. For a 235-pounder, he can generate enough straight-line speed. You won't see much of a breakaway gear from him, but he is functionally fast enough to get outside and make it hard for safeties to get the angle.
What Howard does best is break tackles and that is why the Bears feel he is a valid short yardage candidate in tandem with the speedy Jeremy Langford. He's proven that he can get on the edge or into space, but he is better served following inside blocks and moving the pile. He's a patient runner, but also has some ability to spin off or sidestep a defender near the line of scrimmage, where his powerful stiff-arm ability has been very successful in preventing secondary types from bringing him down once he negotiates past the second level.
Dave-Te Thomas owns and operates The NFL Draft Report, a service providing insight to league scouting departments for over 40 years. All year round, you can read Thomas' in-depth reviews of both blue chip prospects and diamonds in the rough by visiting the NFL Draft Report blog.
Photos courtesy of USA Today Sports Images.
Follow @PFRumors