The old adage that defense wins championships may or may not be true, but you'll be hard-pressed to find a title-winning team that didn't build heavily through the draft. Rookie classes, naturally, are evaluated on the perceived upside of the NFL newcomers, but which rookies are ready to contribute right out of the gate? And, how do they fit in with their new team schematically?
To help us forecast the immediate future of these NFL neophytes, we enlisted the help of draft guru Dave-Te Thomas who has served as a scouting personnel consultant to NFL teams for multiple decades.
There hasn't been much turnover in Minnesota as just two starting positions seem to be changing from the first unit that completed the 2015 season. That might not be a good thing on offense, where the Vikings ranked 31st in the league in passing yardage (183.0 ypg) and touchdown passes (14), even though Teddy Bridgewater did try to keep his passes out of the hands of the opposition, tying for the fifth-lowest mark in the NFL by tossing just nine interceptions.
With a well-fortified running game, led by Adrian Peterson, with solid understudies in Matt Asiata and Jerick McKinnon, the Vikes rolled to the tune of 138.2 yards per game on the ground (fourth in the NFL), finding the end zone on eighteen of their carries. The front wall was an obvious problem for the team, failing to protect their young quarterback, tying for seventh-worst in the league by allowing 43 sacks in 2015.
The team shuffled bodies up front and also saw former right tackle Phil Loadbolt retire. Former 49ers guard Alex Boone takes over on the left side, with Brandon Fusco shifting to right guard. Fusco struggled last season, perhaps from the effects from a September concussion, but he has missed a good portion of camp this year, forcing projected starting center, the ever versatile Joe Berger, to slide over to right guard.
John Sullivan, who dealt with his own injury issues after 2014, takes over at center, with Berger at guard. Meanwhile, 2015 right tackle T.J. Clemmings appears heading for the bench with former Cincinnati first rounder Andre Smith taking over that position. Bridgewater could receive added blocking protection this season, if the coaches can figure a way to get 2016 strong-man, tight end David Morgan, more opportunities to be on the field.
Underrated fourth round left tackle, Western Michigan's Willie Beavers is a work in progress, but intrigued the coaching staff at the Senior Bowl and will be given time to develop. However, if former 2012 first round pick Matt Kalil does not turn around the slide in his career, Beavers might have to be pressed into action before he is ready for prime time.
Morgan has been dominant throughout camp as a blocker, but after pulling in 45 passes last season at Texas-San Antonio, he's hoping to prove to the staff that he is a valid three-down player. If they are convinced he is the total package, it could cut into 2015 fifth round Mycole Pruitt's playing time behind starter Kyle Rudolph, who has had injury issues in the past.
Stefon Diggs proved to be a fifth round find at split end last season and his continued emergence makes 2013 first round bust, Cordarrelle Patterson, a possible roster casualty, if he does not start applying himself. The arrival of first round Ole Miss standout Laquon Treadwell, promises to take away most of Patterson's chances to impress, as the rookie is likely to push Charles Johnson to the second unit at flanker before the year ends.
First Round – Laquon Treadwell, WR (Ole Miss, No. 23 overall)
Coming out of Crete-Monee (Ill.) High School, Treadwell was a highly sought-after five-star recruit who escaped the grasp of Big Ten Conference teams in his own backyard. He was the consensus top-rated receiver during his prep senior year after leading his team to the state title by catching 81 passes for 1,424 yards and sixteen touchdowns while playing all three receiver positions. He proved to be dangerous out of the backfield, scoring seven times on reverses and he showed why he had gained so much knowledge avoiding cornerbacks, as he also had defensive starting experience, posting 56 tackles with six interceptions in 2012.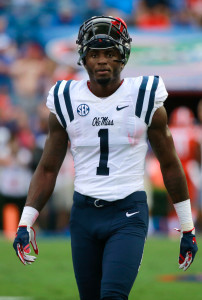 Treadwell is an aggressive route runner, using his size and strength to power through arm tackles. He does a nice job of sinking his pads and changing direction working underneath and has that deceptive second gear to head north after catching the ball in the seam. He has loose hips to spin away from contact after the catch, but not enough to execute a pirouette and leave defenders grabbing at air. He is especially effective with his plant-and-drive on crossing and out routes. He has a good array of head fakes to sell the route and keeps his hands active to get to the ball on comebacks (see 2015 Memphis, LSU and Oklahoma State games). He has the eyes to see when the quarterback is in trouble, showing urgency coming back to help there. He is most effective when going for the ball on step back throws. He runs at a proper pad level and it is very rare to see him round some coming out of his breaks, as he has the footwork and balance to recover when trying to get in and out of his cuts.
This kid has exceptional hands, along with a large radius that allows him to go outside his framework to reach for the ball in stride. He has the ability to adjust and scoop up the low throws with ease. He has the hand strength to win battles with arm tackles or to defeat jam, showing nice "fire in his belly" to compete for extra yards after the catch. He is not the type that you will see double-catching or letting the ball absorb into his body, as he has great confidence in his large mitts to look the ball in.
Although he did not go as high in the draft as once anticipated, Treadwell can be a big difference maker for the Vikings right from the jump.
Continue reading about the Vikings' rookie class..
Fourth Round – Willie Beavers, LT (Western Michigan, No. 121 overall)
Beavers really impressed scouts with his drive blocking ability at the 2016 Senior Bowl. Most had expected the WMU prospect to be overmatched versus the top-level competition, but the three-year starter at left tackle was more than up for the challenge. He has one of the traits scouts look for in a quality left tackle "dancing bear" feet – his ability to get in front of the edge rushers to stall forward progress.
Throughout his last three seasons, opponents have had to battle vs. a blocker who can simply explode off the ball, showing a very good kick slide in pass protection. Still, what impresses evaluators the most is the way he plays with urgency in attempts to stay in front of defenders.
A three-star recruit out of South Lathrup High School, Beavers' first season at Western Michigan was a learning experience. He saw increased playing time as the 2012 schedule progressed and even earned a pair of starts during his first season with the varsity. During the course of the next three seasons, Beavers anchored the demanding left tackle position.
He showed excellent recovery ability taking on the speedy outside pass rushers and his average of seven knockdowns per game proved that he has a strong base and nice initial punch. Some teams are so impressed with his straight-line speed to get down field, that they feel he might be able to contribute quicker in the NFL by spending a season or two as a trap-blocking offensive guard.
Since becoming more involved with the first unit as a senior, Morgan has been a revelation as a blocker. His ten touchdown-resulting blocks in twelve games led the major college's tight ends, while his 61 knockdowns are tops for his team. He is much more decisive shooting his hands when working in-line, as added reps seems to have given him confidence in his hand punch. He has been very efficient getting into position and walling off, as he has a much stronger leg drive, which has allowed him to get a consistent anchor as a senior. He has also shown good pop and explosion as a second level blocker, making him an asset serving as a lead blocker on end-around plays. He has a better kick step getting into position in pass protection and shows very quick foot slide sustaining the rush lanes. He is quick enough to pull and trap, along with showing good shoulder power when leading through the holes.
Dave-Te Thomas owns and operates The NFL Draft Report, a service providing insight to league scouting departments for over 40 years. All year round, you can read Thomas' in-depth reviews of both blue chip prospects and diamonds in the rough by visiting the NFL Draft Report blog.
Photos courtesy of USA Today Sports Images.
Follow @PFRumors