The old adage that defense wins championships may or may not be true, but you'll be hard-pressed to find a title-winning team that didn't build heavily through the draft. Rookie classes, naturally, are evaluated on the perceived upside of the NFL newcomers, but which rookies are ready to contribute right out of the gate? And, how do they fit in with their new team schematically?
To help us forecast the immediate future of these NFL neophytes, we enlisted the help of draft guru Dave-Te Thomas who has served as a scouting personnel consultant to NFL teams for multiple decades.
General manager Jerry Reese went to the credit union often during the offseason, spending over $200MM to improve his team's defensive front seven issues. But, despite some questionable purchases, the draft provided the team with two stud newcomers in cornerback Eli Apple and receiver Sterling Shepard, as both are expected to immediately contribute. Cooper Taylor's tenure with New York could be coming to an end, especially if third round pick, Darian Thompson, is as good as he advertised during mini camp.
While Shepard is expected to at least earn a slot position, he could move outside if Victor Cruz continues to deal with injury issues. If Cruz fails to return to form, California free agent, Darius Powe, or off-the-field bad boy, Roger Lewis, might have a chance to secure the final receiver spot coming out of training camp.
First Round – Eli Apple , CB (Ohio State, No. 10 overall)
Our staff touted Eli Apple as the best cornerback in the draft not named Jalen Ramsey since Day One. We even provided our contracted teams with a very detailed statistical comparison chart that featured Apple, Ramsey, Mackensie Alexander, Vernon Hargreaves III, and William Jackson III. It seems Giants brass agreed, taking the Buckeye with the tenth pick.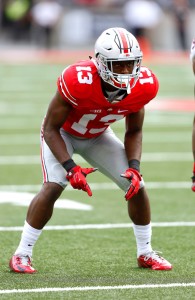 The early first round surprise could be starting by the time the season opener rolls around, at least as the nickel corner. He's likely to ease Dominique Rodgers-Cromartie off the roster after the season to take his place opposite high-priced Rams addition, Janoris Jenkins. The first thing you notice about this former Buckeye is his natural playmaking instincts. He understands how receivers are trying to attack coverage and he is a master at reading quarterbacks' eyes when having to drop into zone coverage. He also does an excellent job of mid-pointing high-low routes.
Apple is an explosive, quick-twitch athlete with a sudden closing burst, especially when receivers catch the ball in front of him. He possesses that second gear needed to track the ball downfield and he's fast enough to recover when gets caught out of position. Thanks to his fluid hips, he can make the smooth transition when forced to change directions quickly. When he stays under control and keeps his knees bent, is a good tackler in space.
The two-time letter-winner started all but one of the 28 games he has appeared in. As a redshirt freshman, he collected 53 tackles and broke up thirteen passes, as opposing quarterbacks often tried to challenge the first-time starter. Eight of those thirteen pass break-ups came on third-down snaps and all three of his interceptions were followed by Buckeyes touchdown drives during their 2014 national championship campaign.
The Buckeyes cornerback can consistently break up passes when in position, as he also has the athleticism to reach around the receiver and disrupt the action without committing the penalty. When he breaks up those passes, more often it is the result of violent hits right as the ball arrives. While not a valid ball thief, he does have the natural hands to reach out and pluck the ball to make the tough interception.
Teams were very leery to fire the ball into Apple's territory in 2015, and he managed just 28 tackles, as a result. However, he impressed scouts with his outstanding coverage skills, as he not only defended nine passes (including one interception), but only 14-of-67 passes targeted in his area were completed (20.9%). He delivered twenty third-down stops, three more on fourth-down snaps. Proving to be one of the most physical cornerbacks in college, he jammed/rerouted his main pass coverage assignments away from 38 incomplete passes last season, the second-highest total in the NCAA FBS ranks. In short: the future is bright for the Giants' first-round choice.
Continue reading about the Giants' rookies..
Second Round – Sterling Shepard, WR (Oklahoma, No. 40 overall)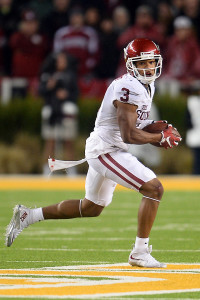 One of our staff's favorites in this draft class, the Giants found a Hines Ward clone in this sensational Sooner receiver. Shepard plays with a lot of moxie and will soon endear himself to Big Blue fans. With Victor Cruz hoping to return to action in 2015, Shepard will likely fill slot receiver duties but after one look at his performance level, he can easily make Giants fans forget about their injured wide receiver.
It is especially pleasing when an "old dog" scout like myself sees a legacy come along. Years ago, while scouting the Midwest, Sterling's dad, Derrick, captured attention from teams during his career at Oklahoma (1983-86). Derrick had managed to catch 75 passes during his career with the Sooners, also averaging 8.5 yards on 70 punt returns and 24.2 yards as a kickoff returner. He went on to play for Washington, New Orleans and Dallas until 1991, compiling a 9.1-yard average via 75 punt returns, a 15.2-yard average as a receiver and a 19.7-yard average running back 51 kickoffs.
Shepard has that explosive playing burst to easily gain separation after the catch. He shows above average lateral agility and balance when changing direction, doing an excellent job of extending for the ball and keeping his feet inbounds when working along the sidelines. He is a smooth open field runner who accelerates instantly coming out of his breaks and he has the burst to blow by defensive backs consistently (see 2015 Tulsa, Texas, Kansas, Iowa State and Baylor contests). He has loose hips and good feet to get in and out of his cuts and his quick first step lets him explode off the line. Shepard also has the hip wiggle and head fakes to elude defenders after the catch.
His second level speed can rival any other receiver in the collegiate ranks and he has also become a very a good student of the game, showing keen awareness for the sidelines and chains, along with the presence to come back to assist the quarterback when the pocket is compromised. When watching him on film, his ability to adjust on the move and sit down is evident as he shows fine big-play quickness after the catch. He quickly finds the open areas and works back to the ball, making nice adjustments to the poorly thrown pass.
Third Round – Darian Thompson, S (Boise State, No. 71 overall)
The Boise State master ball hawk will only have to change his jersey to a different shade of blue now that he is joining the Giants. Once considered a late first round prospect, some teams shied away from the defender with a conference record nineteen interceptions under his belt, as he did not perform well in the agility tests at the combine. Still, you can't teach a stopwatch to play football and his thievery success indicates that Thompson might have some "skills" in that area.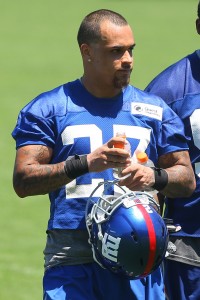 Since moving into the starting lineup for the final six games of his freshman year, Thompson was the Broncos' defensive stalwart. He posted 243 tackles for Boise State, delivering fifteen stops behind the line of scrimmage from his free safety position. While he is not the greatest leaper in this draft class (31-inches), evident by his nine pass break-ups through 51 games, he does show the natural hands needed to make the big plays.
Thompson is an instinctive player who is rarely caught out of position. He patiently waited his chance to start as a freshman, spending that time excelling on special teams and using the film room to gain lots of knowledge on his opponents. Thompson shows good ability to learn and retain the playbook. It is his ability to quickly react to the run or pass that might see him use his power and size better as a strong safety at the next level.
Dave-Te Thomas owns and operates The NFL Draft Report, a service providing insight to league scouting departments for over 40 years. All year round, you can read Thomas' in-depth reviews of both blue chip prospects and diamonds in the rough by visiting the NFL Draft Report blog.
Photos courtesy of USA Today Sports Images.
Follow @PFRumors